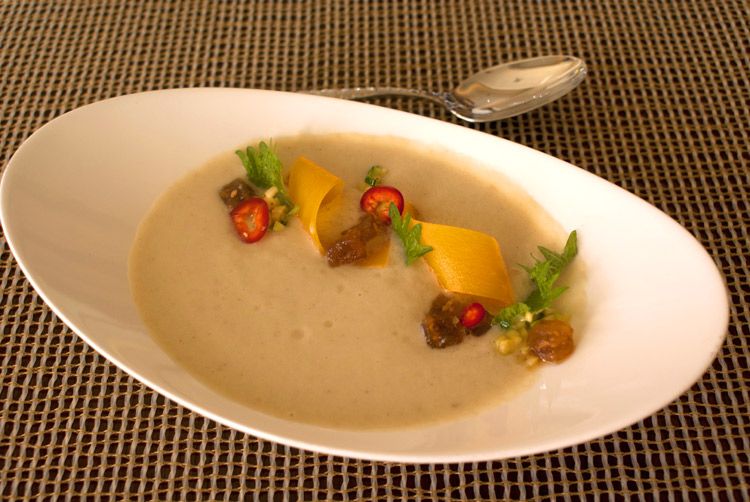 Raya Restaurant
at The Ritz-Carlton, Laguna Niguel sends us this rich recipe for Eggplant Almond Cr?ma Sopa. With white gazpacho, grapes and almonds, this versatile recipe can be changed up to match your tastes and Chef Gerlack recommends taking advantage of seasonal ingredients to bring something new to each batch.
Resting 162 above sea level, Raya Restaurant was named "Restaurant of the Year" by Riviera Orange County in 2011, excelling in Pan-Latin Coastal Cuisine that utilizes sustainable seafood and local produce. Located midway between San Diego and Los Angeles, Raya offers a relaxed dining setting that combines luxury with resort.
Ingredients:
5ea Shallots
3ea Garlic cloves
1ea large Eggplants, roast whole in skin until tender
1/2cup Almonds, peeled, slivered
1tsp miso
1/2cup sake
2TB Mirin
2cups veg stock
1cup cucumber, peeled
2tsp chipotle in the can
2cup Green grapes
Directions:
Add corn oil to large pot, sweat shallots and garlic without getting any color.
Add the almonds to the pot and sweat, no color. Add miso-toasted.
Deglaze with sake and mirin and reduce by ?
Add eggplant (scooped out of the skin) and vegetable stock.
Simmer for about 20 minutes and chill.
Once cold, blend mix with green grapes, peeled cucumber, and chipotle.
It may need to be thinned out before served, season to taste with salt and pepper.
Pour in bowl, add toppings...I like to put sauté dice squash cherry tomatoes, and squash blossoms but you can also change it up to the season, use roasted pumpkin in the fall, and parsnips in the winter. The soup is very versatile.