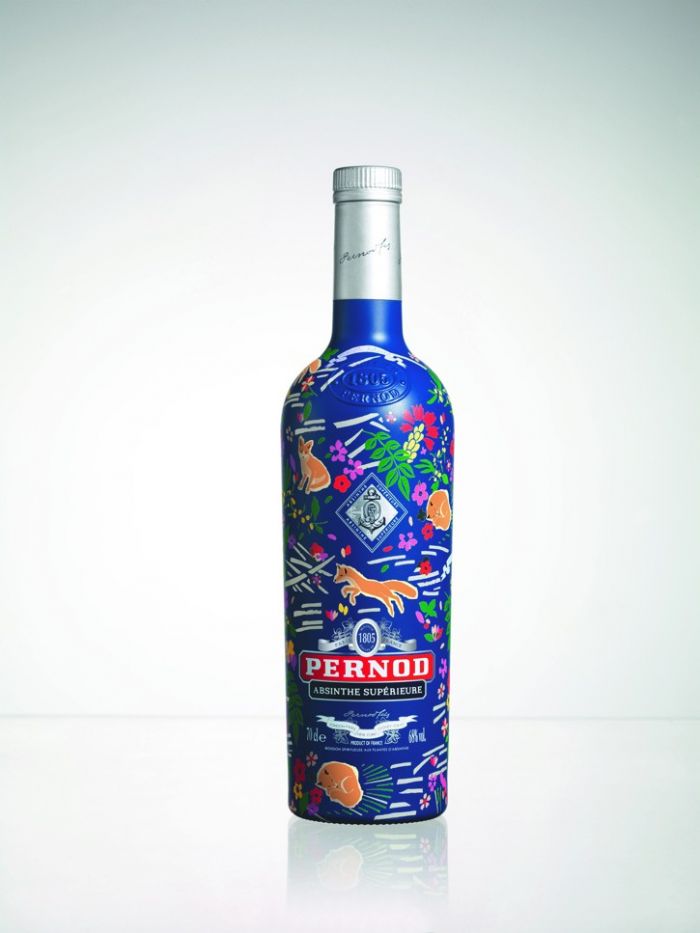 Photo Courtesy of Maison Kitsuné | Pernod Absinthe
New York Fashion Week is in full swing and interesting collaborations on the runway, and off, are flourishing. Chic French fashion and record label Maison Kitsuné has designed a capsule collection inspired by all things Absinthe, the drink that has been beloved by artists and writers since its introduction in the market at the beginning of the 19th century. Gildas Loaëc and Masaya Kuroki, co-founders of Maison Kitsuné, collaborated with Pernod Absinthe, creator of the first-ever commercially sold Absinthe in 1805, to create a capsule collection and the launch of a limited-edition bottle. Pernod Absinthe will release 1,805 bottles to celebrate the brand's launch year.
"Passion and good taste is what really drives us. Pernod Absinthe has such a strong history of these qualities and we were inspired to create something truly unique," says Gildas Loaëc.
The colorful print includes leaping foxes (kitsuné is the Japanese word for fox) frolicing amid some of the flowering herbs that go into Absinthe. The collection, as well as the limited-edition bottles, will be unveiled at Colette during Paris Fashion Week, and then be available for purchase exclusively at the famous concept store on Rue St. Honoré. Other initiatives - short film, original music and print visuals - created by Maison Kitsuné, will be released online and within independent movie theaters. In addition, "Pernod Absinthe by Maison Kitsuné" events will take place in Paris, New York, and London in partnership with Le Baron.
For more information visit
PernodAbsinthe.com
.