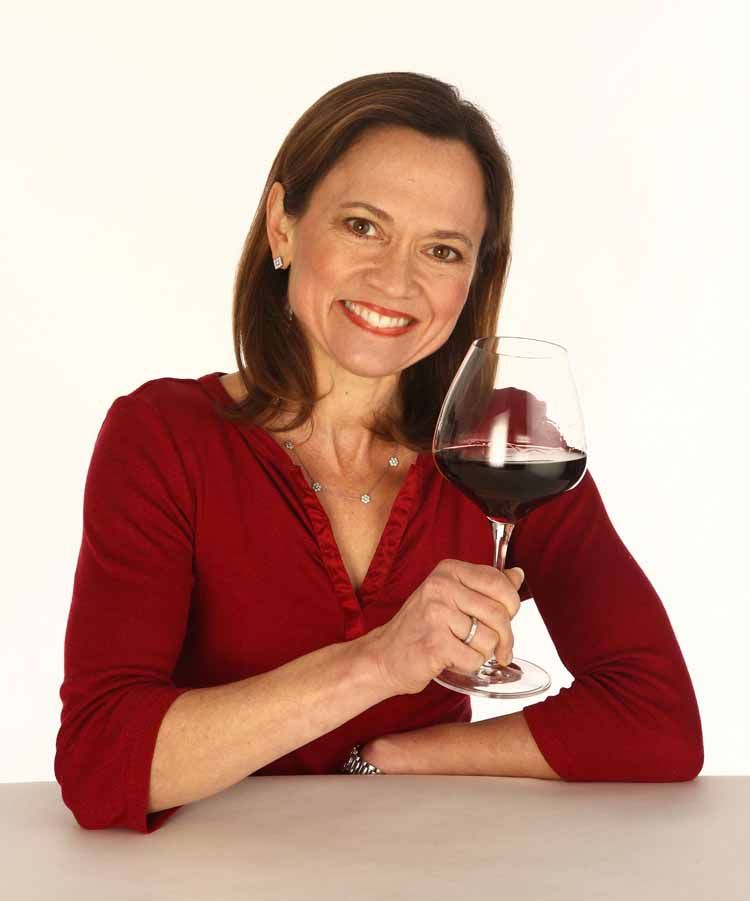 Photo Courtesy of Andrea Robinson
As one of only 18 women in the world to achieve status as a Master Sommelier, and the only woman to have ever been named "Best Sommelier in the United States" by the Sommelier Society of America, Andrea Robinson has had a fascinating journey, from Wall Street to wine. Having won three James Beard Awards and author of four top-selling books, as well as the host of her own online video wine course, Robinson is refreshingly open and friendly for someone with so much recognition.
After three years spent creating the perfect wine glasses (one for red wine one for white), Robinson has recently moved on to collaborate with Delta Airlines and their new
"Winemaker Series."
Having launched September 1, 2012, the series offers passengers in BusinessElite traveling between New York City and Los Angeles or San Francisco, an interesting and unique selection of California wines to enjoy while in the air. Curated by Robinson herself (who has been curating the airline's BusinessElite wine selection since February 2008), each winemaker was hand-selected and will be featured two months at a time, launching with Santa Barbara-based Inception Wines.
Robinson was kind enough to take the time to speak with me regarding her journey to the Master Sommelier title, her experiences working on the "Delta Winemaker Series," and why there's no shame in loving cheap wine.
JustLuxe: How did you first become interested in wine?
Andrea Robinson:
As a child, from the time I was five or so, I was interested in food and cooking; avidly cooking my way through childhood, senior years, and into college. Then because of that, when I was at college I saw an advertisement for a little mini wine tasting class in a local restaurant in Dallas and I thought that'd be neat. I attended it and I just had one of those light bulb moments. I was just really captivated by the topic, so that was it!
JL: As one of only 18 women who hold the title of Master Sommelier by the Court of Master Sommeliers, why do you think it is women hold such low numbers in the wine world?
AR:
You know, it is really rapidly changing...I think to me it is very much like other career fields and paths as women just make forays into all of them. It started out with medicine and law, and women really started to make their way onto the scene, and now it's easily 50/50 male and female. I think most other fields have made similar evolutions, just maybe on a different timeline, so what's great about being in wine for women is there a lot of different roads you can take and many of them offer flexibility in terms of a schedule, so you can accommodate a family and so on, much more so than other fields. I always tell people, "If you have even a passing interest in wine, check it out as a career path." Because it's exciting, it connects to ancient histories, and it's a part of a global fabric of our culture. It's a way to travel the wine world even when you can't take a flight; by traveling through your taste buds. It's really a fun thing and even though the title of Master Sommelier sounds kind of snobby, it's a fun group of people.
Photo Courtesy of Thinkstock
JL: What was your journey to the esteemed title like?
AR:
I think very typical of how it is in America, in the sense that a lot of people who do this type of thing are career changers from something else that was perhaps more traditional. Even though in college I took that little wine tasting class and became really intrigued by wine, I was studying finance and economics [and] was recruited to work on Wall Street at a big investment bank, Morgan Stanley. [...] But while I was doing investment banking, in my free time I volunteered at a little wine store called the International Wine Center as a pourer, so that I could take the classes for free and meet the wine makers and the wine experts that came to teach and present. One day I worked a tasting that was from a champagne called Krug, and the next day I decided to go to my boss at Morgan Stanley and say, "I like investment banking, but I love wine and I want to try and make a living at it, so I'm going to leave." He said, "You know, that's great and I wish I had the guts to do the same," or something like that. It turned out he was a big foodie and wine collector so it makes sense he would say that, but I didn't know that at the time.
Photo Courtesy of Andrea Robinson
JL: Wow, that must have taken some guts. What did you do after that?
AR:
I got a Eurail Pass and a youth hostel card and I traveled to Europe in 1990 for about 6 months, and [...] when I came back [I] was hired by Windows on the World's wine department, that was the restaurant on top of the World Trade Center. It was a great opportunity, plus it had one of the most legendary wine professionals, really ever, in America, Kevin Zraly, who just won the James Beard Lifetime Achievement Award last year, and he became a real mentor. I worked my way up there thru the wine cellar and then onto the floor, and became the first female cellar master. [...] During that time of Windows on the World were when I passed the Master Exam, Master Sommeliers Diploma, and then competed in the World Championship of Sommeliers.
JL: If you had to choose one winemaker to drink for the rest of your life, which would it be?
AR:
Wow, you know it would have to be my sentimental favorite of Krug champagne because that really was the wine that lured me off of Wall Street and it is still my favorite. I can't afford to drink it frequently so it's my Mother's Day wine. My husband calls it the "doghouse wine", cause if he's in there, that's gonna spring him...if he brings home a half bottle of Krug. It's true, I can be manipulated with that wine.
Photo Courtesy of KRUG
JL: Have you ever thought about opening your own vineyard and winery one day?
AR:
We have on our property three acres of Sauvignon Blanc and we've toyed with the idea, so TBD.
JL: Having tasted some of the best wines in the world, do you find yourself unable to enjoy a nice bottle of Charles Shaw?
AR:
You know, one of my messages to people is it doesn't have to be expensive or complicated to be good. At first they sort of do a double take and they think, "Now wait a minute." A lot of times you're sort of made to feel that the only way to be sure to get a good wine is to pay a lot, but that is not an insurance policy. You can pay a lot for caviar but it's not for everybody. No one looks down on you if you enjoy a hotdog at the baseball stadium or a $2.99 omelet at a greasy spoon diner on a back road somewhere. And you might have that hot dog or that big plate of breakfast and just be so happy cause that's what you want right now. And I think wine can be the same thing. You get on a flight and head to Italy or Spain or France and people are not making a big deal out of drinking wine, but they're drinking it with their meal everyday and they're not worried if it has the right label, or even a cork or even came out of a bottle. I totally enjoy everyday affordable wines with everyday occasions and I think that people need to realize that it doesn't have to be a special occasion beverage. It doesn't have to be expensive to be perfectly yummy with an everyday meal, all the pressure is off. So, If I like Charles Shaw it doesn't indicate I have bad taste. No; it means you get two for one!
Photo Courtesy of Thinkstock
JL: How did you narrow down the selection used for the "Delta Winemaker Series"?
AR:
Everything about the Winemaker Series is to really showcase California and its unique attributes. So we've got everything from one of the first women wine makers in California, to one of the up-and-coming wine brands that's kind of hot in the Hollywood and L.A. scene. We've got classic Napa Valley, including Napa's oldest winery, and certainly we've got the star grapes of the California scene, so we have Santa Barbara county Pinot Noir, which was made the darling of the silver screen by the movie "Sideways". We [have] Napa Valley represented in all its glory with a classic Bordeaux varietal Merlot, as well as one of the truly original signature wines of the Napa Valley, the Robert Mondavi Fume Blanc. Each wine has a story that is integral to what makes California as a wine place unique. Everything sort of has a reason to be on the list and it was easy. There were great selections offered to us and there are many more that are candidates hopefully for the future, but this first lineup pretty much hits on all of the key thematic points that would make all of us Americans proud of California as our major foot forward in the world of wine.
Photo Courtesy of Andrea Robinson
JL: Do you find that certain varietals perform better than others at high altitudes?
AR:
Yes, for sure. At high altitudes your sense of smell, which is really what drives your sense of being able to perceive flavors and deliciousness, is really attenuated and numbed...at altitudes, at part because of the low humidity and the dry conditions of the airplane cabin, as well as the lower pressure. With the lower pressure it means that the rate of vaporization, all of those aromatic and flavor molecules in the wine, speeds up tremendously. Whereas [what] you normally get in a sip or a nice nosing, or smelling, in the bouquet of the wine, a certain number of aromatic molecules, all of that proportionality gets messed up when the pressure in the cabin is different. So all of your senses don't get a fair crack at what the wine has to offer the way [they] would normally at sea level.
Photo Courtesy of Thinkstock
JL: What has been your favorite part of this project?
AR:
I'm really confident that we're going to have incredible customer feedback on it because this is a huge investment by Delta and the onboard experience for our trans-con [flyers]. You know, there's nobody domestically surveying this level of wine in first class, and frankly this level of food. It's only fitting that with Chef Michael Chiarello curating the menu, that we, in being a California chef/Napa Valley based neighbor, have wine that is worthy of his pedigree. It just makes sense because New Yorkers are very sophisticated, and obviously Californians coming out of San Francisco and Los Angeles - you know, where wine is everywhere, part of the fabric - so the expectation that we should have that kind of greatness on board the flights, it only makes sense that we're delivering on it. So I'm just excited that we're fulfilling the position of that service experience.
Photo Courtesy of Andrea Robinson
JL: What region do you think is putting out the best wine right now?
AR:
Wow. You know, I honestly, and it's not cause I live here, I have to say that Napa Valley, acre-for-acre, ounce-for-ounce, is really hard to beat. At the bargain price level they're every bit as good as, if not better than, any other world class regions in the same aspirational category, the everyday wine. Then as you move up the scale into the very collectable wine, we are nailing it. Not to say that all the wines are better than anything else in the world but there just isn't a region that's exceeding Napa's capability.
Photo Courtesy of Robert Mondavi Winery
JL: Is there anything else about the "Delta Winemaker Series" or about your journey that you would like to mention?
AR:
Each wine has a story and the cool thing about it is that they're all accessible, meaning that you will taste them on board and if you like them you can order them and have them sent to your home, except for in a few states now, and you'll see them in restaurants. Every one of them has a "there there", meaning that if you come to California, of course on a Delta flight, you can access these wineries, see where the grapes are grown and/or where the wine is produced, and very often meet the people behind them. That's unbelievably authentic and that's what makes me excited about wine, there's very little anonymity to it, it's just too personal. That is right in keeping with Delta cause at the end of the day every airline is selling travel, is selling transportation, but with Delta it's really about the people, and that's why I love working with them, that's what makes the flying experience. I like to think it's the wine but the fact is, it's the people, so it syncs up really nicely with the "Winemaker Series."
Photo Courtesy of Delta
For more information visit
AndreaWine.com
or
Delta.com
.