Mila Pantovich View Profile

Lifestyle Editor | JustLuxe
Seafood Tips and Tricks From Four Star Restaurant Chefs
Sep. 13th, 2012 | Comments 0 | Make a Comment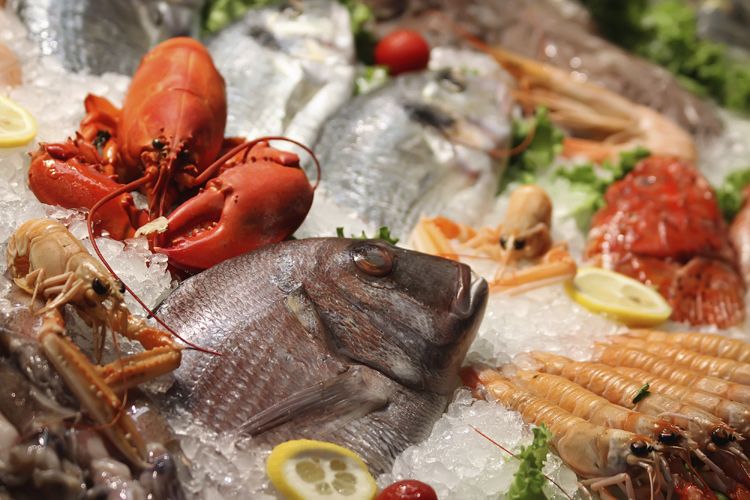 Photo Courtesy of Thinkstock
Cooking seafood can be pretty tricky if you don't know what you're doing in the kitchen. From knowing how to pick the freshest lobster to being able to determine the moment your mollusks are finished steaming, cooking a fresh seafood dinner can be filled with mishaps. In attempts to help you out at home, we've gathered some tips and tricks from some of the best chefs cooking seafood today. With each of these chefs working at four or five star restaurants, you may have already eaten their tried and true seafood dishes. From advice on how to select the freshest fish to specific tips on how to cook shellfish, you'll definitely want to put these notes in your cookbook.

Cooking Shellfish:
James Clark - "For the beginners - I would say clams to cook at home are very easy because when they open, they're done. Be sure to buy clams that are alive; if they are open a little, squeeze them shut a few times, and if they close and stay closed then they're alive. If they do not close, they are dead. When cooking them it's okay to keep pulling off the top and remove ones that just open to not overcook them. Continue doing this while they cook until they are all done - just do not remove the pot from the heat [because] that needs to stay consistent."
Jason Berthold - "If you can find a seafood market that keep their shellfish alive in tanks of filtered water you're guaranteed freshness, otherwise just make sure that what your buying is stored cold, is not sitting in melted ice, and have all of their shells intact and closed. The easiest way to cook mussels or clams in by sautéing a little sliced shallot and garlic in olive oil with a sprig of fresh thyme, add the shellfish and a splash of white wine and dollop of butter, cover with a lid and allow to steam until the shells open. Once the shells pop open you can finish them by adding a squeeze of fresh lemon and handful of chopped parsley if you want to serve them in a broth. If you want more of a sauce, remove the cooked shellfish from the pot and reduce the cooking liquids down by about half with some additional butter before finishing with lemon and parsley, and pour over the cooked shellfish."

Buy From Local Fisheries:
Josh Lewin - "...Buy fresh and local! Many farmers markets now feature locally caught seafood that you can purchase right out of your fisherman's hand. There is no comparison to that type of freshness when working with food from the sea..."
Walter Bundy - "Selecting fresh seafood begins with choosing a reputable and trusted source. Most of what I eat is from what I catch or from what my friends sell from the Eastern Shore. A small scale seafood dealer is very in touch with his or her inventory. There is little to no waste and thus he is offering a higher quality product. Not only do you know where your food is coming from, but you are able to develop a relationship with the supplier and can get a lot of great suggestions about what to try. More than likely, your local fishmonger can tell you what is the freshest and the most local."
Photo Courtesy of Beacon Hill Hotel & Bistro

Consider the Season:
Walter Bundy - "There is nothing better than soft-shell crabs in the summer time or fresh oysters on a cool fall day. In late summer, I like to pan-sear fresh fish and pair it with a couple of sliced tomatoes (heirlooms are best and you can find them at your local farmers markets), fresh basil from The Jefferson Hotel's Urban Garden, extra virgin olive oil and a sprinkle of cheese. For something a little heartier, try pan-seared rockfish with collard greens and cheese grits. I will often make a simple tartar sauce or rémoulade to go with a fish dish. Sometimes the fish is so good though that I won't even end up using it."
Photo Courtesy of Thinkstock

When Selecting Fresh Fish:
James Clark - "[...]It is always best to select fresh fish but do not be fooled because it just smells good; you have to touch it. If it is firm and the flesh bounces back then it's good, and if the gills are bright red, then you're good. Also, look inside the cavity of the fish, it should, of course, smell like sweet ocean water. Also, make sure you don't see any yellow stains, this is called 'belly burn' and it means that the guts stayed in way too long, and that's not good."
Jason Berthold - If the recipe you've been dying to try calls for a specific fish that you can't find, Chef Berthold affirms that you should never hesitate to ask for assistance. "Don't be afraid to ask for help, any good fish monger should be able to steer you to something similar for your recipe if they do not have the exact fish you're looking for."
Walter Bundy - "The basic rule of thumb when selecting fresh fish is to make sure there isn't a smell and to check that the eyes are clean. The eyes should be bright and clear and the fish should have an overall healthy and clean appearance. The flesh should be firm and moist. Additionally, if buying a whole fish, the gills should be bright red and not brown or slimy. If buying from a shop or grocery store, check the expiration date."
Photo Courtesy of James Clark

Prior to Cooking:
Jason Berthold - "Pull your fish out of the refrigerator about 20 minutes before cooking. This is especially important for thick cuts of fish that could be easily overcooked on the outside by the time the center is cooked."
Walter Bundy - "Once you bring home your fresh seafood, it's important to take care of it. Fish should be stored on ice in the refrigerator and can last a day or two before being prepared. However, it is best to buy what you are going to eat that day as it sometimes takes several days for the fish to get to market and then to your local dealer."
Proper Cookware:
Jason Berthold - "Having heavy-duty, high quality cookware is never more necessary than when cooking seafood properly. Have a flat bottom pan large enough to hold the fish without crowding, heat it and the cooking oil thoroughly before adding the fish, and don't try and move the fish in the pan too early. Use a thin offset fish spatula or a large for handling delicate fillets. For thick cuts of fish basting with fat is helpful to push the heat through the flesh. Once I have some caramelization on the first side of the fish, I like to baste it with butter, fresh thyme, and a clove of garlic."
When Cutting Into Fish:
James Clark - "Always be sure to run your knife from the head to the tail and never go the opposite way because you run the risk of getting stabbed by the bones in the dorsal fin, which is very painful from any fish!"
Photo Courtesy of Thinkstock

When Cooking Fish:
James Clark - If you consider yourself more advanced than the average beginner, Chef Clark offers a technique for grilling whole fish with thin skins, like Vermillion Snapper, Black Bass, Rainbow Runners, and Hybrid Stripers. "[...]We all want a pretty presentation and that smoky woodsy flavor from the grill. You can achieve all of this by making sure the grill is very very hot and clean brushing the grill grates with an oil soaked rag. Then on the outside of the fish rub olive oil until it is well moistened, but not soaked, and season with fresh ground pepper and course sea salt. Gently place it on the grill and allow it to sear before you flip or remove."
Jason Berthold - "If you are a seafood lover who doesn't mind dealing with bones, try cooking fish whole, or as a bone-in steak. The bone protects the delicate flesh from direct heat and retains some of the natural flavor and juices in the meat. Small fish like farmed bass, flounder or sole can be cooked whole and the bones removed easily before serving, larger fish like halibut, salmon, or skate wing can be cooked on the bone like a steak."
Josh Lewin - "Working with smaller whole fish at home provides a lot of opportunity. Stocks, soups, sauces, fish cakes and brandade are all easy applications for the leftover parts, and these applications are a lot quicker and easier than similar applications for poultry or other meat."
Walter Bundy - "When preparing fresh fish, you don't want to overdo it. For me, I like to filet it up and season with salt, pepper and Old Bay. I then pan-sear the fish filets with whole butter or extra virgin olive oil. Simple is best. For a heart healthy and low calorie meal, grill the fish with just a touch of spray olive oil on the grill."
Photo Courtesy of James Berthold

Extra Tips:
James Clark - When filleting Triggerfish Chef Clark says, "[...] it's best to remove the skin and leave the membrane on the fillet before removing it from the bone. This [is] where all the flavor is on the Triggerfish!"
Jason Berthold - "I love to serve and eat fresh seafood with flavors such as brown butter, capers, lemon, wine wine, and parsley. It's hard to go wrong with any combination of those flavors and if you're confident in the quality of your seafood, let it shine and use these ingredients just enough to accent the natural flavors."
Walter Bundy - "It's all about putting a little bit of thought into your cooking, giving respect to your purveyors and the product and caring about what you are eating. Simply prepared is often the best as the freshest products tend to speak for themselves. Combining fresh seafood with local and seasonal foods tends to yield the best results."
Photo Courtesy of Thinkstock
Photo Courtesy of Hayes & Fisk The Art of Photography
You might like :
Epicurean Experiences
LET'S CONNECT LUXURY NEWS & MORE