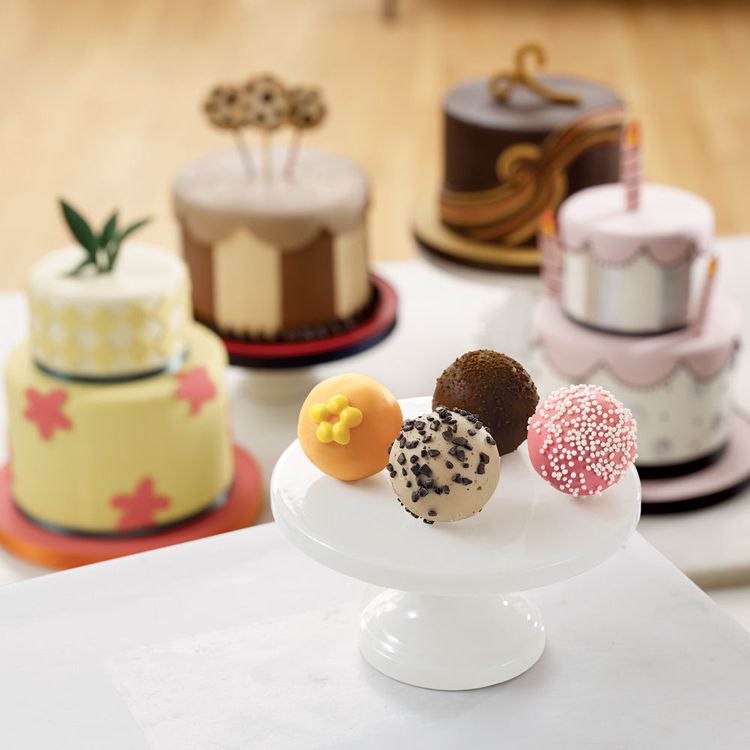 Photo Courtesy of Godiva
In case you're wondering what small yet unforgettably decadent gift you should get the gourmands in your life for Christmas/Thanksgiving/a "congrats on getting a new job" memento/an apology offering after a particularly heinous transgression/every birthday from now until the end of time, GODIVA's new Cake Truffle Collection is your answer. Seriously. In fact, if you're a chocolate fiend or have one in your inner circle, you may as well buy the Cake Truffle Collection 8-piece "keepsake boxes" in bulk, as we head into holiday season.
Designed by the dude-liest cupcake baker on cable, Duff Goldman of Food Network's long-running hit Ace of Cakes, GODIVA's new truffle collection consists of four flavors: Birthday Cake, Cookie Dough, Pineapple Hummingbird and Butterscotch Walnut. A media tasting and cake-decorating demo held by GODIVA to launch the new truffle collection proved two things. First, there's really no such thing as chocolate that "looks too good to eat." These little truffles look sweet, but they taste 10 times better. And second, what's on the inside matters more than what's on the outside. From the outside, a GODIVA Cake Truffle looks like a tiny cake pop with no stick. Crack the chocolate shell, and you'll encounter a center that's denser, richer, more flavorful and more lasting than any cake pop could ever be.
Each of the four featured flavors was inspired by a Duff Goldman classic recipe, so people who watch a lot of Food Network may be familiar with them. Birthday Cake is the most vanilla of the bunch: a white chocolate shell filled with vanilla cake mousse. Cookie Dough has a milk chocolate shell, a cookie dough ganache filling, and dark chocolate chips liberally sprinkled on top. Butterscotch Walnut looks like it might be a dark chocolate, since it's got a milk chocolate shell with molasses dusted atop...but inside, it's butterscotch caramel and maple walnut cream. Pineapple Hummingbird is the wild card of the bunch, and probably should have been called Tropical if the creators wanted to stay true to their simplicity-in-naming theme. It's a white chocolate shell, pineapple and banana ganache filling with pecan cream cheese frosting.
GODIVA's Cake Truffles Collection is available in GODIVA stores nationwide, sold either by the individual piece or the 8-piece keepsake box ($25 MSRP). The box is also available at gift retail outlets including Barnes & Noble.