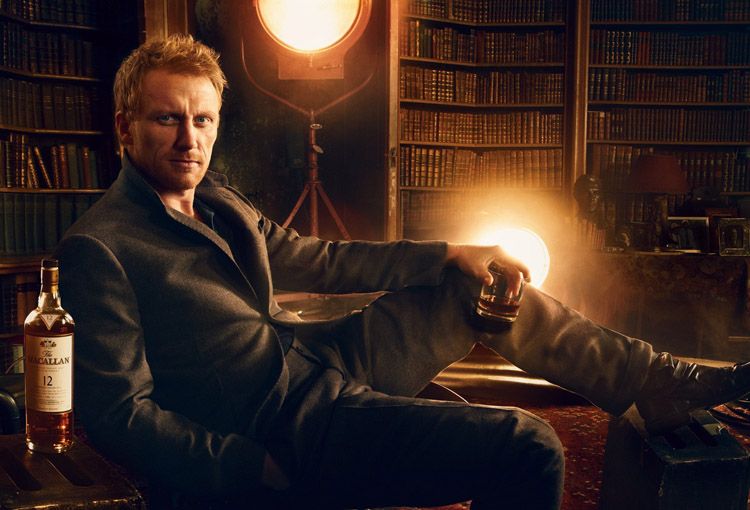 Photo Courtesy of The Masters of Photography
Most people, when they think whisky, think of cowboys or dapper old gentlemen. The
luxury liquor brand
Macallan recently came out with a campaign to display whisky through the eyes of a woman. Not just any woman though, but the eyes of one of the world's best photographers, Annie Leibovitz. Leibovitz's four iconic images featuring Scottish actor Kevin McKidd served as inspiration for the flavors of the whisky housed in the 1,000 limited edition bottles that the pictures cover.
According to the BBC, studies have shown women to have a better sense of smell, which is apparently 90 percent taste. That means that women can enjoy whisky more fully than men. That's probably why women have been oppressed throughout history; men are just jealous of their incredible olfactory organs. With these facts in mind, who better to take pictures of a man drinking whisky than a female photographer, who has the sense of smell to really understand what a whisky picture should look like? Leibovitz exposes this wonderfully full world of whisky through dramatically lit and positioned photos.
The world in these photos seems to be a very different place from the one that we live in. It's a world where people drink whisky while watching the sunset on some scaffolding, and have big libraries with ancient looking volumes and busts of distinguished looking men. The camera lights that are used as a prop in all of the shots give the photos a uniquely real vibe. Instead of pretending that McKidd regularly enjoys a glass of whisky perched high above New York City with his hands dangerously confined to his pockets, Leibovitz unabashedly admits that the photos are posed. And what of it? People who drink whisky are secure enough with themselves to not care if you make fun of them for their pretense and Leibovitz knows that about whisky, because she can smell it.