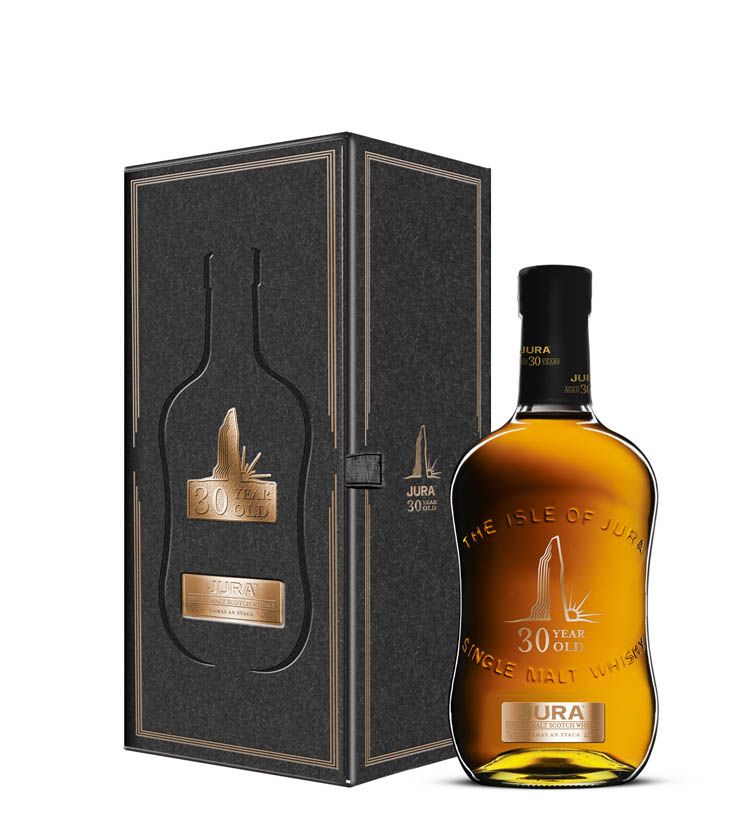 Photo Courtesy of Jura Whisky
Lovers of peaty whiskies are well acquainted with the Scottish island known as Islay, but in between Islay (pronounced "eye-lah") and the Scottish mainland sits the Isle of Jura. While Islay has eight distilleries scattered over its land, Jura has but one that bears its name.
Jura's core range of single malt whiskies includes the delicate Origin 10, the full-bodied Diurach's Own 16, the fruity and spicy Elixir, the lightly peated Superstion (which this writer, incidentally, is enjoying while writing these words) and the heavily peated Prophecy. Now the island distillery has announced another addition, its oldest to date, in the Standing Stone 30.
Aged, as its name indicates, a minimum of 30 years, the Standing Stone malt is inspired by the Camas an Stanca, the largest of eight standing stones that remain from a 3,000-year-old formation laid by the earliest Diurachs that inhabited the island millennia ago.
The Standing Stone 30 has a nose of sandalwood and lime with hints of vanilla, coffee, tangerine and lemon, and its flavor profile includes hints of orange, liquorice, coconut and pineapple, to name just a few of the tastes which the three-decade-old malt brings to mind.
It's been aged in American white oak, finished for the last three years in Oloroso Sherry butts from Spain and bottled in glass in-filled with copper wax. The Standing Stone 30 hits shelves in finer liquor stores around the world starting in December for ?350 (around $456) per 700ml bottle.
For more information visit
JuraWhisky.com
.