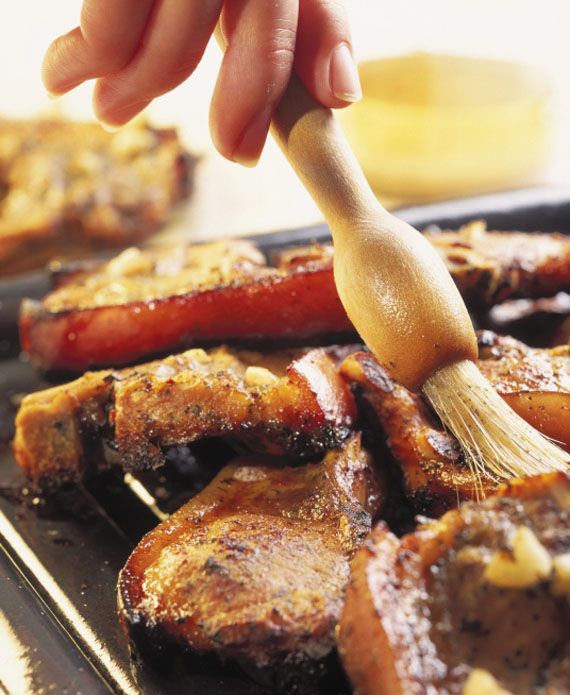 Photo Courtesy of Ingram Publishing/Thinkstock
Celebrity Chef Elizabeth Falkner joined up with luxury goods brand, Harry & David to create a few exceptional seasonal recipes. Brown sugar, onion, fennel, and Harry & David Royal Riviera Pears combine to make this pork chop dish a main holiday attraction on the table this year.
Serves:
4
2 bone-in center cut pork chops, 10-12 ounces each
? tsp fennel seeds
? tsp black peppercorns
2 tsp salt
1 tsp light brown sugar

For the Mostarda:


2 ea. Harry & David Royal Riviera® Pears, diced half inch cubes
? ea. onion, diced
2 Tbsp olive oil
? cup honey
1 tsp mustard powder or mustard seeds
2 tbsp balsamic vinegar
a few cranks of black pepper
? cup Mustard greens for serving
For the Pork Chops
Grind all the spices together with the sugar and rub all over pork chops. Set aside for fifteen minutes at room temperature.
Preheat the grill on high or heat a cast iron skillet over medium-high heat on the stovetop and preheat the oven to 375 degrees (Add 1 TB. olive oil to the pan if cooking in cast iron).
Cook the pork on one side for 4-5 minutes on the grill or in cast iron. Turn over and cook for another 4-5 minutes on the grill; if cooking in cast iron, flip the chop and transfer to the oven for 4- 5 minutes. Set aside to rest for five minutes.
For the Mostarda:
In a large sauté pan on medium heat, add the olive oil and then the onion. When the onion becomes soft, add the Harry & David Royal Riviera® Pears along with the honey, mustard powder or seeds, balsamic vinegar, salt and pepper. Turn heat to low and cook for five minutes. Add a splash of water if the pan becomes too dehydrated. Cool and toss with mustard greens.
To Serve:
Set a pork chop on each plate and top with the mostarda.