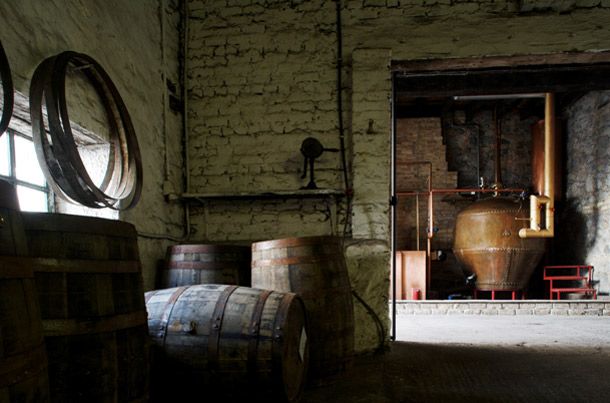 Photo Courtesy of Kilbeggan
Double-distilled and made from an Irish recipe that has been around for over two centuries, it's no wonder why Kilbeggan Irish Whiskey received a gold medal this year at the San Francisco World Spirits Competition. The time honored whiskey comes from a brand that can proudly call itself the world's oldest operating distillery, hailing from the town of Kilbeggan in Co. Westmeath, Ireland. A popular drink on its own or with a mixer, Kilbeggan's amber colored body reveals flavors of almond, caramel, and vanilla with a finish that peppers the palate with spiced, oaky notes.
Today, Kilbeggan gives its drinkers the same satisfaction that it did over two and half centuries ago, yet whiskey fans and connoisseurs can take heart that time has only improved the ways to enjoy the beverage. Signature recipes from the Kilbeggan brand feature creative ways to use its flavor, from the Irish Breakfast Shot, using orange juice and bacon, to the Kilbeggan Irish Storm, featuring a combination of ginger beer and fresh lemon sour. To add a special touch for the holidays, try the Kilbeggan Orange Spiced Coffee. The recipe blends 1 part Kilbeggan Irish Whiskey with ? part DeKuyper Premium Orange Liqueur, 1 tsp. sugar, cloves, cinnamon stick, and topped with a swirl of whipped cream and orange zest.
Kilbeggan has won several other awards for its taste quality including the 2005, "Best in Class" at the International Wine & Spirits Competition, a silver medal at the 2006 International Review of Spirits, as well as a silver medal at the 2006 & 2007 San Francisco World Spirits Competition. Kilbeggan's gold medal during this year's San Francisco World Spirits Competition reflects the growing popularity of Irish whiskey among U.S. consumers as well as the brand's commitment to its fine flavor. For more signature recipes, such as the Dubliner, and for information about the brand visit the Kilbeggan website.