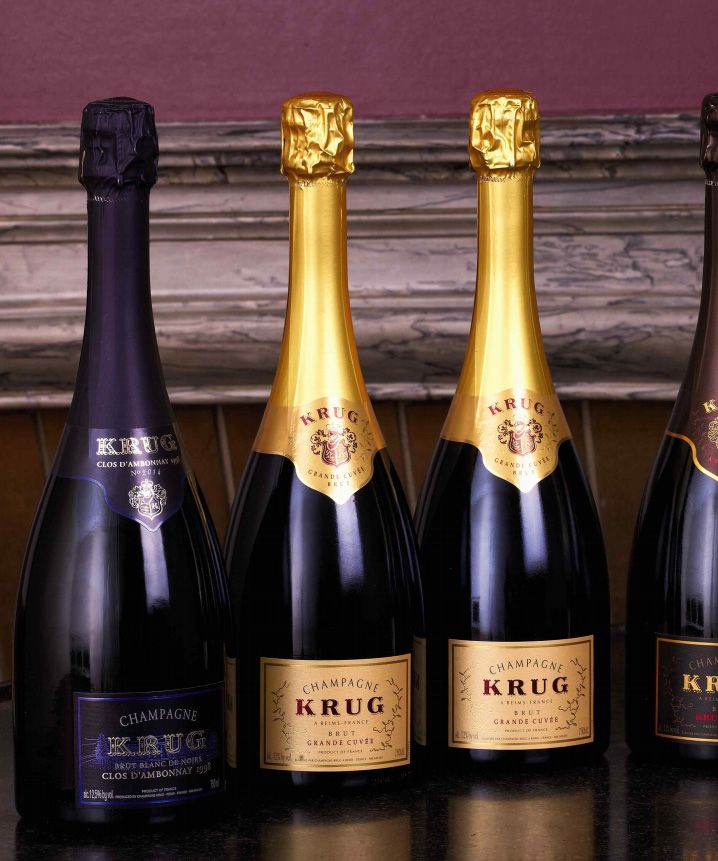 Photo Courtesy of Sotheby's
Sotheby's
has upped the ante for its December 1, 2012 sale of the largest collection of Krug champagne ever, taking place in New York. In addition to the unprecedented offering of precious bottles sourced directly from the cellars of Maison Krug in Reims, the auction house is now offering two exclusive excursions to the Maison itself, one of which includes a private tasting of historic Krug vintages. The premier package begins with a limousine ride from Paris to Maison Krug in Reims. A tour of the Maison is followed by a fabulous lunch at
L'Assiette Champenoise
, the luxurious hotel that features a Michelin 2-star restaurant.
Then comes the true
pi?ce de résistance
: a tasting to be conducted with either Eric Lebel, Krug's Chef de Caves, or family scion Olivier Krug himself, of historic and extremely rare Krug vintages. The tasting will include one vintage each from the 1960s, the 1970s, the 1980s and the 1990s, as well as a "Point To Universe" tasting of the famed Krug Clos du Mesnil 2000, Krug Vintage 2000, and Krug Grande Cuvee. After that of course you'll be glad of a suite at L'Assiette Champenoise before your limousine ride back to Paris in the morning. Bidding for the once-in-a-lifetime experience is expected to begin at $5,000, though there's no telling how high it could go.
The other champagne-soaked travel experience includes lunch in the Krug Clos du Mesnil vineyard itself along with a Krug Clos du Mesnil tasting, and a tour of the Krug Clos du Mesnil and Krug Clos d'Ambonnay vineyards after lunch along with a visit to Maison Krug with the winemaker or Olivier Krug himself. The excursion wraps up with dinner alongside Krug winemakers at L'Assiette Champenoise and a suite there for the night. To give you an idea of the scope of the offering, a single case of Krug Clos de Menil is expected to fetch up to $30,000 in the landmark sale. The bidding on the second trip will also begin at $5,000 and only one of each excursion will be offered.
The sale spans 40 years of Krug production, with 530 bottles, magnums and jeroboams coming direct from the cellars of Maison Krug in Reims. Highly prized vintages from 1961, 1973 and 1982 are included among the lots, as well as five Grand Cuvees never previously released by Krug: Finesse, Richesse, Savoir-Faire, Fraicheaur and Memoires. And if champagne isn't quite your thing, how about a $170,000 bottle of Chateau Mouton Rothschild?
Visit Sothebys.com for bidding information.