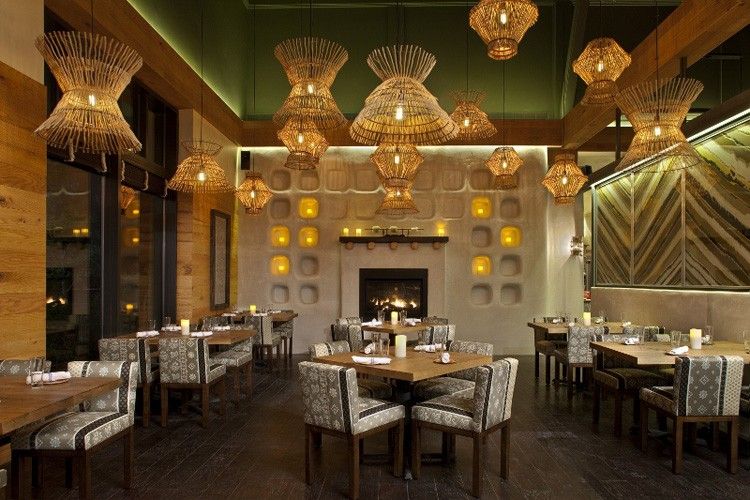 Photo Courtesy of Sage Restaurant Group
Southwestern grills are not a new concept - tacos, enchiladas, and Tex-Mex menus can be found literally all around the globe. However, Kachina at the Westin Westminster, Colorado gives a renewed take on old standbys by infusing them with Native American-inspired dishes and unexpected flavor pairings to a delightfully fresh menu.
Kachina dolls are Native American spirits represented in a doll form. From ornate figurines representing the cosmos and elements to decorative representations of ancestors or natural phenomenon, the Kachina is an integral part of Native American culture. Partnering with local ranchers and farmers, Kachina Southwestern Grill is also becoming an important part of the local culinary scene, utilizing produce and products from over a dozen resident ranches and farms.
Inspired by Southwestern design, the elements are certainly present but not overwhelming nor kitschy. A stunning sand painting screen separates a private dining room while outdoor spaces with fire pits keep guests cozy under warming heaters. An indoor collection of lantern-adorned trees overlook the guests below, adding a unique sense of ambiance to the restaurant. Adobe-encrusted walls are arranged in a chic and minimalistic fashion, flattering the space even further without distracting from the central motif. Comfortable seating can be enjoyed for a quick meal or an all-night social event overlooking the nearby pond and fountains underneath star-lit Colorado skies.
Breakfast, lunch, dinner and Sunday brunch are served at Kachina offering everything from "The Indian" Burrito made with bison meatloaf, cheddar and red chile sauce to Blueberry Buttermilk Pancakes with prickly pear curd, whipped butter and maple syrup. The Navajo Tacos are a must for lunch with the several filling options inside the fluffy handheld bread shell that include The Santa Fe - smoked chicken, charred tomato salsa, asadero cheese and caramelized onion - or the mouthwatering Sonoran - a vegetarian option of calabacitas, avocado and ancho tomatillo salsa. Partnering with local farmers, Kachina also offers an in-house butcher shop, ensuring the freshest cuts of meat around with a new menu created whenever the specialty runs out.
Happy Hour is also a favorite activity at Kachina, mixing up refreshing spins on old favorites such as the Mexican Mule, Coin House Margaritas and Red Sangria. Specialty concoctions include the Native Sage - Don Julio Reposado, sage infused honey, lemon and grapefruit - or the Harvest Moon - Chamucos Reposado, house-made cinnamon-cranberry gomme syrup, lime and orange. 50 handcrafted tequilas and artisan mezcals are available behind the ornate yet comfortable bar, an ideal hangout for locals and guests alike in the warm and inviting atmosphere.
Finally, desserts are not to be missed. The Pineapple Tamale is one of the most inventive desserts to grace a menu in a while, featuring a pineapple spice cake inside a traditional tamale corn husk, served with toasted marshmallow and a tequila orange anglaise; this crowd-pleaser is perfect to share or hoard for yourself. Chocolate Chile Beignets, Coconut Flan and Sweet Blue Corn Biscuits also pepper the large dessert menu, a sweet finish to fantastic fare.
Adjoining the AAA Four Diamond Westin Westminster Hotel, patrons are in for a treat with this unique and fresh take on Southwestern inspired cuisine. From the chic and unique décor to a refreshingly creative menu, Kachina is a brilliant addition to the area's dining scene. To make reservations, visit www.kachinagrill.com.