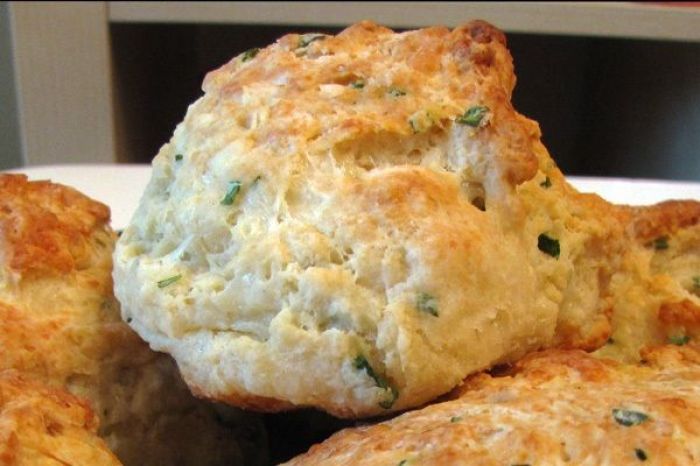 Photo Courtesy of Marc Forgione
Thanksgiving is three days away, meaning that you're probably trying to plan what you're going to cook. Whether you're making the entire meal or you're just a guest and want to bring a tasty dish, you better start planning what will be on the table. There are always the main dishes, usually turkey or ham, and the common sides, like mashed potatoes and yams, but no holiday meal would be the same without a good biscuit.
Bakeware company
T-fal
and
Marc Forgione
, celebrity chef and season three winner of "Next Iron Chef", have shared with us Forgione's favorite recipe to keep his family tradition alive, Cheddar-Chive Biscuits! The recipe stems from Forgione's father, Larry, who was a legend in the culinary world due to his revolutionizing of American-style cooking in the 70's and 80's. Forgione recommends baking these warm biscuits as a companion to turkey, using them to soak up all that extra gravy you don't want to miss.
Chef Forgione definitely takes after his dad and is the youngest American-born chef to ever receive consecutive Michelin stars (2010, 2011, 2012). His self-named restaurant, Marc Forgione, has been a favorite among New Yorkers since it first opened in 2008, helping him to open a new steakhouse in New Jersey called American Cut.
Yields:
24
Ingredients:
3 cups all purpose flour
1 tablespoon plus 1 teaspoon baking powder
1 tablespoon granulated sugar
2 1/4 teaspoon kosher salt
1/2 cup grated cheddar cheese
1 bunch chopped chives
2 1/2 cup heavy cream
Warm honey, for serving, optional
Directions:
Preheat the oven to 350 degrees; position the rack in the middle. In a large bowl, whisk together all the flour, baking powder, sugar, and salt until thoroughly combined. Stir in the cheese and the chives. Add the heavy cream and mix or knead until loose dough forms. Do not over-knead.
Turn the dough out onto a well floured surface and, using a rolling pin, roll out the dough to about 3/4-inch thickness. Using a 2-inch biscuit cutter, cut the dough into biscuits. Transfer the biscuits to a greased cookie sheet and bake about 18-20 minutes, or until golden brown. Serve warm with a drizzle of honey.