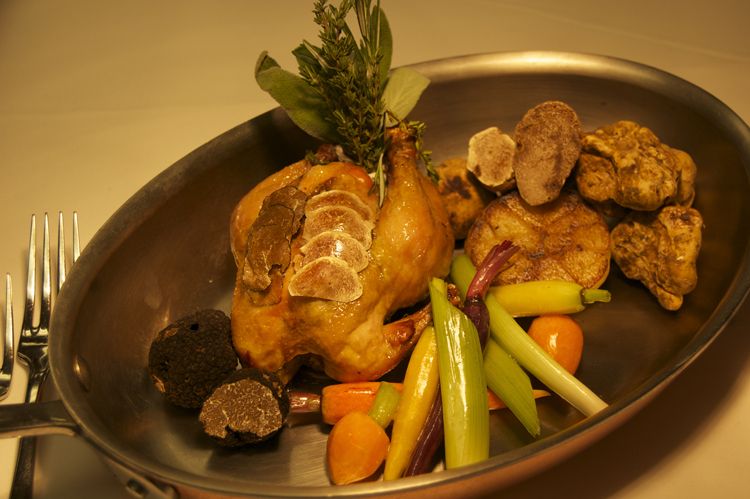 Photo Courtesy of Aureole
We know turkey is the norm centerpiece during Thanksgiving but if you find yourself wanting to try something different, why not go for a Truffle Stuffed Whole Roasted Chicken with Creamy Truffle Polenta? Sent to us by Marcus Gleadow-Ware, the Executive Chef of Aureole in New York, this recipe incorporates white and black truffles with fresh thyme and sage to create an attention-grabbing dish.
Led by Chef Gleadow-Ware, Aureole offers unforgettable American cuisine that is loved by all who visit. With an overall OpenTable rating of 4.4 stars, Aureole proves that critics, along with the average patron, enjoy not only the food, but the service as well. Customers love the romantic and comfortable ambiance, as well as the impeccable dishes (the Long Island Duck is worth mentioning). One customer was even thrilled and surprised to have her request for the amuse bouche recipe happily fulfilled, giving Aureole a friendly and open reputation.
If you live in the New York area, free your schedule on Wednesday, November 28 because Aureole will be hosting a special White Truffle Dinner. Included on the menu will be the very recipe you see below, as well as Tuna Tartare with white truffles, Truffle Fettaccini, Carmelized Sea Scallops, and Milk Chocolate Ganache with white truffle ice cream.
Truffle Stuffed Whole Roasted Chicken
Ingredients:
1 (1 ¬Ĺ pound) free range Baby Chicken
1 small black truffle, thinly sliced
1 small white Truffle sliced thinly
Salt and pepper
1 onion, quartered
1 rib celery, cut into 1-inch lengths
1 carrot, cut into 1-inch lengths
2 sprigs fresh thyme
1 sprig fresh sage
1 bay leaf
1/2 lemon, juiced
1 cup chicken stock
Directions:
Preheat oven to 325 degrees F.
Carefully loosen skin from breast of chicken and insert truffle slices between skin and meat of chicken. Season chicken inside and out with salt and pepper generously and stuff cavity of chicken with onion, celery, carrot, thyme, sage, bay leaf, and lemon.
In a Dutch oven just large enough to hold the chicken and vegetables, place some of the vegetables on bottom of pot and add chicken stock. Place chicken on top of vegetables and cover Dutch oven. Bake chicken for 40 min, or until tender and cooked through. Serve with pan drippings over creamy truffle polenta (below).
Creamy Truffle Polenta
Ingredients:
5 cups milk
1 cup polenta
About 1/2 teaspoon salt
1 tablespoon butter
1 cup finely chopped rinsed black trumpet
1/2 cup mascarpone or cream cheese (4 oz.)
2 tablespoons fresh-grated parmesan cheese
1 teaspoon truffle oil
1 teaspoon chopped white truffles
1 teaspoon sherry vinegar
Pepper
Directions:
In a 3-quart pan over high heat, bring milk to a boil. Reduce heat to a low boil.
Stirring constantly, pour in polenta in a slow, thin stream, pausing occasionally to break up any lumps. Stir in 1/2 teaspoon salt.
Reduce heat and simmer, stirring often, until polenta is thick and creamy to bite and pulls away slightly from sides of pan when stirred, 20 to 40 minutes; adjust heat as necessary to maintain a simmer.
While polenta cooks, melt butter in a 10- to 12-inch frying pan over medium heat. Stir in mushrooms. Stir often until liquid has evaporated and mushrooms are browned, about 7 minutes.
Stir mushrooms, mascarpone cheese, parmesan cheese, truffle oil and chopped truffles, and sherry vinegar into polenta. Season to taste with salt and pepper. Ladle into bowls and shave fresh white truffles on top.