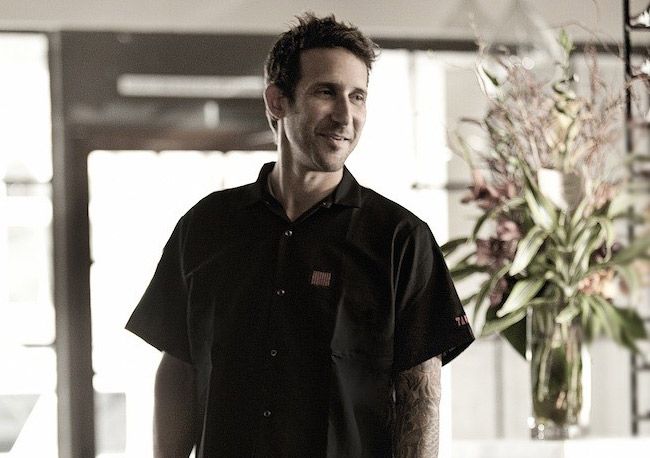 Tar & Roses

Andrew Kirschner Posted: December 2012 | Make a Comment
MEET THE CHEF


Andrew Kirschner From behind a wood-burning oven in Santa Monica, Chef Andrew Kirschner is making a hot name for himself in LA. Serving soulful plates that garner depth of flavor under unrefined heat, Kirschner's contemporary meets rustic restaurant, Tar & Roses, truly treats the senses. The restaurant serves up a variety of pleasing dishes from large to small scale; items like whole fried snapper with soba noodles or delicate ricotta gnocchi to vegetable small plates such as artichokes. Seemingly overnight, Tar & Roses has become one of LA's most sought-after reservations, according to many simply because of the chef's perfect blend of new and old, small or big, served up with stellar flavor.

Following education and experience in San Francisco and Aspen, Kirschner planted roots back in Santa Monica where he grew up. Tar & Roses is Kirschner's progression after stints under Chef Ben Ford, Govind Armstrong and Suzanne Goin, along with a Chef/Partner position at Wilshire Restaurant. Now, solely, he fortifies his bond with the wood-burning oven through technique and restraint; and delicious things happen on foundations of simple, seasonal, local ingredients.

Recently, Chef Kirschner took time to answer a few of JustLuxe's burning questions…

Restaurant: Tar & Roses
Location: Santa Monica
Type of Cuisine: New American





JustLuxe: At what point in your life did you decide to become a chef? What influenced you to do so?

Andrew: Midway through college was when I really figured out that the culinary arts was the path I was going to pursue. I had been cooking all throughout high school as a summer job and continued cooking through college to help pay the bills. I always loved the environment, the creative outlet, and the lifestyle. It was in college that I learned about culinary schools, and it was then that I started exploring the idea of being a chef as a profession.

JustLuxe: If you could give a word of advice to an aspiring chef, what would you say?

Andrew: Take your time…. It's a long road. Learn from as many people as you can. Don't rush in to being a "chef." People will offer you many opportunities along the way. Choose wisely.




JustLuxe: Your food was memorably plated, particularly the whole snapper! Where do get inspiration for the design of your dishes and plating?

Andrew: From the food itself, the surroundings that I'm working in.

JustLuxe: What do you predict as the next big trend in cooking and/or the restaurant industry?

Andrew: I don't believe in trends. I really try to focus on what I like to eat and the way I like to eat.




JustLuxe: Which season do you look forward to the most for its ingredients?

Andrew: Spring… my idea of the culinary new year!

JustLuxe: What places or cities in the world have influenced your cooking the most?

Andrew: Los Angeles is where I grew up eating and it has played the largest role towards my food sensibility. The great thing about LA is all the cultures that surround us and of course all the great flavors that come along with them.




JustLuxe: In your opinion, what innovation has recently influenced the restaurant industry in a significant way?

Andrew: Sous vide. It offers a huge variety of benefits.

JustLuxe: What would you say is the current climate of business in the restaurant industry?

Andrew: I think the current climate is the same as it has always been. The restaurants that are paying attention to the details on every level are successful and the rest are not.




JustLuxe: What is your favorite dish to prepare at home as opposed to the plate you enjoy preparing in the kitchen?

Andrew: My favorite home cooked meal will certainly lead towards the comfort end of things with a big grilled ribeye, maybe some great potato preparation and a nice Barolo to wash it down!

JustLuxe: Besides gastronomy, what other passions do you have?

Andrew: I love snowboarding, surfing, hiking, motorcycle riding and playing with my doggy.
Tar & Roses
Tar & Roses
Tar & Roses
2Sense-Los Angeles
2Sense-Los Angeles
2Sense-Los Angeles
2Sense-Los Angeles
2Sense-Los Angeles
2Sense-Los Angeles