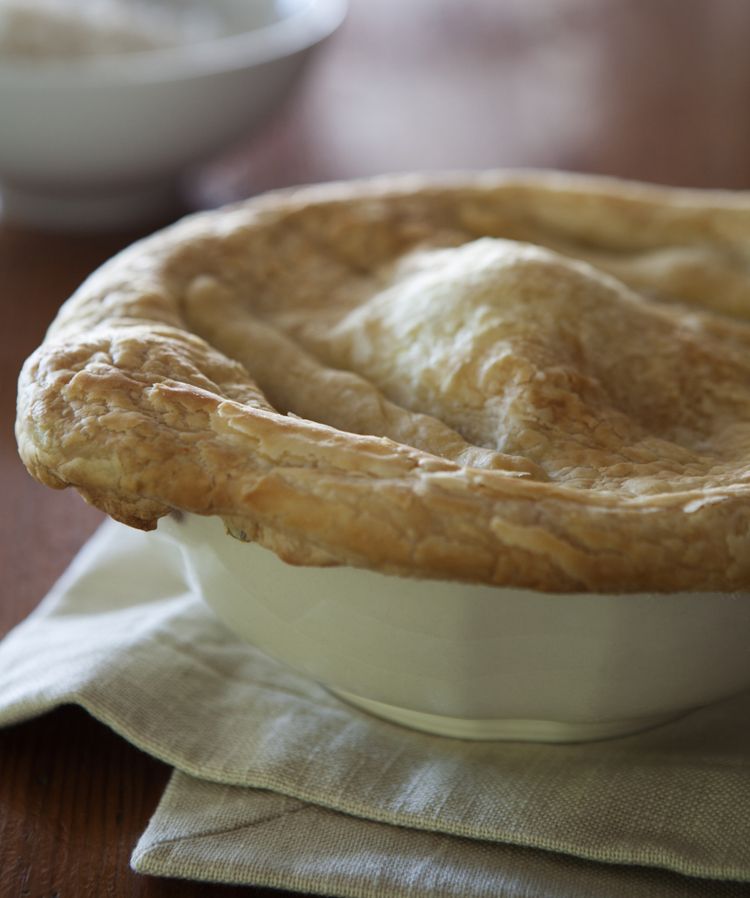 Classifying Southern California's winters as mild is an understatement. However, subtle seasonal changes still necessitate warming foods. When looking for heat, there's no better chef to turn it up than Andrew Kirschner, chef/owner of Santa Monica's hotlist restaurant Tar & Roses. While chef Kirschner and his restaurant are LA based, he is well acquainted with the wood-burning oven and dishes that warm you from the inside out. Explains Chef Kirschner, "As the colder temperatures hit, I turn to hearty comfort foods…"
Classic comfort food finds a sophisticated twist in Chef Kirschner's recipe for Duck and Wild Mushroom Puff Pastry Pot Pie.
Serves: 4
Ingredients:
4 ea-duck legs, bones removed and meat diced to 1 inch pieces
1 qt-chicken stock
1 ea-small yellow onion, diced
2 ea-celery stalk, peeled and med. dice
2 ea-carrots, peeled and med. dice
1 lb.-assorted mushrooms (chanterelle, shitake, porcini, etc)
12-sprigs thyme
2 ea-bay leaf
12-sprigs parsley leaves
1/2-cup butter
8-ea garlic cloves
1/2-cup white wine
4-cups beef stock
1/2-cup flour
1-sheet puff pastry
1-egg yolk
1/4-cup milk
Directions: 
Begin by sweating out the carrots, celery, onion, and garlic in 1/4 cup of the butter in a heavy bottomed saucepot. Cook the veg until transluscent. Next, add the mushrooms, thyme, and bay leaf and cook for 3 more minutes or until the mushrooms begin to soften. Next, deglaze the pan with the white wine.  Next, add the duck pieces and the chicken stock and simmer for 20 minutes. Add the beef stock and bring back to a simmer. In a separate pot combine the remaining butter and flour and cook over low heat to make a roux. Once cooked, add the roux to the pot pie mixture and thicken to desired consistency being careful to add a bit at a time to achieve this. Once the proper consistency is reached cook for another 3 minutes and then finish by adding the parsley leaves. Cool and set aside until ready to assemble the pot pie.
When you are ready to assemble the dish, place the mixture in an oven proof ramekin or baking dish (the pot) and cover with the puff pastry sheet. Brush the puff pastry with egg wash and season with fleur de sel. Place in 350 degrees oven and bake till the top is golden brown and of course, puffy!! Enjoy