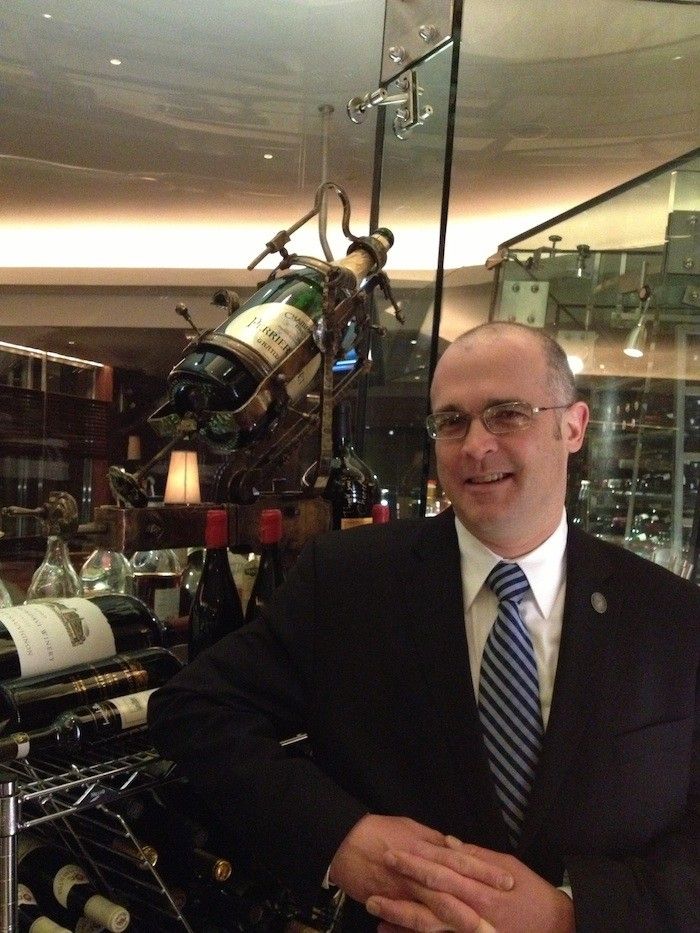 Photo Courtesy of The Broadmoor
With the holidays officially here, party and menu planning come full swing. Making its presence known more and more each passing year, wine takes charge as beverage of choice for holiday cheer. After all, wine perfectly pairs with warming foods and never overshadows a table full of homemade treats. Gathering tips on wine drinking during the holidays put us in touch with The Broadmoor Colorado Springs. 
The luxury resort celebrates thoroughly from Thanksgiving through the New Year. Guiding wine to glass for the past seven years is Sommelier Michael "Bucky" Buckelew. Bucky is responsible for pairing fine wines with the modern cuisine at the resort's Summit  restaurant and also remains The Broadmoor's go-to in advising wine and food pairings.
Bucky particularly revels in his role during the holiday season, where he finds joy as the purveyor of guest's most memorable sips...which don't need to break the bank! We turned to Bucky for tips on wine for holidays and were pleased to find his suggestions include sophisticated varietals for under $50
Victor and Mary: What's an example of a Pinot Noir under $20 that drinks like a $100 bottle?
Michael Buckelew: Actually a difficult proposition these days…If I could change "under $20" to "between $20 and $30" though, the choices would begin to appear. Pinot Noir produces unique, expressive, and compelling wines in only a handful of growing areas of the world outside of its home in Burgundy, France, and one of the countries that has been growing it on a large scale since at least the Middle Ages is Germany, and the wines can be fantastic. A standout bottle - and one that offers maximum bang for the buck - is produced by brothers Werner and Volker Knipser in the Pfalz, a beautiful and bucolic area in the southwest corner of the country. It's a drop-dead delicious combination of ripe red fruits and dark brooding earthiness, all wrapped up in a silky smooth texture. It actually reminds me very much of a Pinot Noir that could be from a privileged "Premier Cru" vineyard in the Cote de Beaune district of Burgundy, which could potentially be in that $100 a bottle category.
Purchase: 
Weingut Knipser, Blauer Spatburgunder, Trocken, Pfalz, Germany, 2009
(Blauer Spatburgunder is the German synonym for Pinot Noir - "Trocken" is an indication on the label that wine is a dry - so no residual sweetness - the retail price is right around $24.00)
Photo Courtesy of The Broadmoor
V&M: If you could suggest one bottle to bring to a Holiday party, what would it be?
MB:You know I recently tasted a red wine from the Eisacktal Valley in northern Italy, which quietly but definitively blew my mind. It was made from the grape varietal know as Lagrein by a producer that has been steeped in local history since the 12th century. This wine has essentially everything the red wine drinker either consciously or sub-consciously craves: a deep, purple, almost opaque look; dark sweet fruit and savory flavors, a sleek and slippery, palate-coating, almost liqueur-like texture; and a mouthwatering, refreshing long finish that keeps you coming back for another taste. To be on the safe side you should probably bring two bottles of this to the next holiday party - because it's going to go quick!
Purchase:
Abbazia di Novacella, Lagrein, Sudtirol / Alto Adige, Italy, 2010   (the retail price is right around $19.00)
Photo Courtesy of Thinkstock | BananaStock
V&M: Why buy a French Champagne vs. a California sparkling wine?
MB: If it's in the budget it [French Champagne] is generally worth it. Though there is some amazing champagne-style wine that is produced in the Sunshine State. When choosing Champagne, producers Schramsberg and Roederer Estate come to mind — the Champagne district of northeast France produces a style of wine that can't be reproduced anywhere else in the world, due to a myriad of factors, not the least of which are a very distinctive, soil-type, and a very cool climate. Out of ton of choices, I would choose the 1999 "La Grande Annee" bottling from Bollinger (retail around $110.)
Photo Courtesy of The Broadmoor
V&M: Any other tips for Just Luxe reader's on wines for the holiday?
MB: Remember in the end it's all just fermented grape juice, so let's not take anything too seriously, or let the wine overshadow either the food on the table or the time spent with family and loved ones. But please feel empowered to choose wines that are medium-bodied rather than heavy, that are more refreshing and less ponderous to the tastes. Also, avoid wines that have elevated alcohol, check the label and rejoice in a wine that has less than 14% abv; it means everybody can drink more!!
Photo Courtesy of The Broadmoor