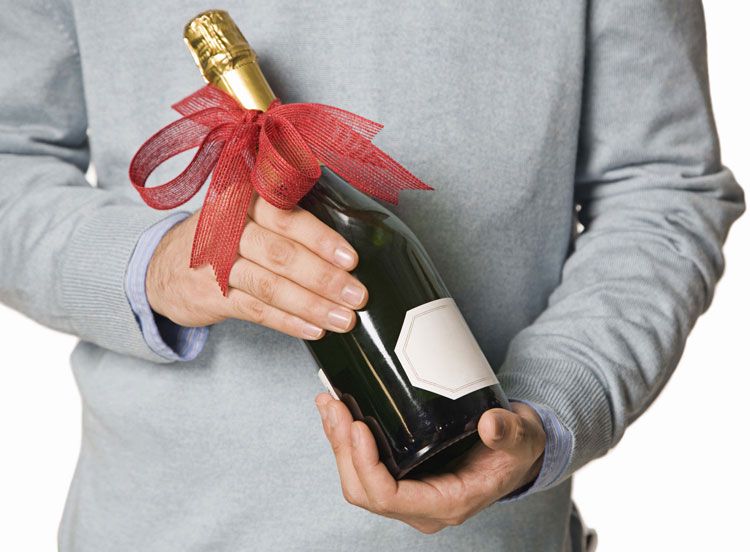 As we whirl away on the holiday party circuit, we face the age-old dilemma: What's the perfect gift to bring as a guest, when every situation is different? Just so you don't wind up giving your in-laws a $7 bottle of sweet wine and wasting Veuve-Clicquot on drunken colleagues you don't even like, we've put together this handy guide to the best boozy party contributions of the 2012 holiday season — matched up to the appropriate situation. 
Dinner with the in-laws
If you're bringing a bottle of wine for dinner, go with something that shows you're smart about wine and understand how to get value for your money. A Zinfandel from the Amador appellation in California is a good pick on a winter's night — we recommend the Easton Zinfandel, which just made Wine Spectators Top 100 Value list and retails between $18 (for the 2011 release) and $32 (for the 2008 Shenandoah Valley estate bottle).
If your father-in-law appreciates good liquor, surprise him with a bottle of Louis Royer "Force 53" V.S.O.P. high proof cognac. It's smooth and elegant enough to drink straight or on the rocks, but at 106 proof, it gives a good buzz just halfway through the first glass.
Photo Courtesy of Digital Vision | Thinkstock
Dressed-up dinner party at your boss' place
Argentina's largest premium wine exporter, Trapiche, has a high profile in the US for its mid-tier bottles, but connoisseurs and collectors know how intriguing the top end of the portfolio is. The winery releases special collaborations with US vintners, biodynamic vintages, and most interestingly, a special annual release of single vineyard Malbecs from the top 3 of 200+ grape growers who sell their grapes to Trapiche. Each of the three "winning" farmers is identified on the respective wine bottle. It's a great way for a huge winery to honor its small-farmer partner... and given how popular "small production" food and wine is these days, a great story to tell when you present the bottle to your boss and dining partners. Prove your wine smarts, sensitivity, and worldliness — maybe impress your way to a promotion.
If you think you might be retiring to the back porch for cigars after dinner, Nat Sherman offers a reasonable splurge with the One Hundred Center Street gift selection of La Aurora Cien Anos. Pure Dominican tobacco aged since 1996 — $100 for a box.
Photo Courtesy of Fuse | Thinkstock
Brunch with family of all ages
Pick up some Sparkling Essence beverages by R.W. Knudsen. They're not at all expensive, but special flavors like blueberry and cucumber feel grown-up and festive... without being full of sugar. Serve over ice to kids, and pick up a couple bottles of Enza Prosecco and berries to muddle (if you can find them) for the grownups.
If you want to bring a gift that the host will get permanent pleasure from but the guests will enjoy on the spot, the Diffuser by NEST is one of our editors' all-time favorites. There are many different fragrance options, but for a gift set at this time, we'd obviously have to recommend the Holiday collection.
Photo Courtesy of Jupiterimages | Brand X Pictures | Thinkstock
A hybrid celebration (Christmukkah) where a formal meal is not served
While one school of thought says you're good just bringing little bags of Chanukah gelt, Christmas cookies or similar, if you want to go big, do a Tower of Treats from Harry & David. It features all sorts of goodies including chocolate cherries, baklava and, for the healthy, a half-dozen Royal Riviera Pears.
Holidays Plus: a holiday get-together that also celebrates a recent birthday, a friend's promotion, etc.
If it's at someone's house, splash out on a bottle of sparkling wine or champagne — depending how momentous the occasion is and how many people are celebrating with you. The Ferrari label is just fancy enough to impress, but a relatively affordable $21 average retail for a bottle of non-vintage Brut. If the occasion calls for something more special, the 2004 Ferrari Perle is comparable to champagne, and can be found online for around $30 a bottle.
If there are chocolate lovers in the group, you'll ensure their eternal love if you pick up a box of Godiva Cake Truffles to share with the group. New to the market this fall, these are denser, richer versions of the cake pop — created by Duff Goldman, and utterly delicious.
Photo Courtesy of Christopher Robbins | Digital Vision | Thinkstock
A casual house party with friends
Opt for fun and value-conscious, because in these casual/rowdy settings, bottles will be disappearing fast. If you're buying for a Bellini crowd, Jacob's Creek sparkling moscato is delicious, comes in several varieties, and can be mixed or not — as the drinker desires.
Another fun new pick is Wicked Red from HobNob. This semi-sweet red blend drinks very easily on its own or with casual eats. It's got clever packaging, a screw cap closure, and retails at $9.99. You can bring an armful of bottles to the party without putting any pressure on the old pocketbook.
Photo Courtesy of Photodisc | Thinkstock
A not-so-casual house party with colleagues
If it's a foodie-minded function, show your trend forwardness by bringing a sampler of infused gourmet olive oils. It's a classy contribution that everyone can have fun tasting, in much the same manner as you'd run a wine tasting at a house party. Though it's just a tiny shop, Saratoga Olive Oils has an incredible selection of infusions to ship, including organic tarragon, whole fruit blood orange, and wild mushroom and sage. Don't forget the fresh baguettes!
If you don't want to put that much thought into things, a good bottle of liquor never goes unappreciated at functions like this. During this season, a lot of people go for a classic American spirit like Bulleit Bourbon, but if that's too harsh for the palates in your party, try Wild Turkey American Honey. It's affordable, has great packaging, and most anyone can drink it on the rocks.
Photo Courtesy of Photodisc | Stockbyte | Thinkstock
A children's holiday 'do with plenty of grownups there too
Harry and David Peppermint Cake Pops are adorable, delicious and occasion-appropriate.
If you want to actually make something from scratch, the eggnog brownie recipe from Sheila G's Brownie Brittle is surprisingly simple. You use the brownie brittle in lieu of actually mixing up a crust. Kids and adults will be fighting over the finished product.
Disclaimer: Yes, of course both these suggestions are rich, sugary and unhealthy, but hey — it's the holidays. Nutrition rules are flexible.
Family dinner where the host is cooking but everyone's expected  to "bring something"
If you've got a foodie family, bring something whimsical and interactive like Bee Raw single varietal honey flights — flavors include blueberry, wild raspberry, cranberry and sweet yellow clover. Suggest a tasting as a precursor to the dessert course.
And if you plan on roasting chestnuts, telling Santa stories, and snoozing by the fire on a snowy Christmas eve, mulled wine is a must. Just get a few bottles of cheap red and some pre-packaged spices at Dean & DeLuca (or World Market), simmer and sip.
Photo Courtesy of iStockphoto | Thinkstock