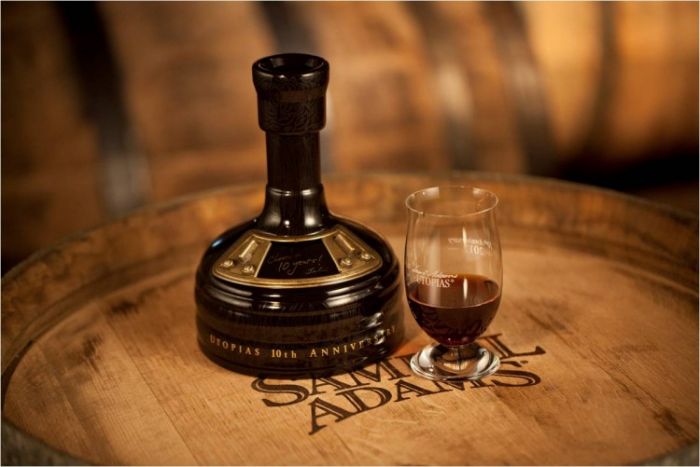 Photo Courtesy of Samuel Adams
The name Sam Adams is synonymous with some of Boston's most flavorful brews. Summertime means Summer Ales. The fall? Well, who doesn't love a cinnamon rimmed Harvest Pumpkin Ale or a frosty Oktoberfest? Now that winter is upon us and our beloved Winter Lagers have already hit the shelves, Sam Adams has created a few new options this holiday season.
We love the White Christmas unfiltered white ale, brewed with cinnamon and nutmeg, and finished off with a flavor of orange peel. The Chocolate Bock makes for a great after-dinner brew with its rich chocolaty notes and creamy flavor.
However, this season's must-try is the 10th anniversary Utopias; we love the sleek new brew kettle design of the 10th anniversary brew. The not-your-typical beer is super strong, ranking in at a 29 percent ABV to be exact. The dark "extreme" brew does not taste like a beer but more of a cognac due to its barrel aging in single-use bourbon casks. One sip and you will detect sweet notes of honey, toffee, caramel, cocoa and vanilla, followed by molasses, raisins, plums and berries.
In 1994, founder and owner, Jim Koch released his first hand at creating an "extreme beer" with the release of the Triple Bock, which set a record for not only being the strongest beer ever with 17.5 percent ABV but was the first time a beer had been aged in barrels.
Less than 15,000 bottles of this limited-edition beer are available due to the long aging required, so be sure to get one soon before they fly off the shelves. Also available for a limited time is the Samuel Adams Beer Lover's Chocolate Box, a holiday sampling of delicious milk and dark chocolates.
Retail price for Utopias is $190 a bottle.