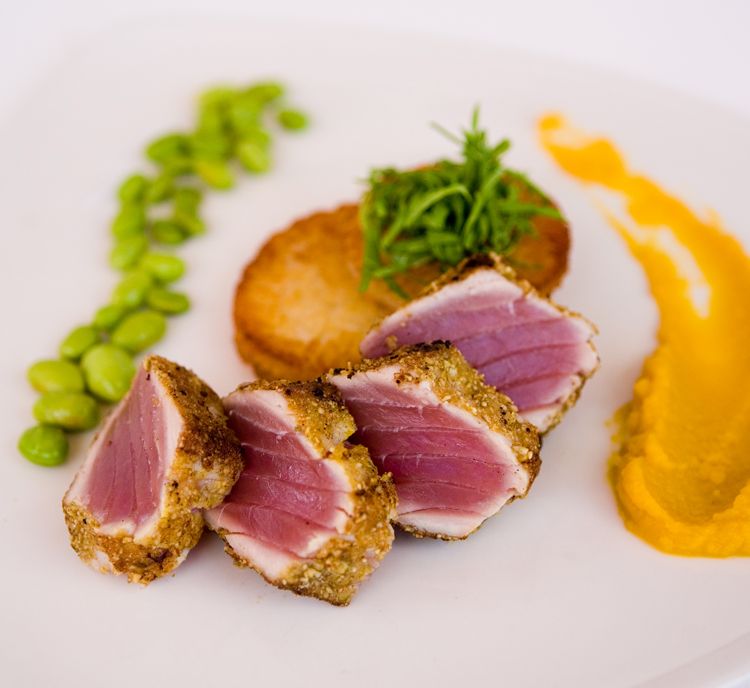 Photo Credit J. Kevin Foltz
Many of us love seafood but sometimes we don't really know any neat ways to prepare fish, instead choosing to take the same route every time. Well, if you're feeling like you're in a seafood rut, try out this new recipe for Pumpkin Crusted Ahi Tuna with Roasted Pumpkin Wasabi Mousse and Crispy Rice Cake. With tuna coated in a tasty pumpkin mix and a spicy wasabi mousse to ignite your taste buds, this attractive dish is sure to blow your mind.
This original recipe wouldn't be possible without the creator Davide Pugliese, the new Executive Chef for
Scrub Island Resort, Spa & Marina
. Overseeing the resort's two, world-class restaurants, Chef Davide is originally from Italy and has spent 30 years in the food industry as not only a chef, but a restaurant owner. He's been recognized for his talents all over the world, having been invited to host a six-course meal for 80 guests at the James Beard House, NYC, and has participated in many events like the Food Network's South Beach Wine & Food Festival in 2009 and 2010.
*For this recipe, prepare the ingredients for the Crispy Rice Cake ahead of time.
Pumpkin Crusted Tuna
Yields:
4
Ingredients:
4 5oz loins cut from Big Eye Tuna or SakuTuna block
1/4 cup pumpkin powder
1/4 cup pumpkin shelled seeds
1/2 cup all purpose flour
1 each whole egg mixed with a tbs water
olive oil or vegetable oil
Preparation:
Grind the pumpkin seed to a fine powder using an electric spice grinder. Mix the ground pumpkin seeds with the pumpkin powder and season with salt and pepper.
Roll the tuna loins in the flour, shake off excess, dip in to the beaten eggs and coat with dry pumpkin mixture. Press to make sure loins are coated all over.
Heat a cast iron skillet. When really hot pour in a tablespoon of olive oil and sear the tuna loins for 1 minute, turning on all sides. Remove and pat dry.
Slice the tuna lengthways to 3/4" thickness.
Roasted Pumpkin Wasabi Mousse
Yields:
4
Ingredients:
1 lb. fresh pumpkin
2 tablespoons wasabi powder
salt and pepper to taste
olive oil or vegetable oil
Preparation:
Preheat oven to 300° F.
Cut the pumpkin in 2" cubes and place in a baking pan. Drizzle with a little oil and season with salt and pepper. Bake for 15 minutes or until pumpkin is soft and can be mashed with a fork. Be careful not to burn the pumpkin.
Put the cooked pumpkin in a stainless steel bowl and puree with an immersion blender until very smooth and light. Sprinkle in the wasabi powder to taste and continue to mix, ensuring that the wasabi is fully absorbed and no lumps remain and the pumpkin is airy. Set aside.
Crispy Rice Cake
Yields:
4
Ingredients:
1/2 cup sushi rice
1 teaspoon rice vinegar
1 tablespoon mirin (sweet cooking rice wine)
1/8 tablespoon butter
Preparation:
Cook the rice per directions, cool and toss with the rice vinegar and the mirin.
Butter a baking sheet with some of the butter. Smooth in the rice to a 1" depth. Cover with plastic wrap and set another weighted sheet on top to press the rice layer. Refrigerate overnight.
Preheat the oven 400° F.
Cut the rice in the baking sheet into 8 squares or rounds using a cookie cutter. Brush with the remaining better and bake in the oven until a golden/brown color. Serve hot.
Serving Directions:
Put a spoon of the wasabi pumpkin mousse to the side of the plate and add an extra 1/2 spoon dragging the spoon with some of the pumpkin away from the center. Set the tuna slices in the center atop of the crispy rice cake and garnish with a sprig of cilantro. Serve with steamed edamame.