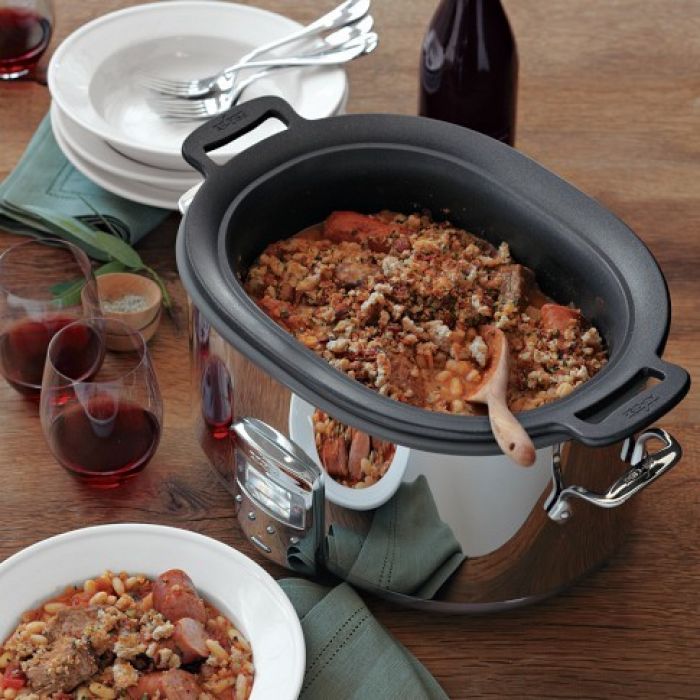 Photo Courtesy of Williams-Sonoma
We hope you got everything you wanted for Christmas but just in case you didn't, we have the perfect gift that you should indulge in this holiday season, better known as All-Clad's seven-quart slow cooker with a cast aluminum insert that sits in a gorgeous stainless steel base. Trust us, cooking has never been so easy.
The hardest part just might be deciding which tasty recipe you would like to try out. We're sure you're going to love the nonstick insert of this slow cooker that makes cleaning, cooking and serving a breeze with just one pot, even when making something messy like chili!
If you decide on a nice chili recipe, start out by browning your meats, onions and garlic in the nonstick insert that can be placed directly on the stove top (it can be used on either electric or gas ovens) to brown ingredients before simply transferring it to the base for the final slow cooking process with all of the sauces. When you are done cooking your recipe over several hours, you can even serve up dinner directly from this beautiful stainless steel base, which often makes for a conversation piece.
This dishwasher-safe slow cooker is ideal for any working person who does not have much time to spend in the kitchen creating inventive dishes. With the simple push of a button, you can set the digital timer and return after several hours to a deliciously prepared flavorful dish. The unit has high, low and high/low settings and even automatically switches to the Keep Warm setting when time elapses. It really doesn't get much better than this.
The seven-quart unit retails for $279.95 and is available exclusively at Williams-Sonoma.
If you are looking for something a little smaller, be sure to check out the All-Clad 6.5-quart slow cooker with ceramic insert. With this unit, you can easily program the cooker to prepare a meal up to 26 hours ahead of serving. There is also the "keep warm" setting on this unit that automatically switches on when the cooking cycle is complete. It retails at $179.99 and is available at Bloomingdale's and Macy's.