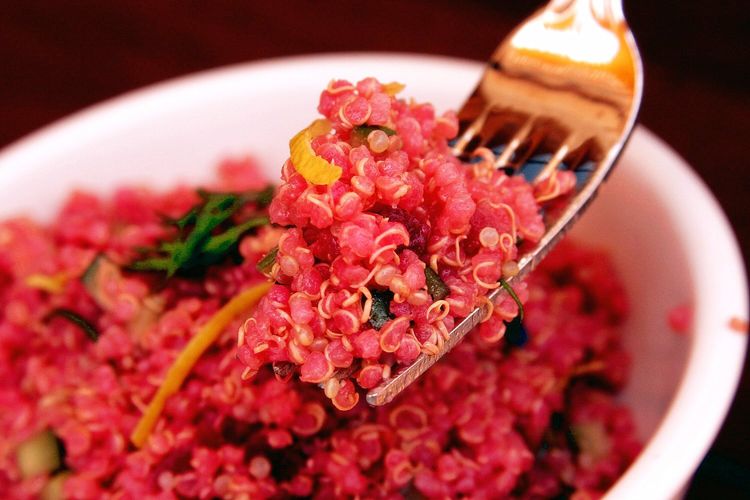 Photo Courtesy of M Café
Los Angeles' M Café is one of the best places to go to for healthy, contemporary macrobiotic cuisine, and happens to be a favorite among your favorite famous faces (including Orlando Bloom, Kate Bosworth, Anne Hathaway, and Jessica Alba). With a location in Beverly Hills and a location on Melrose Avenue, M Café is a great post-Holiday choice for those of us who ate way too much this past month. To help you get back on track with healthy eating, M Café has offered this great recipe for Scarlet Quinoa Salad, which will be a part of their new winter menu come January, introduced by Chef Lee Gross.
If you're wondering what macrobiotics is, don't worry, we doubt you're the only one. According to the M Café, macrobiotics is a "theoretical foundation rooted in traditional Oriental medicine." Macrobiotic cooking focuses on whole, natural foods that are eaten in season and are processed as little as possible. While some raw foods are used, macrobiotics use them in partnership without any refined sugars, eggs, dairy, red meat or poultry.
M Café's's Scarlet Quinoa Salad
Quinoa Ingredients*:
1 cup quinoa
? cup red beet, diced small
2 cups vegetable stock or water
? tsp sea salt
1 tsp olive oil
1 tsp lemon juice
* Note: Sometimes at M Café, if we find that a particular batch of beets are not sufficiently coloring the quinoa grains a deep shade of scarlet, than we will substitute a quantity of the cooking stock for fresh beet juice. This always does the trick!
Umeboshi-Lemon Dressing Ingredients:
2 teaspoons umeboshi vinegar
1 teaspoon lemon juice
2 tablespoons dill pickle juice
1 tablespoon extra virgin olive oil
Salad Ingredients:
? cup Japanese or Persian cucumber, diced
2 teaspoons fresh chives, minced
1 tablespoon fresh dill, minced
1 teaspoon fresh lemon zest
To make Scarlet Quinoa:
Wash quinoa and drain well. Combine diced beet, vegetable stock, salt, olive oil and lemon juice in heavy-bottomed 2-quart pot. Bring to a boil over medium heat.
Add quinoa to pot, and stir. Turn heat down to low, and cover. Cook for twenty minutes. Remove from heat. Let stand 10 minutes before removing cover.
Fluff quinoa with a fork and transfer to a plate or cookie sheet to cool.
To make Umeboshi-Lemon Dressing:
Combine all ingredients in small bowl. Reserve.
To assemble salad:
Place Scarlet Quinoa in mixing bowl. Add diced cucumber and chopped herbs, and lemon zest. Moisten salad with a few tablespoons of dressing, to taste.
Salad can be served immediately, or refrigerated. Taste salad after refrigeration, and add additional dressing, if desired.