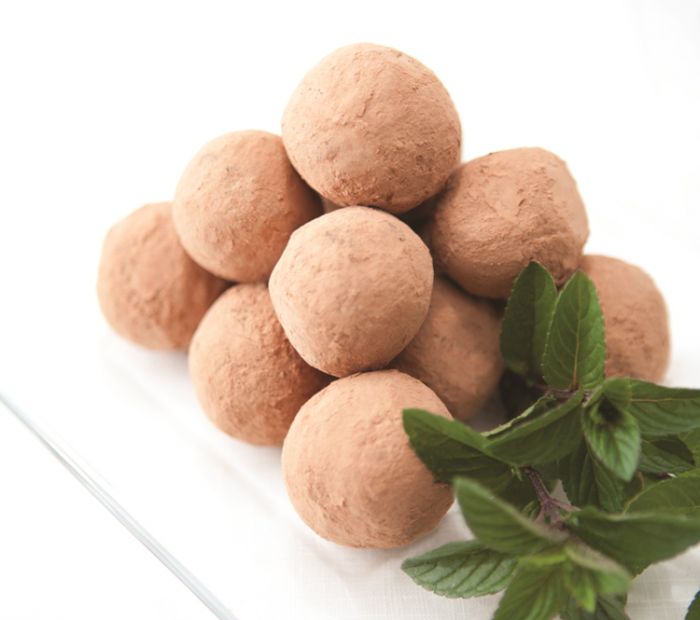 Photo Courtesy of Spork Foods
A lot of people think of desserts as being incredibly unhealthy, but they don't have to be if you have a trustworthy baking source like the talented ladies behind
Spork Foods
. Based in Los Angeles, Spork is a gourmet vegan food company owned by sisters Heather Goldberg and Jenny Engel. Their recipes - dessert and otherwise - focus on organic, local, and seasonal ingredients, each dish intending to win over even the most avid of carnivores. Right now these two lovely ladies also have a cookbook in stores,†
Spork-Fed
, which features a foreword written by famous sisters and fans, Zooey and Emily Deschanel. If you happen to reside in LA, Spork offers live cooking classes as well, but if not you can also check out their online vegan video cookbook for more recipe ideas.
Jenny and Heather love Valentine's Day and have shared their recipe for Chocolate Mint Truffles, which is lucky for you because the romantic holiday is closing in quickly. Whether you need something chocolaty and decadent to make for that special someone or for a group of your best girlfriends to celebrate the day single and proud, these little treats are perfect for that sweet tooth. With rich dark chocolate and cool mint to balance it out, these truffles are a snap to make and are even gluten-free!
Chocolate Mint Truffles (Gluten-free)
by Spork Foods from
Spork-Fed
Cookbook
Ingredients:
1 1/2 cups vegan dark chocolate chips
1⁄2 cup regular coconut milk
1 teaspoon peppermint extract
6 leaves fresh mint, finely chopped
Dash sea salt
2 tablespoons organic cocoa powder, plus 1⁄4 cup for rolling
Directions:
Fill a small (2-quart) pot with about 2 inches of water, and bring to a simmer over medium heat. Place a glass or metal bowl on top of pot to create a double boiler.
Add chocolate chips and melt, about 3-4 minutes. Add coconut milk, peppermint extract, mint, sea salt and 2 tablespoons cocoa powder, and incorporate until uniform.
Transfer mixture to a bowl and refrigerate 2 hours to overnight. Remove from refrigerator and leave bowl on counter for 5-10 minutes to soften mixture before rolling truffles.
To roll truffles: Place remaining cocoa powder in a shallow bowl or plate. Use a melon baller or spoon to scoop a gumball-size dollop of the chocolate mixture. Roll into balls between palms and immediately coat in cocoa powder, or other toppings of choice.
Note 1:
Try using mint varieties like chocolate mint, peppermint or spearmint for a different flavor in these truffles, and choose organic when possible, because conventionally grown mint is sprayed with a bunch of pesticides!
Note 2
: Double check your chocolate chip ingredients if you are gluten-free, to be sure barley is not in the list.
The Sporkie Scoop
For Your Smarts:
With these truffles, you are getting a double dose of antioxidants. Weíre using cocoa powder inside and outside the truffles. Cocoa powder is about 8% antioxidants by weight ó so thatís more than a glass of wine or cup of tea!
For Your Parts:
Mint doesnít just taste refreshing, itís actually working to soothe your stomach and digestion. Itís considered a powerful digestive aid and anti-spasmotic because of its antioxidant-rich oils.