Diane Sukiennik & Michael Reiss View Profile

Freelance Travel Writers | Food & Wine Access
A Look at Auckland's Thriving Foodie Scene
Feb. 19th, 2013 | Comments 1 | Make a Comment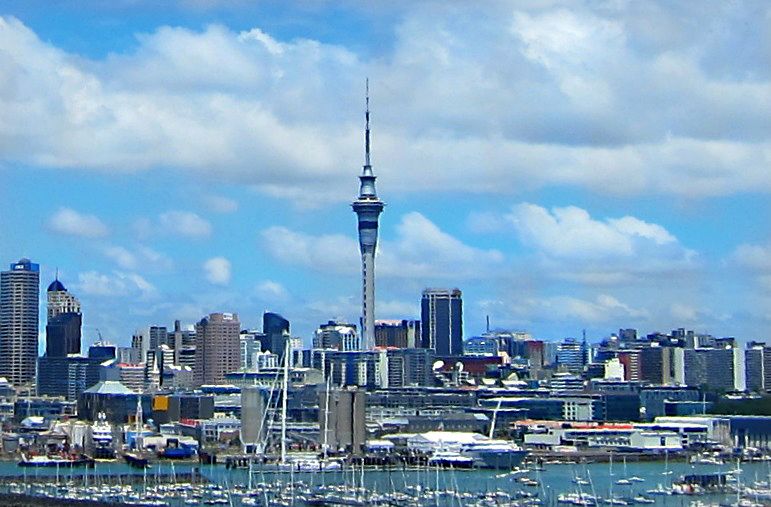 Photo Credit Michael Reiss
New Zealand has always been an island nation full of middle-earth mystique, and the Hobbit craze has only added to its international allure. Besides its natural beauty and its incredibly friendly Kiwi population of just over four million, it is becoming known as a new culinary destination travel Mecca. More than any other place on the island, Auckland, with its diverse population and over 900 restaurants, is a food and wine "must do" for the culinarily curious.

Culinary and City Tours of Auckland

Start with the "Auckland City Highlights" tour offered every morning and afternoon by Gray Line for a thorough overview of the area, including time at the Auckland Museum with its definitive Maori exhibits to give you an informative visual orientation to the city and its sites.

There are many ways to explore Auckland's culinary scene but none may be more tasty, enjoyable and informative than the city tour offered by The Big Foody. Elle Armon-Jones, the self described "big cheese" is well qualified and thoroughly knowledgeable about all the nooks and crannies that make Auckland a strong contender for the food capital of the southern hemisphere. Her informative commentary about food, wine, culture and the current trends is lively and enthusiastic. She'll have you salivating in seconds.

She'll take you to the Auckland Seafood Market where sophisticated, computerized auctioning ensures that all of the city's outlets have the highest quality seafood available. After reviewing what's on offer for the moment and popping into the cooking school on the premises, you'll be off with a promise to return later for wine tasting and lunch. (Photo Courtesy of iStockphoto | Thinkstock)

A highlight of the tour is a visit to Sabato, a gourmet shop where only the finest comestibles from around the globe are good enough for proprietor Jacqui Dixon. Tasting and grazing is encouraged and there is always something new to sample for those who might already be familiar with this foodie emporium.

On the way from one neighborhood to the next, Elle will expound on points of interest and not only answer questions, but remember to jot down information for you to take away at the end of the day. 

After a belly full of bites, you'll return to the seafood market area where Big Picture Wine offers an interactive aroma heightening experience and a multi-sensual wine tasting that spotlights the regions and personalities that make New Zealand wines world renowned. A seafood lunch with wine culminates this culinary journey and prepares you to fully appreciate your further exploration of Auckland's food and wine scene. As for Elle, she's got plenty of additional adventures in store to whet your appetite, so stay tuned for more from The Big Foody. (Photo Courtesy of Big Picture Wine)

Waiheke Island: Auckland's Nearest Wine Country

No visit to Auckland would be complete without some quality time spent in the nearby wine regions. Without a car, the closest and most intriguing area to explore is Waiheke Island, a mere 40 minute ferry ride from Auckland city center. Where else in the world do the vineyards meet the sea?

Wine and Culinary Tour of Waiheke Island

The entire island is dotted with bays, white sand beaches and rolling hillside vineyards that are so picturesque you can hardly believe they weren't just painted by Monet. Book a day outing with Ananda Tours, which offers a premium wine and food experience on the island. You will be met at the ferry stop in Waiheke and escorted to three or more of the top vineyards. As you marvel at the stunning scenery, you will enjoy the commentary of an experienced local guide, who knows the island, the people and the produce. (Photo Courtesy of iStockphoto | Thinkstock)

A typical visit will start at Rangihoua Estate where you will tour and taste their award-winning olive oils, including The Frantoio Blend — which has just been listed as Number 12 of the top 20 olive oils in the world by Flos Olei 2013. 

Next enjoy a tasting at Peacock Sky Winery, who produce Rosé Méthode Traditionelle, Chardonnay, Rosé, Cabernet Sauvignon and Merlot Malbec wines. The wines are all carefully matched with morsels of tempting food created daily by the vineyard owners. 

Then visit Kennedy Point Vineyard where they produce Syrah, Merlot, Malbec, Chardonnay and Rosé wines using biodynamic methods. The Kennedy Point 2007 Syrah was awarded the Trophy Medal and top New Zealand Red Wine at The International Wine Challenge in London 2009. Ample time is included for a gourmet lunch or a stroll along the beach before you are whisked back to the ferry terminal for your return to the city. (Photo Courtesy of iStockphoto | Thinkstock)

Fine Dining on Waiheke Island

If you want an exceptional dining experience while on the island, book a table at Mudbrick, world renowned for its restaurant and award-winning wines. Perched atop a hill with stunning sea to city views, the vineyard restaurant is a must for serious food and wine connoisseurs. Chef Matthias Schmitt serves sophisticated, Michelin-Star quality cuisine using local ingredients, many sourced from the property's meticulously tended French potager gardens. Indulge in the tasting menu with wine pairings for the ultimate Mudbrick experience. (Photo Courtesy of Mudbrick)

Sample Mudbrick Tasting Menu 

Te Matuku Bay Oysters, Horseradish, Raspberry, Chive, Daikon 
Mudbrick N.V. Sparkling [Marlborough]

Atlantic King Scallops, Katafi Prawns
Mudbrick Sauvignon Blanc [Marlborough 2011]

Long Line Caught Fresh Fish of the Day
Mudbrick Shepherds Point Chardonnay [Waiheke Island 2012]

Refresher

Alpine Merino Lamb Rump
Peanuts, Golden Kumara, Grape & Shallot Vinaigrette
Mudbrick Shepherds Point Syrah [Waiheke Island 2011]

Chilled Passionfruit Soup
Ned Noble Sauvignon Blanc [Waiheke Island 2011]

'Black Forest' Dessert,Cherries, Valrhona chocolate, Eau d'vie
Croft Fine Tawny Port (Photo Courtesy of Mudbrick)
You might like :
Epicurean News
LET'S CONNECT LUXURY NEWS & MORE