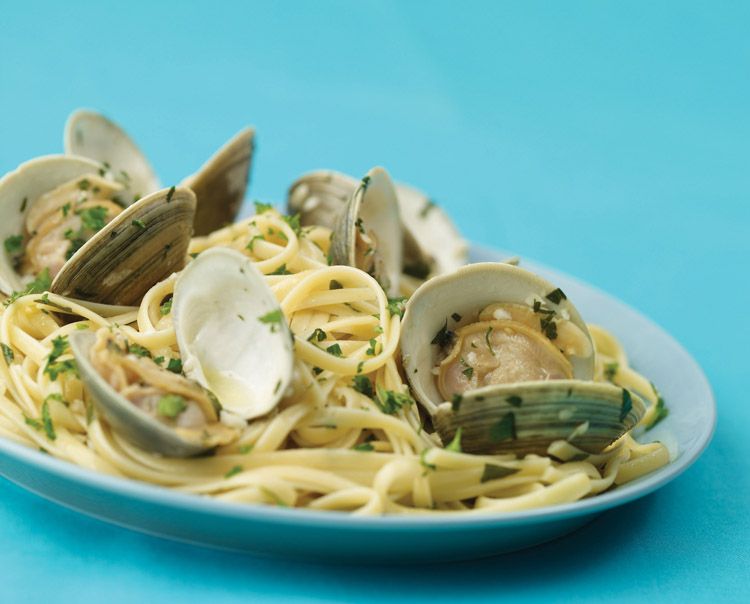 Photo Courtesy of Westside Market NYC
Did you know that March is National Noodle Month? Neither did we, but now that we do, itís a great excuse to carbo-load on all the pasta we crave. To help with our goal, Maria Zoitas (the creator of "Maria's Homemade" line of prepared food that is exclusively sold at
Westside Market NYC
) is sharing her delicious recipe for
linguine with clams
. With two dozen clams, garlic, parsley, red pepper, and of course linguine (or spaghetti if preferred), this recipe is pretty easy to make at home ó all you really have to do is cook those little clams till they open and throw everything in a pot!
Maria Zoitas is the creative force behind Westside Market, running the kitchens in all of their NYC locations (three on Broadway and one on 7th Avenue). Drawing from her Greek heritage, she likes to take tried-and-true family recipes and update them, giving them a fresh and modern flair that keeps up with the ever-changing epicurean trends ó especially the current focus on healthy foods.
Linguine with Clams
Serves: 4
Ingredients:
2 dozen manila or littleneck clams, scrubbed
? cup dry white wine
? cup extra virgin olive oil
1 large garlic clove, minced
? teaspoon crushed red pepper flakes
? cup chopped fresh flat leaf parsley
1 pound linguine or spaghetti, cooked
Directions:
Put the clams and wine in a large pot. Cover and cook over high heat for about five minutes until the clams open. Transfer the opened clams to a bowl using a slotted spoon, leaving the broth in the pot. Discard any unopened clams.
Strain the clam broth by pouring it through a fine-mesh sieve into a small bowl. Set the broth aside.
Put olive oil, garlic, and pepper flakes in the same pot and cook over medium heat, stirring occasionally, just until the garlic turns color.
Add the clams, broth and parsley, and stir well to combine. Heat just to simmering.
To serve, toss clams with cooked pasta.