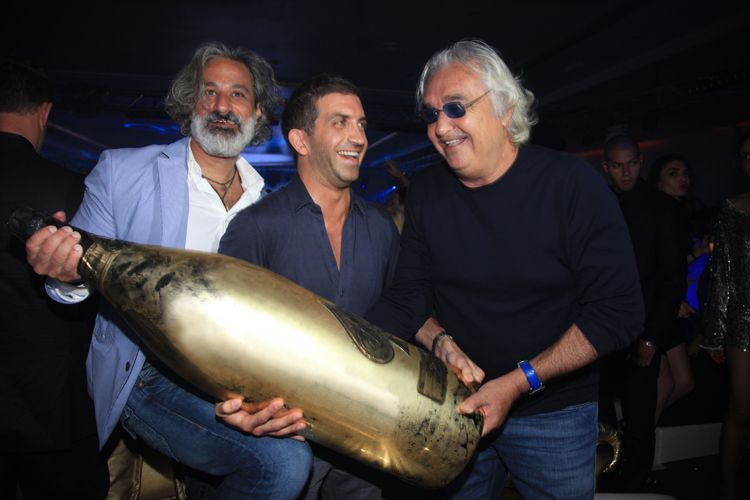 Photos Courtesy of Armand de Brignac
How much would you pay for a Armand de Brignac Brut Gold collection featuring one especially massive bottle of champagne? What if that bottle was so big you needed two buddies to help you hold it? Does £330,000 (around $501,798) sound about right? That's exactly how much Charles Shaker, a British entrepreneur and business advisor to the affluent, paid last weekend during a party for the Monaco Grand Prix.
The collection sale, titled the
Armand de Brignac
Dynastie collection, occurred at the Billionaire Club in Monaco during the Armand de Brignac Gold Party. According to the brand, the rare assortment consisted of nine "Ace of Spades" Brut Gold bottle sizes and every bottle format, including the normal 750ml bottle and the world-world record breaking 30L Midas. The entire collection amounts to 109 standard 75cl bottles and required 12 staff to carry them throughout the club, with the large Midas being carried by four men and presented in a gold "Roman Litter" champagne bucket.
"I was introduced to Armand de Brignac a few years ago by my good friend Don Johnson and have been a fan ever since! I had heard that Armand de Brignac had created the Dynastie collection and it caught my attention immediately. I was in Monaco with clients for the Grand Prix and was therefore excited to hear that the collection would be unveiled at Billionaire Club during Armand de Brignac's Gold Party," said Shaker. "Buying the collection was such a joy and I wanted everyone to be part of the celebration. There was certainly enough champagne to go around! My only regret was that Don was not there to share the experience with us in person — however I did call him, so he was there by phone."