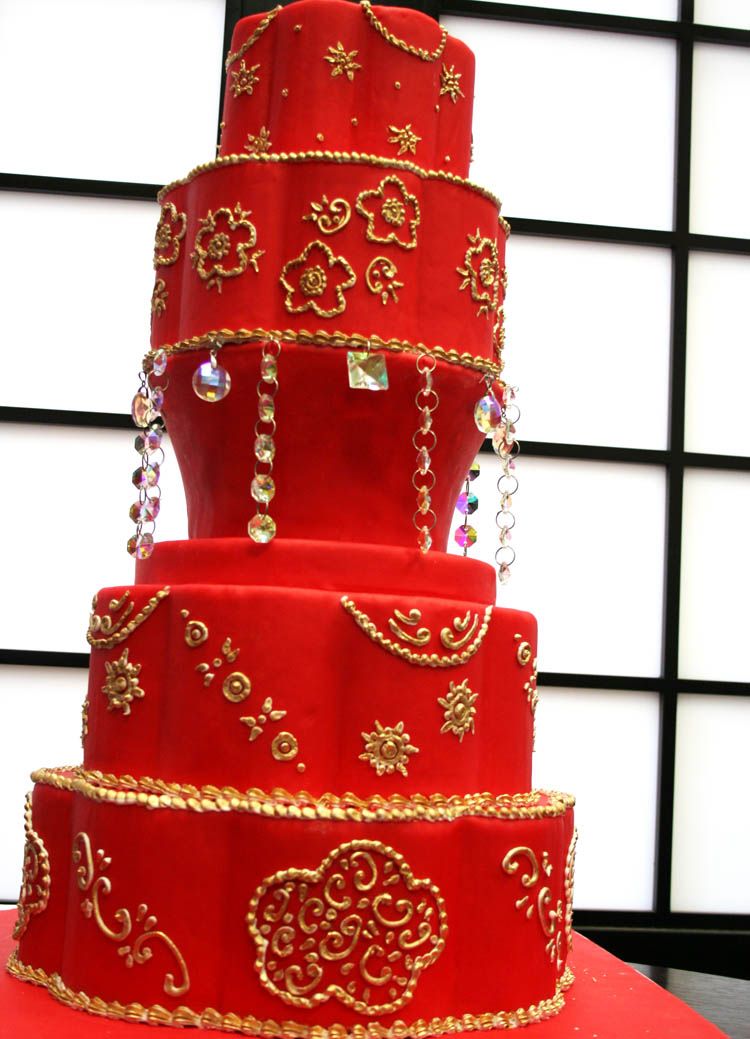 Photos Credit: Dana Herbert
The nice thing about gourmet cakes is that you can decorate them however you want, whether it be with fondant or icing. Celebrity pastry chef Dana Herbert definitely knows a thing or two when it comes to desserts — just check out his Season One win on TLC's
Cake Boss: Next Great Baker
or visit
Desserts by Dana
in New Castle, Delaware. Lucky for us, he has decided to share some of his favorite cake recipes with us. This one in particular combines the classic red velvet with the trendy use of bacon, and just so happens to be one of Chef Herbert's favorites.
Decadent Red Velvet and Bacon Cake
Cake Ingredients:
2 3/4 cups plus 1 tablespoon sifted cake flour or 2 1/2 cups sifted all-purpose flour, plus more for coating the pans
2 teaspoons fine salt
2 teaspoons baking powder
1/4 teaspoon baking soda
1/4 cup natural unsweetened cocoa powder
2 tablespoons (1 [1-ounce] bottle) red food coloring
1 1/2 tablespoons water
2 sticks (8 ounces) unsalted butter, at room temperature, plus more for coating the pans
2 cups granulated sugar
3 large eggs, at room temperature
1 1/2 teaspoons vanilla extract
1 tablespoon finely grated orange zest (from 1 to 2 oranges; optional)
1 cup whole or low-fat buttermilk
6 strips of cooked and diced Hatfield Applewood Bacon
Icing Ingredients:
1 1/2 sticks (6 ounces) unsalted butter, at room temperature
1 pound cream cheese, at room temperature
1 pound (4 cups) sifted powdered sugar
2 tablespoons whole milk, if needed
Ganache Ingredients:
1 pound semi sweet chocolate
10 ounces heavy cream
1 tbsp corn syrup
Directions for the Cake:
Heat the oven to 350°F. (325°F if using a convection oven)
Coat 2 (9-inch) round cake pans generously with shortening, then flour, tapping out any excess flour; set aside.
Sift the measured flour, salt, baking powder, and baking soda together twice; set aside. Whisk the cocoa, food coloring, and water in a small bowl until smooth; set aside.
Beat the measured butter in a large bowl using an electric mixer or stand mixer fitted with a paddle attachment, on medium speed until creamy, about 60 seconds. Add the sugar, 1/4 cup at a time, beating about 30 seconds after each addition. Remember to scrape the bowl as necessary. The mixture will lighten in color and appear to become fluffy. Add the eggs one at a time (do not add all at once), the vanilla, and the orange zest. Scrape down the sides of the bowl. Add the red cocoa mixture and mix until evenly incorporated.
On low speed, alternately add the flour mixture and the buttermilk, starting and ending with the flour mixture, until just incorporated. Once all the ingredients are incorporated, beat the batter 10 to 12 strokes with a spoon or spatula if using cake flour, 2 to 3 strokes if using all-purpose flour. (Do not overwork the batter, as this will make the cake tough.)
Divide the batter between the cake pans and spread the tops evenly with the spoon or spatula. Bake until a cake tester or toothpick inserted into the center comes out clean, about 30 minutes. Remove from the oven and let the cakes cool in their pans on a rack for 10 minutes. Slide a thin paring knife around the edges and invert the cakes onto the rack to cool completely, at least 1 hour.
Directions for the Icing:
Beat the butter in a large bowl using an electric mixer (or in the bowl of a stand mixer fitted with a paddle attachment) on medium-high speed until creamy, about 30 seconds. Add the cream cheese and continue to beat on medium-high speed until the mixture is fluffy and very smooth, about 1 minute. On low speed, add the powdered sugar 1 cup at a time, beating for a minute after each addition, until the mixture is creamy, fluffy, and smooth. Note: If the frosting is too stiff, you can add a little milk into it to loosen it.
Directions for Assembly:
Transfer 1 of the cake layers, bottom side up, to a serving plate or cake stand. Put icing into the center of the cake layer. Spread the icing from the center toward the edges of the cake in an even layer.
Carefully set the second cake layer on top of the first and ice the second layer the same way. Then ice the sides of the cake. Place cake in refrigerator to chill so that it can be ganache covered. Cake must chill 1-2 hours.
Ganache Directions:
Put heavy cream and sugar in a pot. Scald the heavy cream mixture and add chocolate chips and mix until smooth. Add the corn syrup and allow mixture to cool until just warm but still pourable.
Take cake from the refrigerator. It must be cool. Place cake on a glazing rack with a pan underneath to catch left over glaze. Pour ganache evenly over cake. Remove cake from glazing rack and place onto a cake board or plate. Sprinkle with diced Hatfield Applewood bacon.