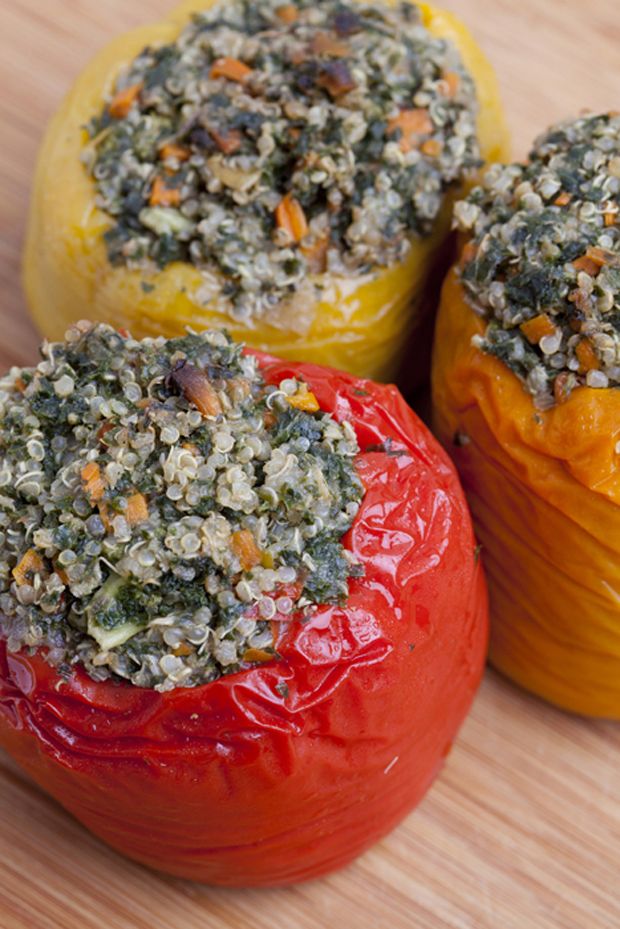 Photo Credit: Kimberly Snyder
Summer time is known for beach bodies and health cleanses, which makes this recipe for Rainbow Stuffed Peppers a no-brainer. From the mind of
Kimberly Snyder
(celebrity nutritionist and
New York Times
bestselling author of
The Beauty Detox Foods
), this light recipe will help keep you energized and healthy in the summer sun. Plus, We're sure leftovers will make for a great work lunch the next day.
While typical stuffed peppers include tons of cheese and white rice, this recipe opts for seasoning and quinoa instead. It's also worth mentioning that red peppers are high in vitamin C, helping repair and regenerate collagen in your skin. You may not need that Botox treatment after all.
Kimberly Snyder's Rainbow Stuffed Peppers
Ingredients:
6 red, yellow, orange or green peppers, or a combination, seeded and hollowed out
1/4 cup vegetable broth
6 cloves of garlic
2 cups of broccoli florets, cut into small pieces
4 cups of kale, chopped finely
2 medium carrots, diced
1 cup basil, chopped finely
High quality sea salt, to taste
3/4 tsp. black pepper
1 tsp. oregano
2 Tbs. low-sodium tamari
3/4 cup dried quinoa
* Be sure to soak the quinoa overnight in water and rinse well before using.
Directions:
Make an incision at the rounded top of each pepper, about 1 – 1 1/2 inches from the stem.
Cut all around the stem in an even circle, then pull out the stem and the seeds.
Discard stem, and save the rest of the pepper top to chop and add to the filling.
If necessary, clean out any remaining seeds from inside the pepper and discard.
In a saucepan place 2 cups of water and bring to a boil. Reduce heat and add the quinoa to the hot water, and simmer until the water is absorbed and the grains become translucent and soft (about 10-15 minutes). Pour through a strainer and set to the side in a bowl.
Sauté garlic in vegetable broth over medium heat, until gently cooked, then add onions, and stir until the onions become translucent. Add the broccoli, carrot, chopped pepper tops (from preparing the peppers) and basil and cook gently for a few minutes. Add the sea salt and other seasonings to the veggie mixture and stir it up!
Add the cooked quinoa and mix everything together well.
Adjust seasonings to your taste. The mixture should taste slightly saltier than your taste, as the seasoning will be less concentrated when we stuff the plain bell peppers.
Once you are satisfied with your filling, spoon into each pepper, right up to the top.
Place peppers tightly next to each other in a glass dish so they remain upright.
Bake at 350 degrees for 45 minutes.
Garnish with fresh basil just before serving.