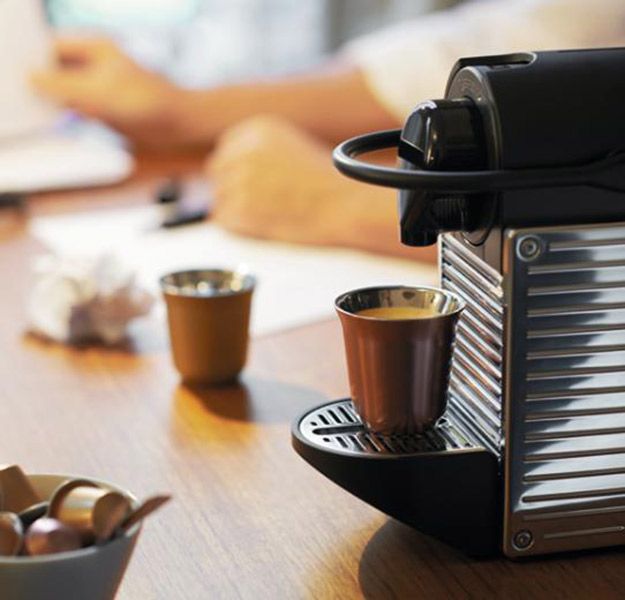 Photos Courtesy of Nespresso
Earlier this week we teased you with the promise of a
Nespresso
giveaway and today we are here to deliver. During the month of July we are excited to announce your chance to win a shiny new Nespresso Pixie Steel Lines! It doesn't stop there either; on top of wining this adorable machine, we are throwing in an Aeroccino Plus and a selection of the three latest Grand Cru: Vanilio, Ciocattino and Caramelito. Originally going by the slightly less exciting names Vanilla, Dark Chocolate and Caramel, the initially limited edition capsules were so popular Nespresso added them to the permanent selection. So rest assured you will love them too.
If you are not too familiar with Nespresso head on over to
The Future of Coffee: Nespresso Delivers Frothy Deliciousness in Under a Minute
where I talk all about what it's like to own one. In a nutshell, a Nespresso machine blows your coffee maker right out of the water. Plus everyone gets what they want: maybe you like a strong variation like Ristretto (rated as 10 on Nespresso's 1-10 intensity scale), but your visiting relative prefers the lighter notes of Cosi (rated a 3). Perhaps your neighbor then stops by, but they only drink decaf. No problem. And every single cup is just as frothy and delicious as the stuff your favorite barista whips up.
Using the machine is easy too, check it out:
Earlier this year, Nespresso announced a new edition to the Pixie family, which have so far been offered in various colors from red to lime. The Pixie Steel Lines model is a sleek and tiny machine featuring a steel-paneled design that is modern and plays off of the oh-so-popular stainless steel look that we all love in our kitchens.
Now when I say it's tiny, I mean it. The little machine will only take up a 4.4 x 9.3 inch rectangle of space and it sits about a foot high. In terms of technology the Pixie is very intelligent as well, pouring the perfect amount for an espresso (1.3 oz) or a Lungo (4.75 oz). It also automatically knows when the 24 oz removable water tank is empty. For espresso drinkers the machine offers a platform to place your little cup; it also flips up should you prefer to use a large mug or Macchiato glass.
To get the full Nespresso experience you really do need to own an Aeroccino. The milk froth it creates gives the coffee an extra touch that just feels luxurious. Using it is very simple, with only one button for both the cold and hot frothing function (hold it down for cold, just press for hot). A tiny whisk goes to work for a few seconds and you are left with a fluffy pillow of milk (or whatever else you put in there, you are welcome to experiment).
So without further ado, I give you the part where you get a chance to win this fun little bundle of joy. Leave a comment telling us why you would love to win and we will select a winner randomly at the end of the month. Best of luck!
Win a Nespresso Pixie Steel Lines Bundle Terms & Conditions
Comments must be received by 11:59 pm ET on July 31, 2013, winner will be notified by August 5, 2013.