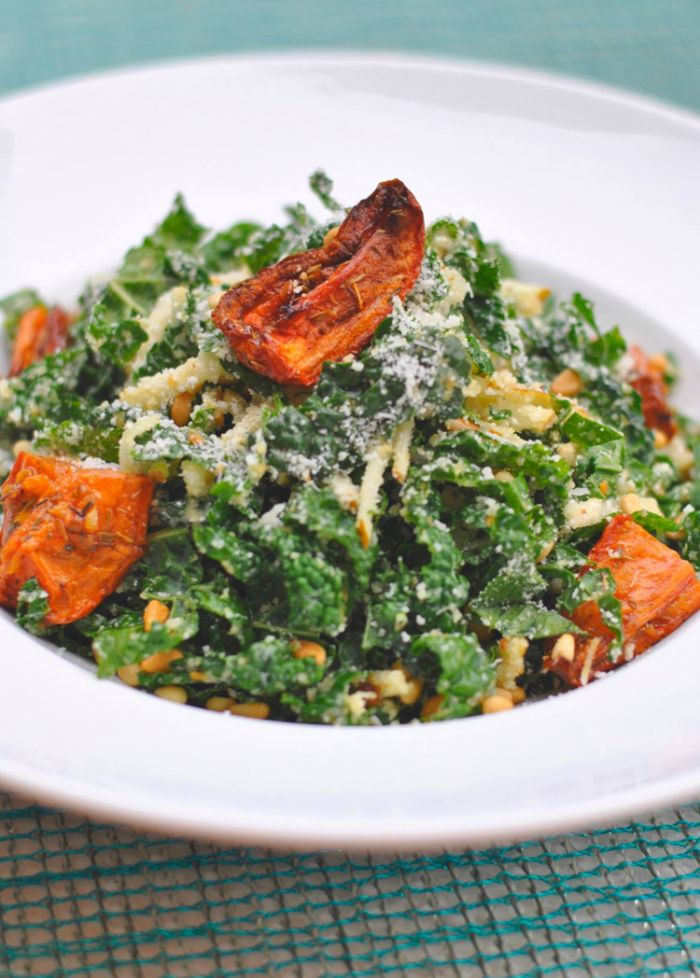 Courtesy Hotel Valley Ho
When Arizona temperatures sizzle, the Hotel Valley Ho's
Cafe ZuZu
satisfies reduced appetites with its most popular light menu option: the Tuscan Kale Salad. Under the direction of Chef Charles Wiley — recognized as one of America's best hotel chefs by the
James Beard Foundation
and
Food & Wine Magazine
— ZuZu's seasonal American-fare menu features the kale salad among other standouts, including seared Ahi sliders, roasted tomato and goat cheese casserole, and the always-popular Zuzu Burger with Virginia Bacon, balsamic onions and Maytag blue cheese. 
Served inside the minimalist dining room, the retro cool Lounge bar, or on the shaded patio, ZuZu is Scottsdale's hot spot for breakfast, brunch, lunch, dinner. Their generous "cool redux" happy hour (from 4-7p.m.) makes them a popular after-work destination, featuring a $6 menu and, in my opinion, the best $5 signature cocktails served in the entire state. Handcrafted cocktail stunners include The Bramble (Bombay gin, lemon and blackberry), The Hepburn (Cruzan rum, lime juice, simple syrup and banana liqueur), and Zuzu Senorita, a refreshing twist on the margarita (Sauza tequila, lime juice and agave nectar).
It's no wonder ZuZu is such a hit with local foodies, as well as
Hotel Valley Ho
guests. Its excellent location certainly doesn't hurt. As downtown
Scottsdale
's urban resort and spa, Hotel Valley Ho is just a short walk from hundreds of shops, restaurants, and art galleries. Built in 1956 and fully restored, this iconic hideaway honors its past with mid-century-modern style thoughtfully blended with new amenities. Guests choose from a collection of bright guest rooms with private patios or balconies, whether it's a playful Studio Guest Room or a posh Tower Suite. Hotel Valley Ho has been my personal Phoenix area favorite since childhood...for more years than I'm willing to publically admit. 
ZuZu's Tuscan Kale Salad
Yields 4-6 Servings
Salad Ingredients:
2 bunches Tuscan Kale (also known as Lacinato Kale)
2-3 Tbsp. butter
1/3 baguette (or similar bread), cut into 12 slices
1/3 cup Pecorino Romano, finely grated
1 recipe lemon vinaigrette (see below)
To taste, kosher salt and fresh-ground black pepper
1/4 lb ripe tomatoes, cut into bite-size chunks
1 pear, cut in 1/4-inch batons
1/4 cup pine nuts, toasted
Salad Directions:
Tear the kale leaves off the tough stems, wash well and dry in a salad spinner. Cut into 1/4-inch-wide ribbons. Transfer to a large mixing bowl.
Preheat the oven to 350 degrees. Spread a little butter on each slice of baguette, place on a baking sheet and sprinkle with half of the cheese. Bake for eight minutes or so until golden brown. Remove from the oven and allow to cool.
When cool, break the baguette slices into the work bowl of a food processor and pulse until coarse crumbs form.
Dress the kale liberally with the lemon vinaigrette. Season with a little salt and pepper and gently massage the dressing into the kale. Add the toasted bread crumbs, tomatoes and pear; toss lightly.
Transfer to a serving bowl and sprinkle with the remaining cheese and the pine nuts.
Lemon Vinaigrette Ingredients:
1 tsp. lemon, zest
1 Tbsp. lemon Juice
1/2 shallot (about 1 Tbsp.)
2 Tbsp. Rice Wine Vinegar
1 Tbsp. honey
2 Tbsp. dijon mustard
1/2 cup vegetable oil
To taste, kosher salt and fresh-ground black pepper
Lemon Vinaigrette Directions:
Combine zest, juice, shallot, vinegar, honey and mustard in a mixing bowl. Whisk in the oil slowly to form an emulsion. Season with salt and pepper.