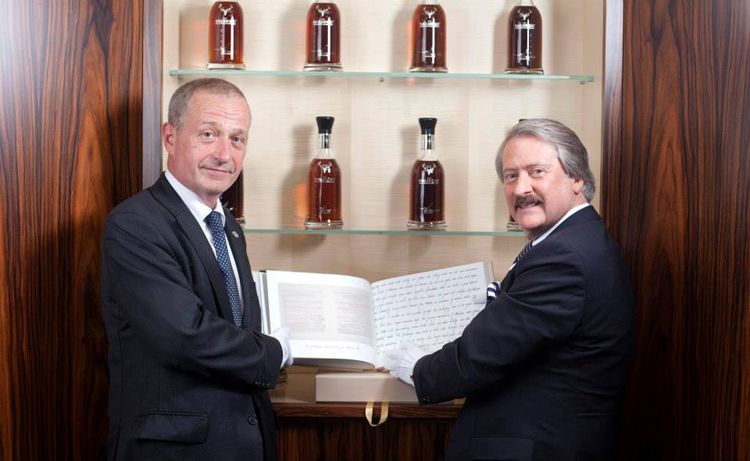 Photos Courtesy of The Dalmore
If the name "Dalmore" rings a bell, there are some good reasons for that. It may be just one of several dozen whisky distilleries in Scotland, but it just so happens to have some of the oldest stocks in the business. And when it bottles some of that stock and makes it available to the public, it's been known to fetch record prices.
In 2003,
The Dalmore
sold a bottle of 62-year-old whisky for £25,000 (that's around $38,387), setting a world record in the process. Three years later, another bottle of the same sold for £32,000 ($49,168). In 2010, the distillery sold three bottles of its 64-year-old Trinitas for a mind-blowing £100,000 (around $153,550). That was surpassed the following year when another bottle of the 62 sold for £125,000 ($192,062) — five times the price with which a bottle of the same had set the world record less than a decade prior. But now The Dalmore is taking things a step further with its new Paterson Collection.
Named after its legendary master distiller, Richard Paterson, the collection consists of 12 bottles ranging in vintage from 1926 through the 1990's. Paterson diligently selected the casks for the collection over the course of some 1,000 hours of work, logging the process in a hand-crafted, silver-foiled and leather-bound ledger that comes with the collection. Each bottle is a handcrafted crystal decanter from Glencairn, etched in silver and named after a major influence in Paterson's career, including his own father, James Whyte and Charles Mackay, founders of the distillery's parent company. The entire collection comes in a handcrafted wooden cabinet that took 700 hours to design and construct.
"We have created a collection of whiskies of the very highest quality that can truly lay claim to be the only one of its kind in the world," said Paterson. "I personally have invested a huge amount of time ensuring that each of these twelve expressions represent the very best of the incredibly rare and valuable stocks that we nurture up at the distillery in Alness. I'm delighted that we have been able to give this collection the showcase that it deserves, with centre stage in the spirit room of the world's number one luxury retailer."
The Dalmore Paterson Collection is being offered exclusively through the new
Fine Spirits Room at Harrods
at the jaw-dropping price of ?987,500 ($1,516,306).