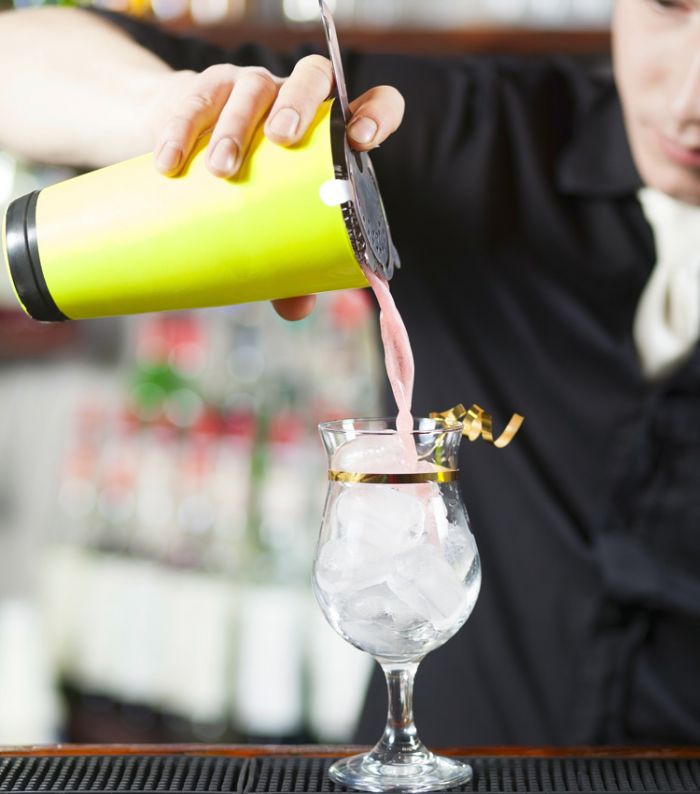 Amanda Bynes
drinking game — so here's a few top-shelf tequila drinks to get you started.
Photo Courtesy of Hornitos
Hornitos "Not Just Any" Sangrita

(Serves 6)
Ingredients:
6 Parts Hornitos® Plata Tequila
5 Parts Tomato Juice
5 Parts Pineapple Juice
1 Part Fresh-Squeezed Lime Juice
Teaspoon of Hot Sauce
1 Pinch of Salt
4 Mexican Worcestershire Sauce
1/2 Teaspoon Crushed Garlic
Method:
Mix ingredients 2-8 well; chill in the fridge. Serve in a tall shot glass. For best flavor, make a day before serving. Serve your freshly-made Sangrita with a smooth shot of Hornitos® Plata Tequila. Sip alternately.
Photo Courtesy of Hornitos
Hornitos Iron Clad Paloma
Ingredients:
2 parts Hornitos® Plata Tequila
3/4 part Lime Juice
1 part Grapefruit Juice
1/2 part Agave Nectar
3 Raspberries
Soda Water
Method:
Pour all ingredients, except the soda water, into a shaker with ice. Shake and double strain into a pilsner glass filled with ice. Top with soda and garnish with a salted rim and lime wedge.
Photo Courtesy of Sauza Tequila
Sauza Fresh Melon Margaritas
(Serves 4)
Ingredients:
2/3 cup Sauza Blue Silver 100% Agave Tequila
2 parts JDK & Sons™ O3 Premium Orange Liqueur
2 cups cubed fresh melon (use a mix of honeydew and cantaloupe or whatever is fresh and smells ripe at the market)
1/3 cup lime juice
3 parts simple syrup
Method:
Combine all ingredients in a blender and puree until smooth. Serve in glasses and garnish with a wedge of melon. 
Photo Courtesy of VeeV
VeeV Superfruit Margarita
(Serves 1)
Ingredients:
1 oz. VeeV Acai Spirit
1 oz. Blanco Tequila
1 oz. Fresh Lime Juice
1 oz. Agave Nectar or Simple Syrup
.5 oz POM juice (optional)
Lime wheel for garnish
Method:
Shake all ingredients well with ice and strain into an ice-filled rocks glass. Garnish with a lime wheel.