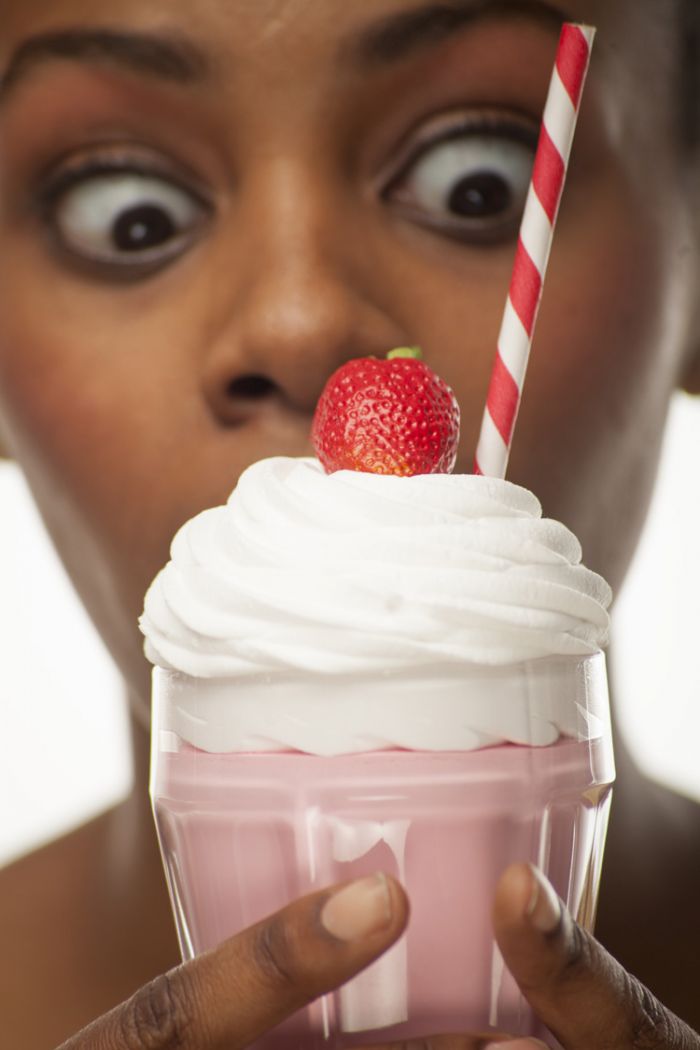 Recent heat wave-induced ponderings brought up the thought: If Cleopatra bathed in milk, why couldn't the modern version be a giant, frozen milkshake bath? Okay, so actually bathing in ice cream probably isn't the best idea—for many obvious reasons—but you can still drink the sweet concoction for all three meals of the day if you want to. We won't judge. So, here are some of our favorite cold, creamy treats found at restaurants all over the nation. Take a little milkshake tour, but don't blame us for the new calories.
Photo Credit: Kenji Alt
Red Velvet Shake, Harlem Shake
Made with Blue Marble ice cream, organic milk and Tonnie's Minis Red Velvet cupcakes, this is the signature shake at Harlem Shake, a new gourmet burger joint that's the talk of Harlem. Other flavors include salted caramel (with house-made caramel) and peanut butter malted.
Photo Credit: Caesars Entertainment
Sweet Meat Milkshake
Before every dessert recipe in America was incorporating bacon (at least that's how it seems), it had a natural home in the fast food spectrum: on top of burgers, on top of fries, and surprisingly enough, it even tastes nice dipped in a milkshake. Caesars in Atlantic City makes a pretty tasty vanilla-peach shake, including vanilla vodka and Frangelico, and topped off with bacon sprinkles. If you're making the Sweet Meat Milkshake at home for the kids, it's just as salty-sweet-yummy without the booze.
Frozen Bananas Foster, Ocean Place
Flaming Bananas Foster is a visual treat, but when you're sitting in a tiki bar by the beach and it's 100 degrees Fahrenheit, you wouldn't want to light rum on fire. You would want to ice it down and drink it. That's the thinking at Ocean Place, where they turn this classic dessert into a blending drink featuring Myers and Sailor Jerry's rum.
Jerry Built Burgers, Texas
In Houston's home of "homegrown" premium fast food, the shakes are made with Blue Bell ice cream and a different flavor is featured every month in summer. Jerry Built constantly tops local polls for "best shake in town" — no fancy presentation or garnish necessary, just old-fashioned taste.
Photo Credit: Lucy Restaurant & Bar
Persian Mulberry Milkshake, Lucy Restaurant & Bar
It's not just grapes that Northern California knows how to make into beverage magic. This gorgeous garden shake from Lucy Restaurant & Bar is made with fresh-picked Persian mulberries and fresh peppermint leaves...from the on-site garden.
Photo Credit: Lena Katz
Honey & Almonds, The Beach at Dream Downtown
Creamy, light and barely tasting of booze at all, this concoction from The Beach at Dream Downtown is dangerously good. The recipe actually starts with a pour of Jack Daniels Tennessee Honey, plus amaretto over vanilla ice cream. By subbing in almond milk for traditional heavy cream or milk, the bar wizards at Dream have created a drink with far less butterfat than a typical shake...but far more liquor. Here's a toast to sweet Dreams, poolside.
Photo Credit: Holstein's Shakes and Buns
Campfire S'Mores Bamboozled Shake, Holstein's at Cosmopolitan of Las Vegas
This is another shake that can be boozed up for grownups or done with just s'mores ingredients (marshmallow, chocolate, graham cracker crumble) for a chilled-out variation on a classic summertime treat. If you're doing it grownup-style, Holstein's uses Smirnoff Marshmallow Vodka.
Sauza Strawberry Surrender
This is actually a strawberry margarita with chocolate milk added. Kind of like the Neapolitan ice cream boxes Mom used to buy when you were a kid...except with Sauza tequila.
Photo credit: Four Seasons Hotel Chicago
Flaming Bananas Foster, Allium
This version of the classic dessert is more of a night-time drink because the presentation includes lighting a shot of 151 Rum on fire tableside. The chef at Allium originally created it as part of the Four Seasons' Summer of Ice Cream Love Campaign — which is a loveable campaign indeed.
Chocolate Porter Float, Half Moon Bay Brewing
And finally, one fabulous float from Northern California's Half Moon Bay Brewing Company that pairs its rich micro brewed porter with vanilla ice cream to create a hipster, summer cooler nonpareil.