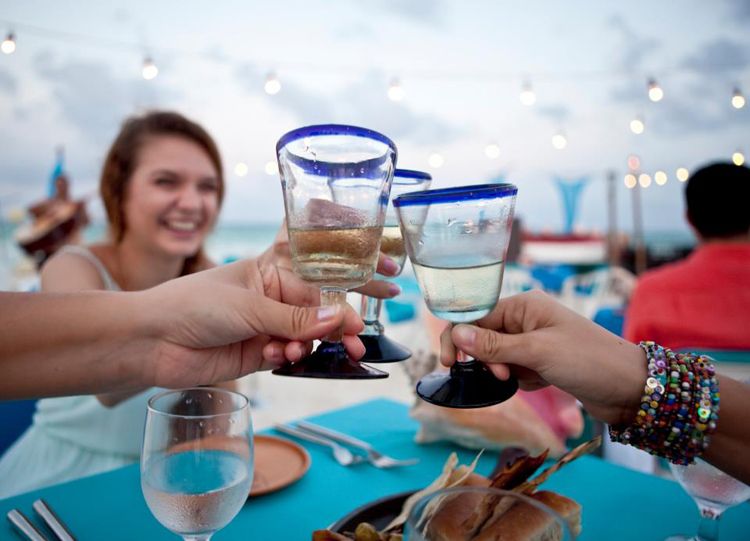 Photo Courtesy of Maroma Resort and Spa
What is the most you would pay for a shot of tequila? If you were gazing out at Maroma Beach in Mexico, one of the most beautiful beaches in the world, would this breathtaking view cause you to throw caution to the wind and pay top dollar? Freddy's Tequila and Ceviche Bar at Maroma Resort and Spa is hoping for just that.
As you approach the bar, sitting front and center is a sleek bottle painted with an artistic flair that is sure to catch your eye. After settling in under the bar's sun-drenched palapa, you can easily fall under the spell of the beach and its turquoise mystique. You find yourself wondering about that bottle.
Photo Courtesy of Clase Azul Tequila
If Freddy himself is on hand to serve you on this particular day, here's what he would reveal about a tequila with a name conjuring images of Spanish royalty. Clase Azul Ultra tequila is the world's most luxurious tequila. This velvety smooth drink is produced in numbered batches of only 100 bottles, making the bottle you could be sipping from a collector's item. The tequila hails from the agave fields of Spain and is aged for five years in a sherry wood cask before being bottled. Speaking of the bottle, it will probably cost you around $1.6K and comes in a hand-painted decanter embossed in platinum, featuring a silver medallion and a label made of 24-karat gold.
Photo Credit: Tim Cotroneo
Once you've heard the story, you'll catch your breath and wonder, "Do I throw caution (and wallet) to the wind and have a vacation memory I'll remember for years?"
Living in the moment, the next words out of your mouth should definitely be, "Freddy, pour me a shot of Clase Azul Ultra."
Photo Credit: Tim Cotroneo
Photo Courtesy of Maroma Resort and Spa
Photo Credit: Tim Cotroneo