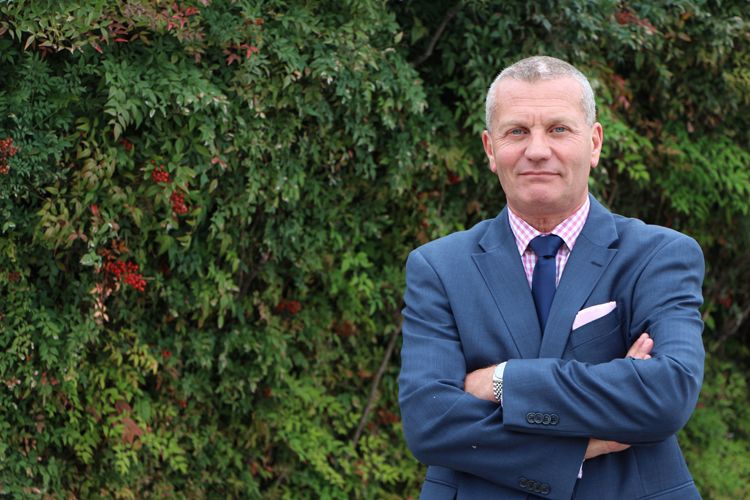 Photo Courtesy of The Food Network
Right now, there's probably a foodie sitting in a fine dining restaurant somewhere, wondering if they should buy and open their very own establishment. If that's been you, take a moment to really consider everything that goes into not only finding the perfect building, but actually running a restaurant. If you're drawing a blank, then maybe listen to everything real estate veteran and chef Keith Simpson has to say — seriously, everything.
As the host of the Food Network's newest program, Buy This Restaurant, Simpson knows exactly what it takes to open a restaurant and he's here to make sure you succeed. He recently chatted with us, spilling his biggest secrets for keeping a restaurant booming (if you don't know fine dining, stay away!), laughing over his shock upon getting the hosting gig (the British accent certainly didn't hurt), and talking about the farm-to-table future of the food industry.
Photo Courtesy of The Food Network
Simpson went to culinary college from 1973 to 1975, spending the following 10 years working as a chef before moving on to manage restaurants and hotels for the next 10 years. Then he moved into high-profile catering (you know, for people like the British Royal family) and eventually ended up in America in 1996 to buy his first restaurant. "I saw a niche market for an English pub and restaurant. And of course, hearing me, the accent, people would say, 'Say that again! I loved hearing it!'" says Simpson. "That's another thing! I think my accent really helped me get this job on the Food Network. They were very kind and said it didn't, but…[laughs]."
After selling one of his restaurants in 2006, Simpson found himself to really enjoy the process and took a step towards restaurant brokering — now working for the San Francisco-based Restaurant Realty Company.
Photo Credit: Nickolastock/Shutterstock
According to Simpson, the main thing first-time buyers need to know is that the process is nothing like buying a house, especially in terms of the location. "I hear buyers saying, 'I love this restaurant because it's right around the corner from where I live.' Well, that's completely the wrong reason to own a business. Especially a restaurant, because it's where the restaurant location is that matters more."
So, how exactly do you value a restaurant? "It's very important for people to understand [when] coming into the restaurant business for the first time, not to: A. Overpay and B. [overlook whether] it's in the right location. And then look at the competition in the area and make sure you're not just copying. If you're copying a chain restaurant and you're a mom and pop, you're likely to fail."
Photo Credit: ollyy/Shutterstock
Those who are chosen for the show don't just get help finding a location though, Simpson has set out to really advise them throughout the entire process. He looks at their experience and budget to find the best three possible restaurants available (like corner locations and free standing spaces), as well as their concept and competition in the area. One of his biggest concerns is to make sure his buyers aren't overpaying. "That's my job," he says. "Certainly people [overpay], and they fail. A lot […] in their first year and I'd like to stop that [laughs]. I can't do it single-handedly, but I'd like people to be successful and have two or three restaurants, because then they'll come to me to help them find the third and fourth restaurant."
"They sort of give me a wish list of what they want and I try and meet at least 95 percent of it, if I can, and reasons why I didn't give them the other five percent," he explains. Simpson wants those on Buy This Restaurant to be successful, above all things, and he's not about to push an expensive rental on someone who won't be able to afford it. He looks at buildings where the rent will be around $3k a month, which is doable for a first-time buyer, advising to never go too big. "I like them to just put their toe in the water. If you like it, that's great. If it's successful, come back to me in two or three years time, we'll sell that one and buy you something bigger. Start small."
Photo Courtesy of The Food Network
There is such a thing as starting too small though, where you are essentially buying yourself a job and this is when Simpson gives his clients a little push. "If you find something that's 1,500 square feet and it's husband and wife, and the husband's going to be the chef and the wife's going to be the general manager, what happens when you want to take a day off or a vacation?" he asks. If you go a little bigger, he promises that you'll be able to take some time for yourself and actually enjoy being a restaurant owner. Sure, you'll be working 70 hours a week when building the business, but once it's profitable and "you've got the train on the tracks," you can take some time off.
"When I had my restaurants I was very keen on pushing my [staff] forward — 95 percent of the customers didn't know who the hell I was. I liked it that way, because […] I could go away for a week and as long as I know my team can handle everything, then I'm not missed. If the owners are too much in the forefront then people are disappointed when they aren't there," he says. "It's a tough business and if you just work work work, you're just going to burn yourself out."
Photo Credit: Kzenon/Shutterstock
He also takes renovation costs into account, making sure that his client is going to have working capital left over in their budget. "The rule of thumb for that is whatever your monthly payroll is, you need six months of it in the bank before you open and that's to carry you through the first six months of losses," Simpson explains. "So unless you're extremely lucky, you're going to lose money in the first six months. A lot of places go out of business, because they run out of cash. I mean, Rolls-Royce went belly-up! They had orders for five years to build engines and cars but they ran out of cash."
His advice extends to the type of restaurant you're thinking about opening. You may love fine dining restaurants, but if you don't know anything about fine dining and wine, Simpson recommends you stay away! "That really is a skill set that is very different from your mom and pop bistro or pizza place. If someone's opening a pizza place, that's a no-brainer. Even I can make pizza, it's not difficult," he laughs.
Photo Courtesy of AQ Restaurant & Bar
"Let's go back to seasonality. Why should you always be able to get asparagus, why should you always be able to get avocados? It's crazy!" he exclaims. "They taste better in certain seasons." Simpson predicts more and more restaurants will be failing if they don't move forward, and seasonality is one of the big ones. "We got used to just throwing out the same old tomatoes, the same old lettuce, and I think those restaurants are getting boring," he expects. People want fresh food, they want to be excited about the menus and look forward to certain produce based on the year.
He points to San Franciscan restaurant AQ, where co-owner and head chef Mark Liberman (and Simpson's former employee) not only changes the menu every season, but the entire décor of the restaurant gets a makeover as well! Having just been up for a James Beard Award a few months ago (thought he didn't win), Liberman represents the type of innovation Simpson loves to follow, "because he's doing everything farm-to-fork, the best produce, and those people will succeed. They really will."
Photo Courtesy of The Food Network
As for his clients on the show, they've gotten themselves a lifetime friend in Keith Simpson. He's not planning on ending his involvement once the credits have rolled, and is really looking forward to seeing these restaurants in a year's time. "They've got my email [...] and they'll stay in contact. I'm sure I'll be consulting with them all on a monthly basis," he says confidently. He's also hoping that as viewers, we all connect with him and have fun watching the program, wanting everyone to know that what you see on screen is exactly what you get — accent and all.
While he readily admits that may have been a "nervous wreck" and a little panicky over the thought of being filmed at first, he quickly found his footing by just being himself and relying on his expertise. "I'm no different [laughs]. I've never had any media practice, or rehearsals or trainings. They said to ignore the cameras, [so] the show is really Keith being Keith!"
Buy This Restaurant airs on Food Network on Wednesday nights at 9/8c.