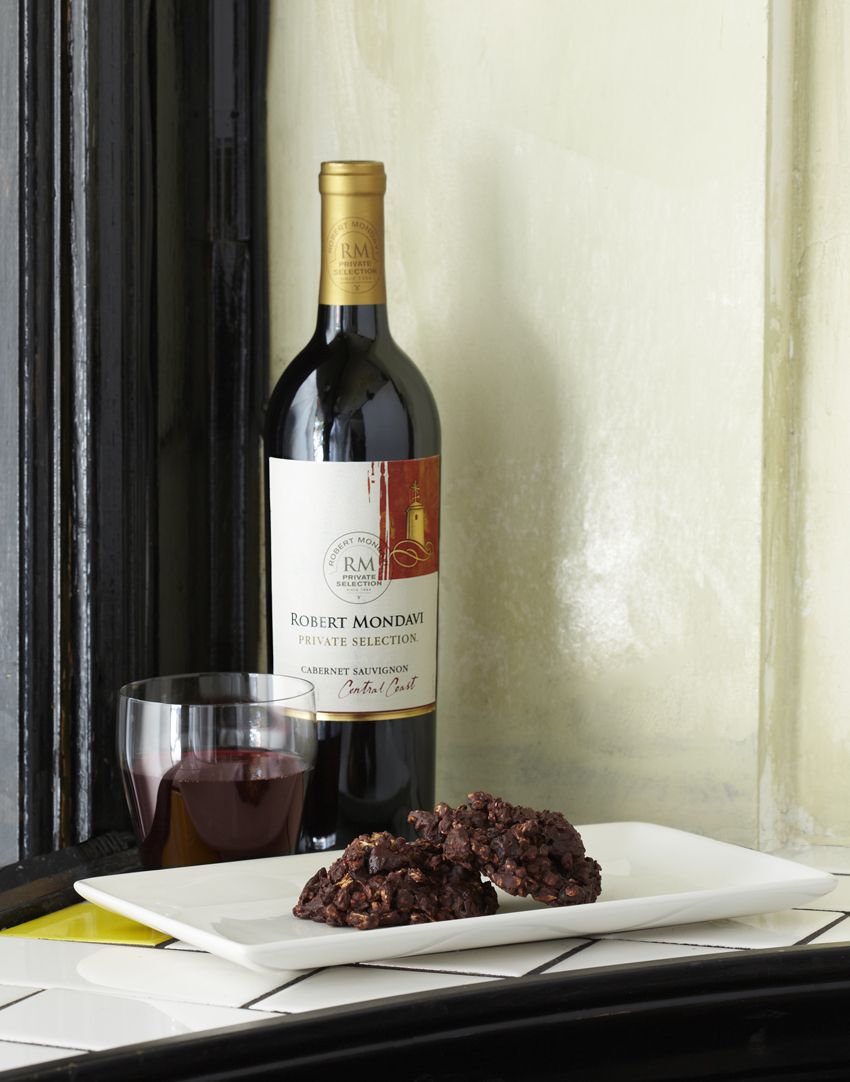 Photo Courtesy of Robert Mondavi Private Selection
You're probably going to need some wine this Valentine's Day, whether you're in a relationship or not, so why not bake with it? Plus, this cherry chocolate cookie recipe doesn't involve the oven at all, which means you don't have to feel like you'll get sick from eating the raw dough before cooking it.
Created by Justin Warner, the chef and co-owner of Do or Dine and the season eight winner of The Next Food Network Star, these little desserts can be eaten with a group of friends or with that special someone. "I'm completely obsessed with no-bake cookies. I love that they can be borderline savory, and dangerously close to healthy," says Warner. "Integrating Robert Mondavi Private Selection Cabernet-stewed cherries in to the mix seems like just the right amount of indulgence."
Besides, they're almost good for you, so the calories don't count.
Cabernet-Cherry-Chocolate Almost Healthy No-Bake Cookies
Preparation: 10 minutes
Cook Time: 10 minutes
Yields: 24 cookies
Pair alongside: Robert Mondavi Private Selection Cabernet Sauvignon
Ingredients:
1 3/4 cup Robert Mondavi Private Selection Cabernet Sauvignon
1 cup dried cherries
12 ounces granola
11 1/2 ounces milk chocolate morsels
1 1/2 teaspoon salt
Directions: In a small sauce pan, over medium heat, cook the wine and cherries until the cherries soak up a lot of the wine, 6-10 minutes. Be very careful, as the wine-cherries mix can ignite. Just relax and don't put your face over the pot.
In a microwave-safe bowl, combine the cherry mixture, granola, salt and morsels. Stir until evenly dispersed.
Microwave at half power in one minute intervals, stirring between intervals, until the chocolate is melted and the whole kit is gooey and you want to eat it with a spoon. This shouldn't take more than 2-3 minutes if the cherry-wine combo was still hot when you added it.
Using gloved hands, form the mix into cookie shapes, and place on a wax paper-lined baking sheet.
Refrigerate for 30 minutes.
Pour a glass of Robert Mondavi Private Selection Cabernet Sauvignon.
Devour cookies.