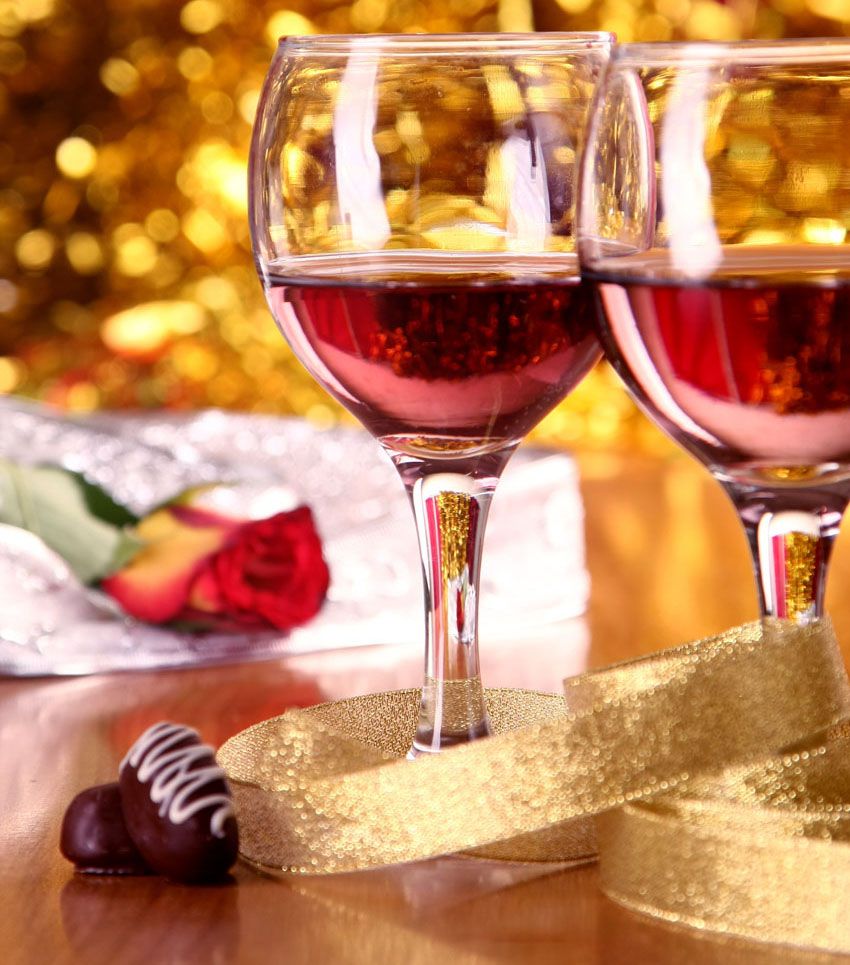 Despite whatever your initial reaction is, Valentine's Day is an occasion you shouldn't over-think. Private island jet-aways, 15-course meals, elaborate excursions that take months of planning — these luxury gifts are great any time of the year. But if you're too busy for a long weekend of traveling or you don't like the pre-set Valentine's Day menu at your favorite romantic restaurant, there's a symbolic, classic gift that lets your sweetheart know you care — and keep them sweet on you until you can plan a private holiday. In case you didn't already guess, it's mostly chocolate.
Photo Courtesy of Neuhaus
Neuhaus Chocolate's Haute Patisserie Box
For all the people too smart (or too far away) to queue up for a Cronut, there's a much fancier option. Belgian chocolate company Neuhaus teamed up with a bevy of superstar pastry chefs, including Cronut creator Dominique Ansel, to assemble a "Haute Patisserie" praline collection that you can buy online for $45 and have on your doorstep in just 24 hours. These are not pralines as you know them — they're more like teensy-weensy French pastries coated in decadent chocolate, each one about the size of a throat lozenge.
Photo Courtesy of Laurent-Perrier
Laurent-Perrier Vintage Rose Champagne
Because there really is no substitute for vintage pink Champagne, Laurent-Perrier Cuvée Rose is lovely if you can find it (which tends to be easier in the U.K.). Plus, the rare Alexandra Rose vintage has quite the romantic back story. It was originally created in 1987 by the then-Head of House at Laurent-Perrier as a wedding cuvée for his daughter, Alexandra. If you can't find a bottle of the Alexandra (which will cost you around $300), you shouldn't have a problem finding a more standard Cuvee Rose varietal.
Photo Courtesy of Godiva
Godiva Conversation Hearts
If your heart doesn't beat a little faster when you see a candy heart with a love message just for you, then you are cold as the Klondike. Okay, to be fair, the ones from elementary school kind of taste like chalk. Thankfully, Godiva makes much yummier versions out of milk chocolate, like this HUG Heart ($20 for a set of three) or cute bonbons that spell out I (Heart) Y-O-U.
Photo Courtesy of The Living Room/W Hotel Times Square
Champagne Cocktail Toast at The Living Room Bar
Classic cocktails and dark spirits just don't fit with the mood on Cupid's big day, so toast your date with a sparkly cocktail instead — ideally one with berries in it and a sexy name. The Living Room lounge and bar at W Hotels nationwide play up the sexy theme very well, mixing champagne cocktails, such as the Love Potion seen above and the French Lace.
Photo Courtesy of Strawberries.com
Chocolate-Covered Jalapeños
Everything you need to know about chili peppers taking over the world is illustrated right here: Strawberries.com is offering chocolate-dipped jalapeños for $44.99 (using white, milk, and dark Belgian chocolate) as a viable Valentine's gift. Not that we'd expect the company to only feature strawberries (we would), but to put peppers ahead of pretzels? My, how times are changing.
Photo Courtesy of LeSUTRA
Fizzy Party Drinks From LeSUTRA
If you plan to be out with friends celebrating the fact that you're not paired up this Valentine's, champagne may not be your drink for the evening. Instead, you need something sexy and playful, just like the adventures you seek. Sweet, sparkly and youthful, LeSUTRA has nightclub appeal by the bottle or the glass.
Photo Courtesy of Sofitel New York
All the Desserts at Gaby Restaurant in NYC
Sometimes you want all the desserts. Not a sampler, not a bite or two from everyone else's plate. All of them. And you want them exactly as they appear on the display cart — the better to make people jealous on Instagram, after all. The Gaby restaurant, found in the Sofitel New York Hotel, is an art deco-inspired restaurant that specializes in French dining and knows exactly how to deliver an over-the-top dessert platter — complete with crème brulee, éclairs, macaroons and all of the chocolate you could ever want.
Photo Courtesy of Rosa Regale
#LoveBrachettoWine
This Italian sparkly berry-cherry-ruby wine is like delicious young love in a bottle. The more elegant cousin of Lambrusco, it's produced in very small quantities in the hilly Piedmont region of Italy. Great bottles for Valentine's Day include Rosa Regale Banfi, with the distinctive red rose, and Ca' dei Mandorli, which features the symbols for "male" and "female" on a pink background.
Photo Courtesy of Chocolatierra
Chocolatierra Planetarium Bonbons
Every time you think the chocolatiers of the world have reached the conceptual limits of what can be done with chocolate, they push it a bit further. Case in point, the Planetarium collection by Enric Rovira (available at Chocolatierra) is a model of the solar system — in bonbons. The vivid orange piece that is three times bigger than the rest represents the sun, and the smaller bonbons are the "planets."
Whether you get all of these listed above or just a couple, we're pretty sure there's something her to put a smile on your lover's face. And if you're flying solo this Valentine's Day, treat yourself!