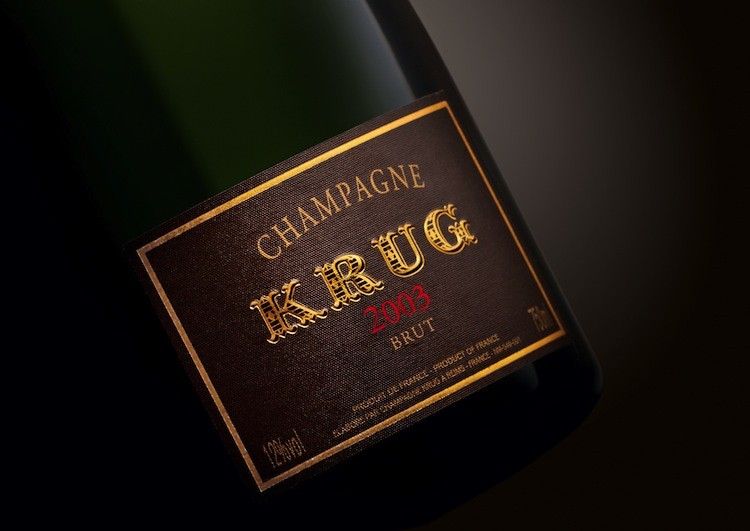 Photos Courtesy of Krug
Champagne Krug, the famed French luxury Champagne house founded in Reims in 1843 and now owned by LVMH, is releasing its first new vintage offering since the acclaimed Krug 2000 was unveiled in 2011. The new addition to Krug's family of prestige cuvées, the Krug Vintage 2003 Vivacité Solaire or "Vivacious Radiance," will be available at high-end retailers at a suggested retail price of $240 per bottle.
Composed only of wines from a single year and limited in quantity, Krug Vintage champagnes must repose in the House's legendary cellars for at least a decade before release and are therefore extremely rare. Each Vintage offering is painstakingly crafted to express the unique characteristics of a particular year's harvest, with various conditions (including climate) finding expression in the finished product.
2003 was quite a difficult year, with an unheard of combination of a dry winter and spring, very premature blooming, and two serious frosts — all followed by a scorching summer. The extreme conditions and intense heat created a low yield, but unexpectedly delicious wine that is rife with "fruit, freshness, balance, expressiveness, vivacity and finesse," notes Eric Lebel, Chef de Caves at the House of Krug. Hence the name Vivacious Radiance.
"Krug 2003 only exists thanks to our uniquely detailed approach to creating Champagnes," Lebel says. "Personally, I am delighted with the varied blend of Krug 2003 because it tells our story; it reflects the challenges we faced."
As with all of Krug's noble wines, by using the Krug ID (a six-digit number found on the back label of every bottle) one can discover the story behind its creation. So, go grab a bottle and check out it out!