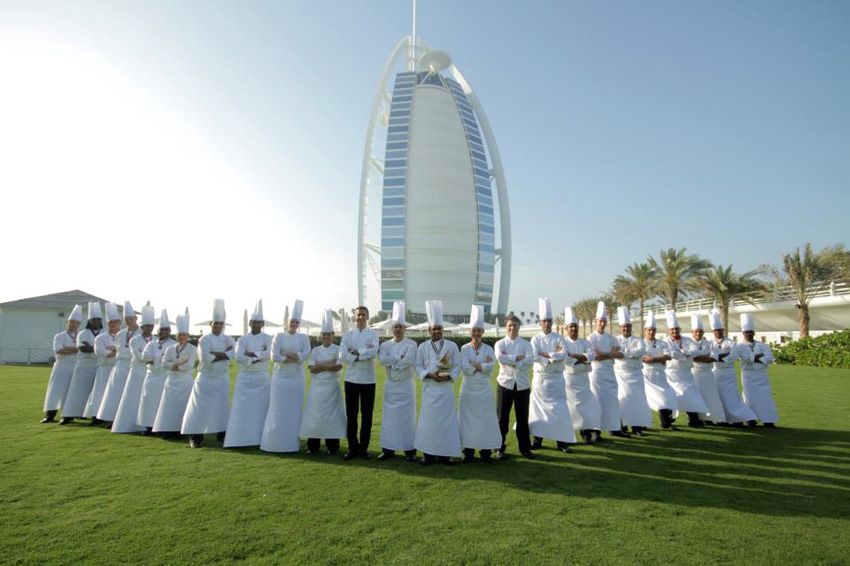 Photos Courtesy of Jumeirah International LLC
The fine dining scene in the Emirates is about to get a major boost thanks to a special High Table dinner that is being set up on the Burj Al Arab helipad, around 695 feet above the Arabian Gulf. The result of a partnership between the luxury hotel and the Dubai Festivals and Retail Establishment (DFRE), in support of the United Nations World Food Programme (WFP), the dinner will be the grand finale event of the Dubai Food Festival and is taking place tomorrow, March 13.
"As Dubai's reputation as a gastronomic destination continues to grow, so too does its profile as a philanthropic hub. In addition to raising funds in a unique way, the High Table dinner also raises awareness of the great work being undertaken by the United Nations World Food Programme. We are delighted to partner with both WFP and Burj Al Arab to raise funds and awareness of such an important cause," says Her Excellency Laila Mohammed Suhail, Chief Executive Officer at Dubai Festivals and Retail Establishment.
The helipad has seen a lot of high-profile events, including Tiger Woods hitting some golf balls and a tennis match between Andre Agassi and Roger Federer, so it's a great location for the High Table dinner. With seats for only 12 guests (each costing AED 10,000; that's USD $2,722), all of the proceeds will be supporting WFP and going directly to the Eat and Feed initiative program. WFP reaches over $90 million people with food assistance, spanning 80 countries last year, and strives to create a world where everyone has access to food. According to Burj Al Arab, the High Table dinner is "expected to raise funds that will provide food to more than 120,000 children for a day."
"While WFP is engaged in the fight against hunger in the region and around the world, we rely on the support of our donors to fund and advocate our operations. By hosting a charity dinner in support of WFP and under the umbrella of the 'Eat and Feed' initiative, in such an iconic venue during the Dubai Food Festival, Dubai Festivals and Retail Establishment and Burj Al Arab will help raise our outreach and fundraising efforts to new heights," remarks Ashraf Hamouda, Head of Partnership & Business Development for MENA, Central Asia & Eastern Europe at the United Nations World Food Programme.
The dinner begins with a warm welcome and private reception on the lower helipad deck. Once on the top deck, guests will be greeted with 360-degree panoramic views of Downtown Dubai, Dubai Marina, Palm Jumeirah, and the World Islands. Once ready to eat, guests will be served a gastronomic seven-course degustation menu created by Burj Al Arab's Executive Chef, Maxime Luvara.
"People within Dubai have known for a long time what fantastic culinary experiences are available here. We are thrilled to back the Dubai Food Festival with this unique dining experience and contribute to Dubai's position as a hub for culinary expertise," says Heinrich Morio, General Manager at Burj Al Arab. "The United Nations World Food Programme is a great cause and to know that the proceeds from this evening are going to provide food to 120,000 children is truly rewarding."
To inquire about possible tickets, contact the Burj Al Arab's reservation team at +971 4 301 7600 or email BAArestaurants@jumeirah.com.