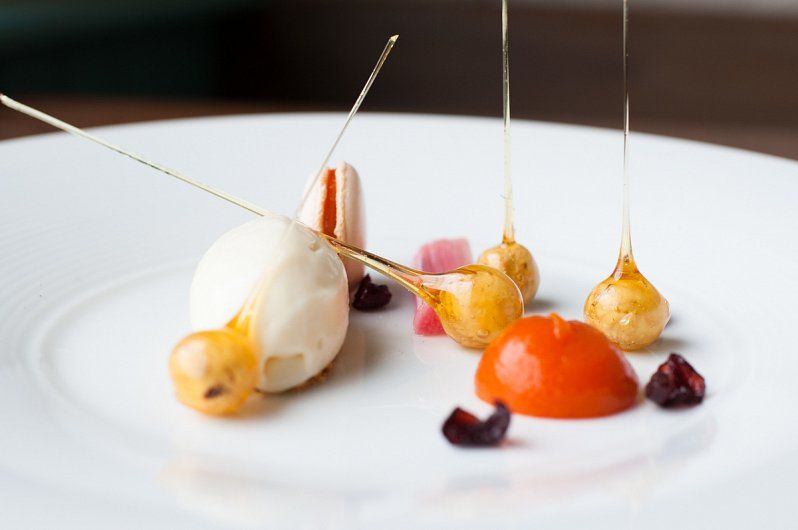 Photo Courtesy of OX
With OX's exterior and interior décor at a minimum, one might suspect that Belfast-born Chef Stephen Toman and his Brittany business partner Alain Kerloc'h are sheepish about their culinary and hospitality skills. That assumption couldn't be farther from the truth though.
Found on Oxford street, the building OX is in was once a tile store and is in a prime location, right across from the Queen's Bridge and close to the newly developed Titanic Quarter. Customers enter the unique restaurant (which is celebrating its first anniversary this month) through a short, side corridor and once inside they are greeted with a warm, minimal setting.
Photo Courtesy of OX
The 40-seat restaurant (which also has an intimate mezzanine), designed by Oscar & Oscar, features high ceilings with bare, whitewashed brick walls. Upon first glance, OX reminded me of school-day innocence, with its plain wooden tables and chairs. According to Chef Toman, the furniture was actually made from reclaimed timber from an old leisure center. In keeping with the minimalist theme, lighting emerges from the ends of long cords, each holding a single bulb over every table.
Photo Credit: Columbia Hillen
A friendly waiter brought us the opening surprise: a dainty linen pouch (appropriate since Belfast was once the linen capital of the world) containing delicate, thinly-sliced bread fingers. The bread was perfect for soaking up our amuse-bouche of northern Italian truffle rolled in egg yolk with cauliflower shavings and crispy chicken skin. The simple dip-and-eat strategy yielded delicious rewards.
Photo Credit: Columbia Hillen
This was followed by an original milk curd salad of red pepper caramel, beetroot and thin coins of radish with droplets of bergamot oil. The third course was a creative spin on the surf and turf theme — spaghetti-like strings of squid on a soft bed of chorizo cappuccino with a few sweeps of the creature's own ink and accompanied by crunchy bits of Romanesco broccoli.
Photo Credit: Columbia Hillen
The fourth course, however, was the highlight of the menu for me. Rarely have I tasted such smooth, buttery-like, slices of meat as their Chateaubriand — served so tender that my knife was barely more than a decorative instrument. Dessert was a velvety mousse of French Valrhona chocolate from Hermitage near Lyon, containing 70 percent cocoa, with banana and burnt milk ice-cream. They also brought a selection of homemade macaroons, surprisingly in the subtle flavors of beetroot, parsnip and carrot.
Photo Credit: Columbia Hillen
Displaying his native pride in French wines, Chef Kerloc'h selected several excellent vintages throughout the meal. Knowing my strong appreciation of Corsican varieties, the chef showed his perspicacity by including a Vermontino and a Muscateddu from Domaine Fiumicicoli, as well as a Piemonte Moscato Passito.
Photo Courtesy of OX
With local flavor skillfully adorning every plate, the chefs (who met while working in L'Arpège, the Parisian Left Bank restaurant owned by Alain Passard) are a shining example of how choosing a minimalist décor can really showcase gourmet talent. So, if you find yourself in Belfast and want to try some Irish sophistication, stop by OX and give my regards to the chefs.
Photo Courtesy of OX
Photo Courtesy of OX
Photo Courtesy of OX
Photo Courtesy of OX