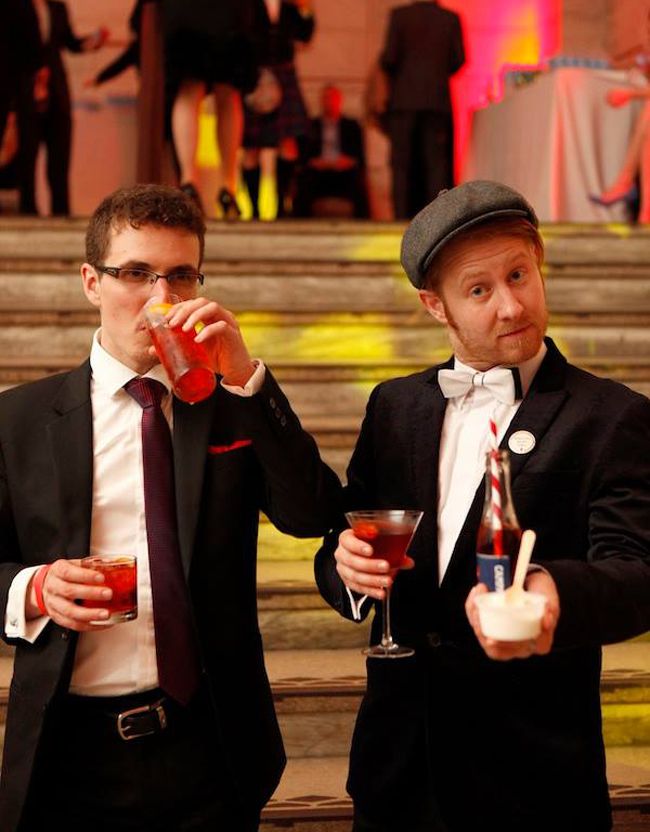 Photo Courtesy of Manhattan Cocktail Classic
The Manhattan Cocktail Classic, which was held in May for its fifth time this year, is more than just an opportunity for spirits brands and cocktail experts from around the world to mingle in the Big Apple. The event is also an ideal place to check out cocktail trends on the horizon and see what's in store for summer sips. Here are some delicious ideas from MCC experts and others we trust!
Photo Credit: Lena Katz
Save the Limes — But Stick With Caipirinhas!
Heavy winter downpours in Mexico's key lime-growing regions led to a shortage of the citrus fruit — and at a particularly bad time, given that we're heading into the World Cup. Host nation Brazil's favorite drink is the caipirinha, the main ingredients of which are cachaca, sugar and fresh muddled lime wedges. Brazilian experts say that pre-bottled lime juice is in NO WAY an acceptable substitute, but happily, they give the thumbs-up to substitute other fresh citrus fruits. American favorite Leblon Cachaca even had a Save the Limes party where mixologists from many countries made creative variations on the caipirinha. (Pictured: a ruby-hued caipi by Spanish bartender Duane Fernandez.)
Umami Cocktails
This grabbed our attention because, as fans of umami food, we can't get enough of anything with the distinctive savory flavor. In food, it's grilled mushrooms, Parmesan, cured meats. But in cocktails, hospitality heavy-hitters like ESquared Hospitality and Gerber Group are experimenting with chipotle, jalapeno-cilantro, Bittermans Mole Bitters and smoky mescal as ingredients that bring umami to the mix.
Photo Courtesy of Manhattan Cocktail Classic
Twists On the Margarita — From Moscato to Mezcal
While spirits classicists frown on some of the canned, soda pop-like margarita hybrids that have been on the market lately, the public definitely has acquired a taste for them, which is why we're seeing everything from moscato-ritas to beer-ritas. On the very opposite side of the spectrum, Mexican spirit specialists are creating "Mezcalitas" that, if anything, improve on the cocktailian credibility of a tequila-based margarita (because Mezcal is much more of a connoisseur's spirit than tequila). Julian Medina's Toloache restaurants in New York serve Mezcalitas ranging from smoky/savory to citrusy.
Skinny Summer Coolers
It's truly a cruel joke that bartenders introduce so many delightful milkshake-like drinks on summer menus when people are trying so hard to trim their waistlines for summer. Therefore, our hats are off to bartender Pam Wiznitzer of The Dead Rabbit (Tales of the Cocktail's Best New Bar of 2013), who brought a delicious "Skinny Bean" low-calorie libation to the Hangar 1 "Craft in a Glass" Lounge at MCC. Instead of ice cream or cream liqueurs, the vodka-based drink mixes with almond milk, vanilla extract, hazelnut extract and a packet of natural sweetener for a drink that's sweet and creamy, but not a sin. Hopefully it will set a trend for summer 2014 coolers.
Photo Courtesy of Apothic
Return of the Wine Spritzer!
Brown spirits and bitters may be in vogue, but they're never going to be a staple of summer's daytime parties. Warm weather calls for light, tart-sweet libations that can be sipped all afternoon — ideally by a swimming pool. Apothic Rose suggests a simple Apothic Raspberry Rose "cocktail" made with the pink wine, lemon juice and club soda — raspberries and mint for garnish only. When we noted that this seemed very close to a classic spritzer recipe, they admitted that it might be a spritzer by another name. Low alcohol, fresh fruit and not-too-sweet flavor makes this a day drinking winner no matter what you call it.