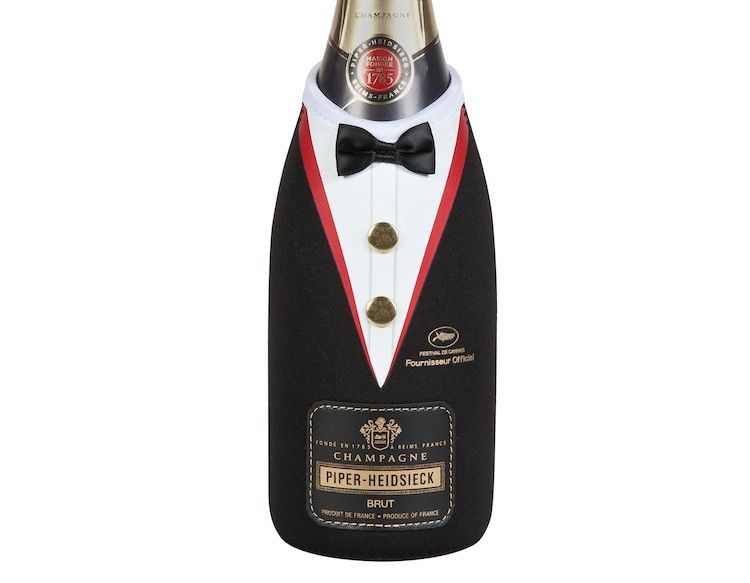 Photo Courtesy of Piper-Heidsieck
And the best-dressed man at the 67th Cannes International Film Festival is….a bottle of champagne. To celebrate the festival, famed French champagne house Piper-Heidsieck (the official bubbly of the legendary event) is debuting a new limited edition bottle of the renowned Brut NV. Given a makeover for the black tie affair with a tuxedo of its own, the black and gold labeled bottle will wear a sleeve consisting of a black jacket with red detailing, black bow tie and a white shirt with gold studs just like a real movie star — in fact, better dressed then most of them.
The limited edition also marks Piper-Heidsieck's 21st anniversary as the Official Champagne Supplier to the iconic film event. The Grande Maison Champagne House's connection to the cinema dates back to 1933 when a bottle of Piper-Heidsieck appeared in Sons of the Desert, the movie debut of Stan Laurel and Oliver Hardy. A few decades later in the 1950s, Hollywood legend Marilyn Monroe famously said that she wore only a few drops of Chanel No. 5 in bed, and began the morning with a glass of Piper-Heidsieck. And in 1964, British actor Rex Harrison marked his Best Actor win at the Oscars for My Fair Lady with an enormous 48-liter bottle of Piper that was 5'10" tall — the same as he was.