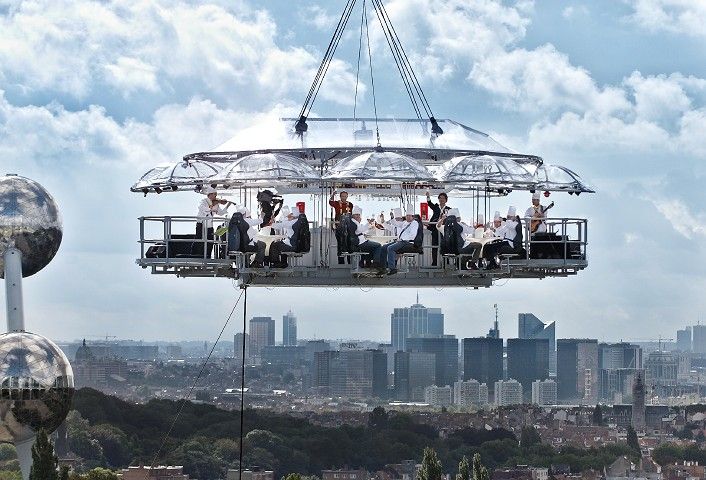 Photos Courtesy of Event In the Sky
Years ago, during a 2 a.m. conversation with a bartender, I laid out my fantasy wedding while we watched I Love Lucy — this is going somewhere, I promise. The plans got more and more ridiculous as time went on, finally ending up with my riding a black bear down the aisle and the wedding party dining from banquet tables suspended off the Cliffs of Moher. Now, obviously that seemed just absurd enough to be amusing at the time, but enjoying a dinner while suspended in mid-air isn't impossible. Actually, there's an entire service that offers just that, called Dinner in the Sky.
Dinner in the Sky, which is developed by Events in the Sky, is a unique event designed for anyone (excluding those afraid of heights) who wants to kick their meal into high gear. You can pretty much do whatever you want, even if it's just to have cocktails or brunch.
The table is hoisted 50 meters up (that's around 164 feet) by a huge crane and is able to accommodate 22 people (all strapped in, of course) around the table, with staff on a platform in the middle (like the chef, waiter, and entertainer). The company says that "at a rate of two sessions per hour, more than 350 people could have access to this exceptional platform." Of course, if you just want a super exclusive dinner, you can just stick with a small group.
Since they use a crane, you can have your floating event anywhere you want — assuming owner authorization is acquired and there's enough surface space on the ground to secure the base of the crane. So, if you want to steal my idea and use it for your wedding, you better get permission to do it over a vineyard or maybe a historical castle to make it worth your while.
Dinner in the Sky can also include a second crane with a platform (or several more) if you want some serious entertainment, like a pianist or full band. Heck, you can even hoist a car up there if you're planning on making an unforgettable auto presentation.
Promising "Exclusivity and Safety," the company ensures that their "concepts are designed according German norm DIN 4112. Products are built in Belgium under control of Rheinland TÜV. This obsession for safety is probably one of the reasons why Dinner in the Sky is now operated in more than 15 countries and got the official authorizations from the toughest countries such as US, Canada, Australia, South-Africa..."
Prices are pretty varied and are based on several factors, including the season and location, but generally start at around $21,178.