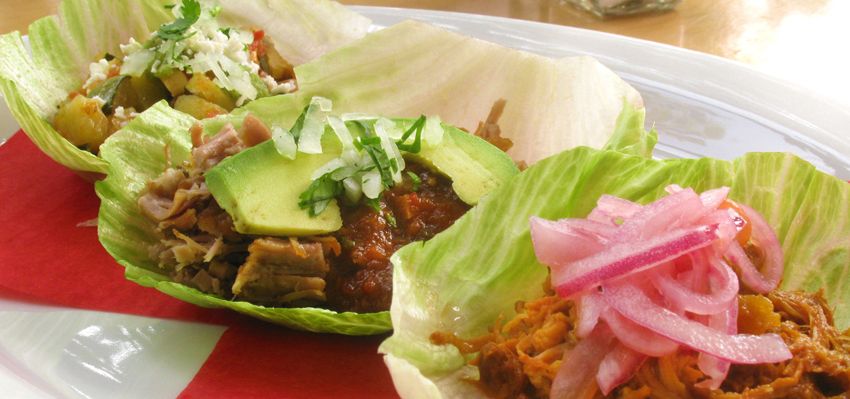 Photos Courtesy of Loteria
The founding chef of the Loteria Grill mini-empire will host a culinary series of special events dubbed "Fina Stampa" to celebrate the best of Mexican culture and the flavorful produce that captures the essence of regional Mexican cuisine. To kick-off the series on June 4 and 5, Executive Chef Jimmy Shaw of Loteria Grill and Executive Chef Javier Plascencia of Misión 19 in Tijuana, Mexico will offer two different culinary experiences with dishes reflecting Mexico's food of the street, the field, and the table — all paired with an impressive selection of Baja California wines.
On June 4, Loteria Grill Hollywood presents a six-course fine dining tasting menu with unique paired Baja wines. Throughout the formal sit-down dinner, patrons will personally meet the chefs, learn the history of Mexican wine with a thoughtful presentation by art and food historian Maite Gomez-Rejon of Artbites, and listen to Latin beats spun by Raúl Campos from KCRW. The meal's nine dishes will include Scallop Tostadas in Aguachile, Persian Cucumber and Picked Radish, Creamy Rise with Tecate Goat Cheese and Braised Lamb, and Classic filet of Tampiquena served with a Mole Poblano Enchilada and Peppers.
On June 5, Loteria Grill Santa Monica will hold a casual food fair featuring a variety of Mexican food stations by the two chefs, all indicative of Mexico's street food and farm-to-table cooking. The stations will be paired with Baja wines, and wine expert Lui Hussong will be on hand to discuss tasting notes. Music will again be supplied by KCRW DJ Campos.
Future "Fina Stampa" culinary themes include the celebration of Mexican produce in August, fish in October and the sweets of Mexico in December. Program and event details for each will be announced closer to the themed month. The tasting menu includes Tres Cochinitos Taco with Carnitas, Chicharron and Bacon with Salsa Morita; Quail Confit, Heirloom Beans and Chochoyones on a Fava Bean Leaf Tortilla; and Tostadas with Steak Filet and Sirloin, Oaxaca Cheese and Chile Cascabel Salsa.
Since opening the first Lotería Grill at The Original Farmers Market Los Angeles in 2002, Chef/Owner Jimmy Shaw has created a nationally renowned restaurant empire built on the idea of el futuro antojo ("the future craving") with his authentic take on Mexican flavors. Lotería Grill has six locations throughout Los Angeles, including Hollywood, Downtown Los Angeles, Studio City, Santa Monica, and Thousand Oaks, plus the recent addition of The Torta Company that specializes in gourmet Mexican sandwiches in downtown L.A. —– helmed by Jimmy's brother Andy Shaw, from Mexico City.