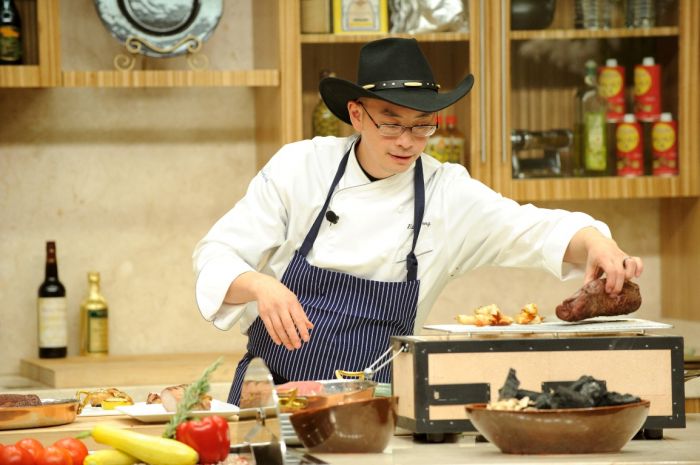 Photos Courtesy of MGM Resorts International
Bellagio Executive Chef Edmund Wong is getting ready to spill some barbeque grilling secrets on July 5 inside the luxury hotel's state-of-the-art Tuscany Kitchen. The Las Vegas event, which will be hosted by Master Sommelier and Bellagio Director of Wine Jason Smith, is part of Bellagio's Epicurean Epicenter series, which is full of culinary experiences that invite guests to check out the hotel's culinary talent.
During the event, Chef Wong will share his grilling secrets while demonstrating a three-course BBQ menu, which will be paired with artisanal craft beers chosen by Bellagio Assistant Director of Beverage and Master Mixologist Ricardo Murcia. Upon arriving, guests will be treated to a variety of hors d'oeuvres, like gazpacho soup, deviled eggs and smoked almonds.
The first course will star Smoked Salmon with lemon ricotta blini, salmon caviar, icicle radish, fava beans and honey dill mustard. The main course includes a BBQ trio (including pork and beans, and peppered beef with broccolini and shrimp), and several side dishes, like roasted street corn with jalapeños. The specially selected beers infuse the dessert course, offering dishes like beer beignets with homemade raspberry jam and a beer float with orange-infused beer sorbet.
If you can't attend the event or just want to be ahead of the class, Chef Wong gave us a sneak peak at some of the BBQ tips he is planning during the luncheon:
Using charcoal will give a better, more distinct flavor. Allow for the coals to turn a red ember for best heat.
Marinate meats — either a dry rub or a wet marinade will result in more flavor.
Go low and slow — BBQ takes time, so don't rush.
Try not to peek — opening the lid too often will let too much heat and smoke escape.
The all-inclusive tickets cost $95 per person and can be bought by calling the hotel's concierge at 866-906-7171.