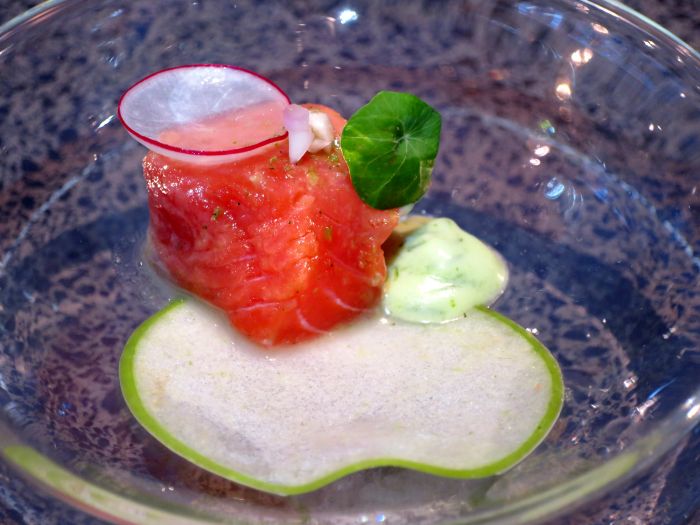 Photos by Michael Reiss
Vancouver is full of diverse foodie options and considering it's one of Canada's most culturally diverse cities, it really shouldn't be a surprise that there are a ton of exciting restaurants there to try out. These three establishments offer you something old, new, and even a cooking school! Plus, you better start scoping out restaurants now if you're planning on heading to Vancouver for the 2015 FIFA Women's World Cup.
CinCin
CinCin

1154 Robson Street
Vancouver, BC
V6E 1B2
If you walk down Robson Street too quickly, you might blink and miss one of its most delicious haunts, CinCin. Located on the second floor, this Italian foodie heaven combines luxury décor and fantastic cuisine—not to mention the bacchanalian wine service. The cozy environment is warmed by the wood burning ovens that give CinCin's menu its unique taste profile, as almost every item has been put through the fire to give it a full bodied, robust flavor. Executive Chef Andre Richardson perfected his craft in some of the world's top renowned restaurants, integrating the best of Italy with his own creative touches to offer dishes that express a contemporary, Italian/Pacific Northwest flair.
We suggest starting with the golden and Chioggia beet salad with pistachios, goat cheese, edible blossoms and pistachio vinaigrette. A steak from the wood fired grill and oven served with wood grilled king oyster mushrooms, potatoes with parmesan and prosciutto, black Tuscan kale and chimichurri would make a great main dish. Finally, maybe end the meal with a decadent tiramisu.
Secret Location
Secret Location
One Water Street, Vancouver, BC
Canada, V6B 2H9
Secret Location is a store/restaurant concept that could easily be found on the Champs-Élysées in Paris. This chic white space has unique décor (including a Baccarat crystal chandelier) and is so out of character on the cobble-paved Water Street that many people either miss it entirely or pass by it in intimidation. A hidden gem for the discerning shopper and gourmand, the store stocks specially chosen curated lifestyle items and is so cool that it actually closes if more than 10 people are browsing so staff can properly attend to any needs.
Likewise, the restaurant/lounge is a refuge for any diner looking for a special food experience—much like one would find in a Michelin-starred restaurant. Chef Jefferson Alvarez creates five- and 10-course dinners that include wine and cocktail pairings. Favorite bites include: seared foie gras, fruit mostarda, gluten-free brioche, seared halibut, coconut lobster froth, charcoal bison rib eye, and fried yucca.
The Dirty Apron Cooking School & Delicatessen
The Dirty Apron Cooking School & Delicatessen
540 Beatty Street
Vancouver, BC
V6B 2L3
One of the best ways to beef up your culinary skills and meet fellow foodies is to take a cooking class and The Dirty Apron Cooking School & and Delicatessen provides one of the most engaging formats. The menu for each class can be found on their website, allowing you to check out exactly what will be taught so you can choose accordingly. The beginning of each class allows for a little socializing time, with beverages and nibbles available—which also makes sure you don't start cooking on an empty stomach.
The instructor gives pointers while preparing the first course, after which the students head to their own station where everything needed for the dish is measured and waiting. Once done, all the students gather around the finished meals and enjoy the fruits of their labor. The routine is repeated for the following two courses and by the end, you've not only found confidence in your cooking abilities and have new recipes to take home, you'll also have a fun group of new foodie friends!