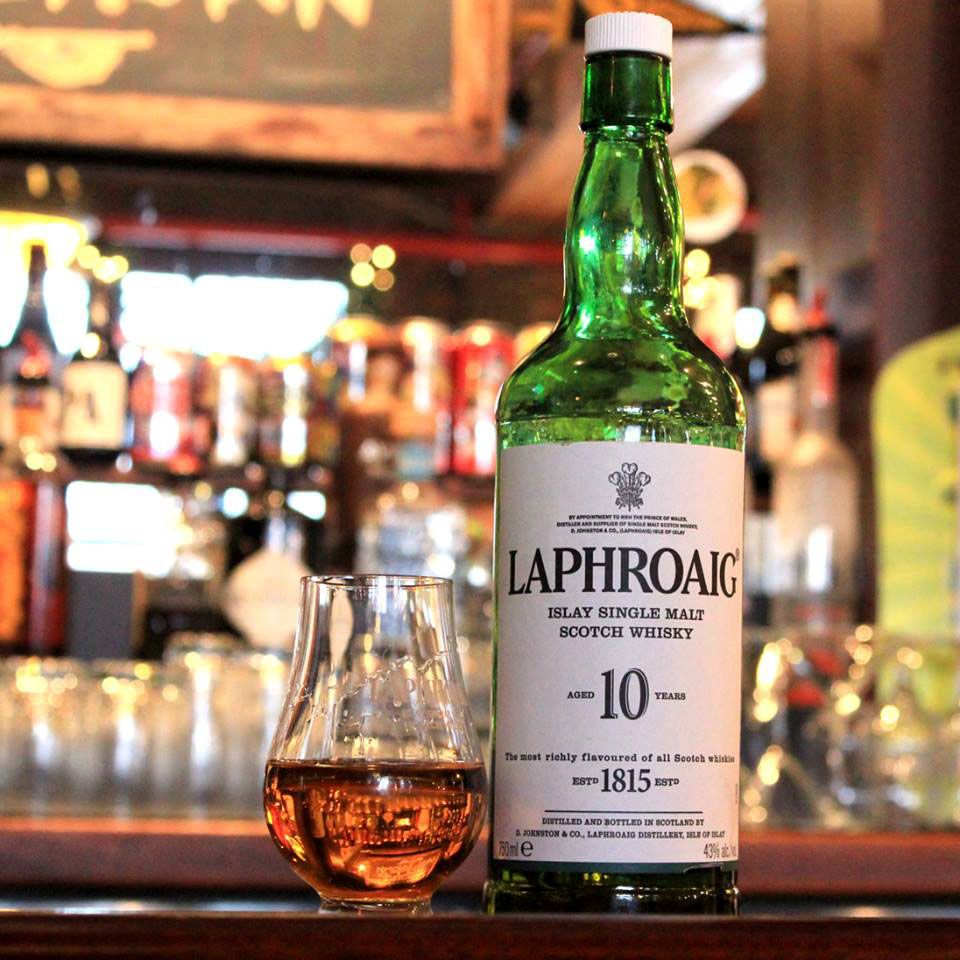 Photo Credit: Laphroaig
On January 25 those with Scottish heritage—or just a hankering for good Scotch whisky, haggis, and bagpipes—celebrate the birth of the poet Robert Burns, author of Auld Lang Syne, during what is called the Burns Supper. The event takes place all over the world in various guises, but to truly toast the Scottish bard a good single malt Scotch is a must. Here are five newly released single malts that will turn any Burns Supper into a night to remember—or not remember.
Photo Credit: Laphroaig
Laphroaig Select, $55
Laphroaig's newest expression, Laphroaig Select, brings the various styles of the brand's portfolio together to create a new expression that honors the brand's heritage. It brings with it an added layer of complexity and depth brought about by "marrying" various maturation styles and oak casks. It's inspired by Ian Hunter, the last member of the distillery's founding family to own Laphroaig.
Laphroaig Master Distiller John Campbell selects from the finest casks representing the four key styles of Laphroaig—Quarter Cask, PX Cask, Triple Wood, and Ten-Year-Old—creating a subtly rich blend of peat, oak, and sweetness. The result is then matured in rarely used new American Oak casks, and for the last six months of the aging process it sits in the highest, warmest section of the warehouse.
"Laphroaig Select is a true original and, as always, we have stayed true to our roots, using the fantastic Laphroaig heritage as inspiration for this new innovation," says John Campbell, Laphroaig Master Distiller. "Laphroaig Select delivers a liquid with a unique marriage of our trademark 'peat reek' and a gentle sweetness, which we hope will both surprise and delight you." At 80 proof, it's signature is the earthy aroma of blue peat smoke, sweet nuttiness of barley, and the heathery perfume of Islay's streams.
Photo Credit: The Macallan
The Macallan Rare Cask, $300
The Macallan Rare Cask is crafted only from handpicked, Spanish oak sherry seasoned casks, the most precious and rare type that is used to make single malt Scotch. Presented in a sculpted, heavy glass decanter, the rich ruby red whisky starts with Spanish oak staves hand-fashioned in the province of Cadiz and then made into casks, hand-crafted and toasted by the Tevasa cooperage in Jerez. The casks are then seasoned with dry Oloroso sherry for 18 months before being emptied and shipped to the distillery.
Macallan's Master Whisky Maker, Bob Dalgarno, uses his special knowledge of the thousands of casks maturing at the distillery to chose the select few that can produce Rare Cask's intense character. "The launch of Rare Cask represents an extremely exciting development for The Macallan," says Ken Grier, Director of Malts, Edrington. "This new release celebrates the very foundations that make The Macallan so special—our glorious range of natural color and the outstanding quality of our casks."
The Macallan's Master of Wood, Stuart MacPherson, adds, "Wood sits at the very heart of what we do at The Macallan, and Rare Cask further demonstrates the vital role of our casks in the production of our superb whiskies. Our commitment to sherry seasoned oak casks is unquestionable and Rare Cask showcases The Macallan at its very best."
Photo Credit: Bowmore
Bowmore Small Batch, $39.99
Bowmore, the first distillery on Islay which was established in 1779, creates its Small Batch Single Malt Scotch Whisky by maturing the spirit in first- and second-fill ex-bourbon casks, bringing to the fore notes of gentle peat smoke, salt, citrus, and vanilla. The first-fill casks impart a delectable vanilla sweetness, subtle spices, and bourbon-style oak smoke. The second-fill casks suffuse it with fruit and salty flavors that bring out Bowmore's trademark honey and creamy malt character.
The brand's adherence to traditional production methods helps to shape the character of its single malts—they are one of only a few distilleries anywhere which still produces its own floor malted barley, hand-turned by traditional wooden malt shovels. The distillery draws water from the River Laggan, with its rich peaty overtones, which brings to every bottle of Bowmore its signature velvety smokiness.
Rachel Barrie, Morrison Bowmore Distillers Master Blender, says, "If I could select only one dram to transport an enthusiast to Islay, it would be Small Batch. No one liquid better showcases the tranquility and elegance of the Island. The warm, gold whisky has a nose redolent with vanilla fudge, sea air, and peat smoke, which is then balanced by honeycomb and cinnamon spice. Citrus, gentle saltiness, and vanilla with flakes of coconut are revealed on the tongue, while wispy smoke, bourbon vanilla, and lime lingers on the finish.
Photo Credit: Glenfiddich
Glenfiddich Original, $99.99
Glenfiddich's new limited edition expression is inspired by its 1963 Straight Malt, the first ever single malt to be actively marketed internationally, bringing a love of finely crafted Scotch whisky to connoisseurs around the globe. Malt Master, Brian Kinsman, has created a faithful reproduction of the 1963 spirit by following the original recipe from one of Glenfiddich's 1960s leather bound ledgers.
"Glenfiddich has an unrivalled collection of rare and aged single malts from which we can draw on to create innovative whiskies," Kinsman says. "Using this collection we were able to replicate the original Glenfiddich Straight Malt. Glenfiddich The Original is a true taste of history. It's an honour to unveil this exclusive whisky which is light and fruity with hints of sherry spice from the European oak sherry butts that were predominantly used in the 1960s."
Peter Gordon, Glenfiddich Company Director adds, "Glenfiddich The Original is testament to the family's vision and independence, which has allowed us to continuously strive to innovate and create superior whiskies. Glenfiddich The Original is a prime example of this and a tribute to my father, Sandy, and Uncle Charles' achievement of introducing single malt Scotch to the world."
Photo Credit: Diageo
Oban Little Bay, $75
Oban's Little Bay is crafted first by selecting small batches of the legendary distillery's finest single malt whiskies, and then "marrying" them together in its smallest casks to allow the wood more contact with the spirit under the direction of its celebrated Malt Master, Dr. Matthew Crow. The result delivers Oban's signature rich, fruity style, but with a more pronounced maritime and citrus character.
The Oban Distillery—one of the oldest and smallest distilleries in Scotland—has been making fine Single Malt Whisky since 1794. A small group of artisans distills the spirit in tiny lantern-shaped copper pot stills, which are among the smallest in Scotland. Little Bay begins with a dense and coating feel and just a hint of sugar and mint, with warm, chewy, richly fruited malt. Notes of orange zest and clove present themselves and are followed by hints of green apple.
Photo Credit: Diageo
Any Burns Supper celebration worth the name also involves the recitation Burns' poetry. This year, the master poet-inspired actor and Scotch enthusiast Nick Offerman, known for his role as Ron Swanson in the acclaimed NBC sitcom Parks and Recreation, was asked to compose his own verse for Oban and single malt enthusiasts. You can watch the video on the My Tales of Whisky YouTube page.
Cheers, or as they say in Scotland, Sláinte!