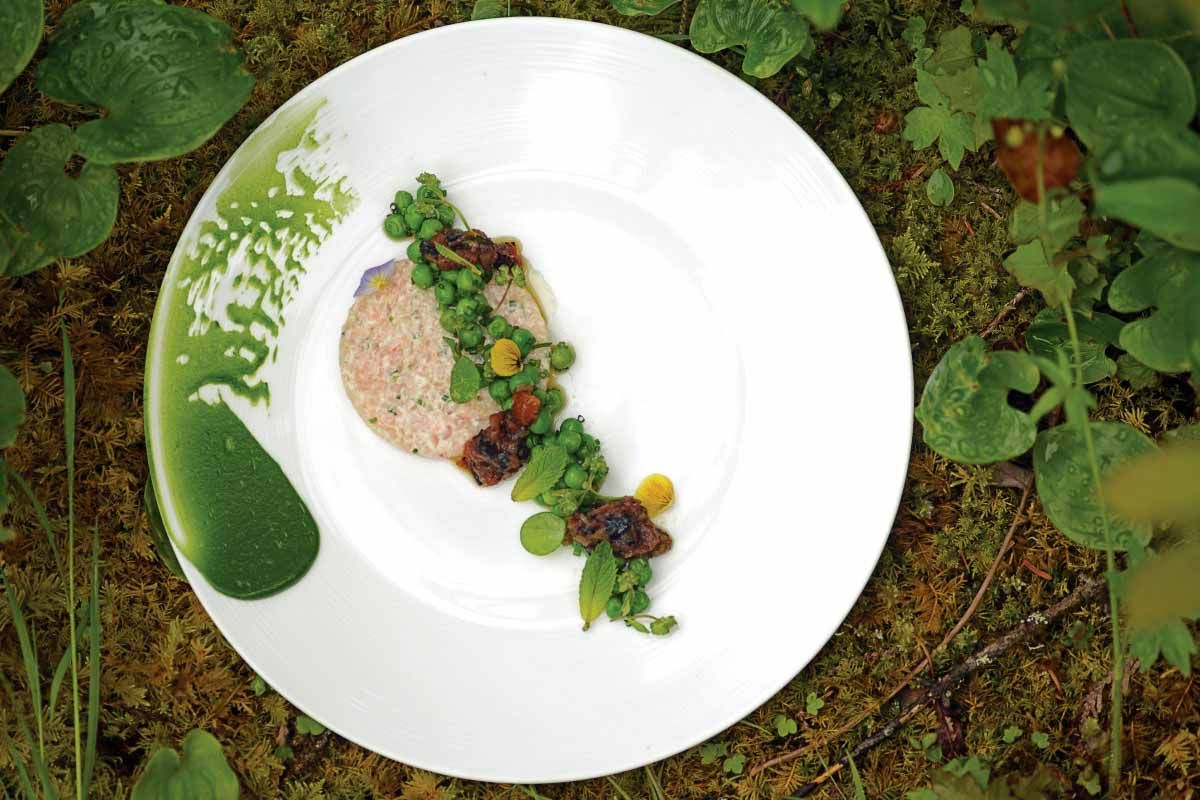 Photo Credit: GourmetFest
GourmetFest is an incomparable annual four-day extravaganza featuring an exclusive roster of Relais & Châteaux Chefs and fine wine estates. This year's event took place from March 5-8 in Carmel-by-the-Sea, California. The Relais & Châteaux brand is an exclusive curated collection of over 500 of some of the finest, most discriminating lodgings and gourmet restaurants in 60 countries.
With 18 wine and food events, there was enough to satisfy even the most voracious appetite, while the roster of chefs, vintners and spirits purveyors was dazzling. The welcome party on Thursday kicked off the foodie affair with a delectable bang. Renowned culinary giants including Gary Danko, Michel Bras, Tetsuya Wakuda and Lanshu Chen, made use of luxury ingredients to regale our eager palettes. These ingredients included Black River caviar, fresh oysters, French back truffles, and Valhrona chocolate.
Photo Credit: GourmetFest
We toasted with Dom Perignon Champagne and quaffed our thirst with wines from famed estates including Au Bon Climat, Ridge, Dunn, Gaja, Domaine Comte Georges de Vogüé and Almaviva Winery. As the evening ended, guests wandered back to their lodging at La Playa.
Friday morning had us waking up to a sunny ocean view, Champagne breakfast at the hotel and a mid-morning tasting with legendary Paul Draper during The Magic of Ridge Monte Bello event. Wide awake—palettes ready with anticipation—we were engrossed in the history and lore of this renowned winery. Most importantly we were presented with Magnum Vintages—including 1977, 1984 and 2010.
Photo Credit: Michael Reiss
Next on the agenda was The Grand Women's Lunch & Cooking Demo. Three-Star Michelin Italian Chef Annie Féolde from Enoteca Pinchiorri impressed us with her cooking prowess at the oceanside Gaggeneau outdoor kitchen. We eagerly soaked up tips and took copious notes during the demo. After a reception featuring Domaine Chandon's sparkling L'Etoile, we were treated to a four-course lunch prepared by Annie Féolde, Jennifer Backman from the Weekapaug Inn, Lanshu Chen of Le Moût and pastry chef Liz Williams from Blackberry Farm, featuring the wines of Gaja and Spottswoode.
The highlights of this event included Prawn Risotto with Licorice Powder and Asparagus Marinated in Red Wine. Following lunch, we relaxed with a quick nap and a brisk pre-sunset walk to the stunning beach of Carmel. The beach is just minutes from La Playa hotel.
Photo Credit: GourmetFest
The evening's repast was prepared by Relais & Châteaux Chefs Gary Danko of Gary Danko; Diego Muñoz of Astrid&Gastón Casa Moreyra; and Colin Bedford of Fearrington House. The highlights of the evening's meal included Danko's Bison with Potato Galette and Mushrooms paired with Almaviva 2009 Bordeaux. Guests swooned and savored the adept preparation and pairing. Starting with a cooking demo and A Taste of France lunch the next day, the demo featured Olivier Roellinger of Les Maisons de Bricourt and Michelin Three-Star Super Chef Michel Bras. Bras discussed the importance of spicing in food preparation and the critical chemistry that transforms ingredients. The four-course lunch included lobster salad, stuffed endive encircled with foam and truffle shavings, St. Pierre enrobed in Indian spices and a Valhrona white chocolate dessert. We toasted the evening with L'Etoile Rose sparkling wine from Napa.
Photo Credit: Michael Reiss
Following the meal, we experienced the Star of the Mosel with Ernst Loosen. All of Dr. Loosen's six major vineyards were designated as Erste Lage, equivalent to the French classification, Grand Cru. These classifications came from the 1868 Prussian classification of Mosel vineyards. Tastings included Wehlener Sonnenuhr Riesling Auslese along with several vintages, including 1967, 1988 and 2004.
Photo Credit: Michael Reiss
All stops were pulled out at the Gala Finale Dinner in the evening. After toasting with Moët & Chandon Brut Imperiale Champagne, a parade of superstar Relais & Châteaux Grands Chefs dazzled us with their culinary masterpieces. Annie Féolde from Enoteca Pinchiorri served Risoni Alla Carbonara, Justin Cogley of Aubergine at L'Auberge Carmel presented Tuna, Hamachi and Preserved Seaweed, while Colin Bedford from Fearrington House served Prosciutto Wrapped Quail. Wines included 2008 Mount Eden Reserve Chardonnay, 2002 Ridge Geyserville Zinfandel and 2006 Spottswoode Estate Cabernet Sauvignon.
Photo Credit: GourmetFest
GourmetFest would not have been complete without a Sunday brunch. The Seafood Grill was a casual affair and featured seafood presentations such as Alaskan Shabu Shabu Honshemiji, Mosh Umboshi Plum, and Ginger Dashi prepared by Jennifer Backman of The Weekapaug Inn. The tastings, world-class wines and live music performances made this year's event a memorable one. The intimacy and exclusivity of GourmetFest makes this culinary weekend a must do for any foodie.