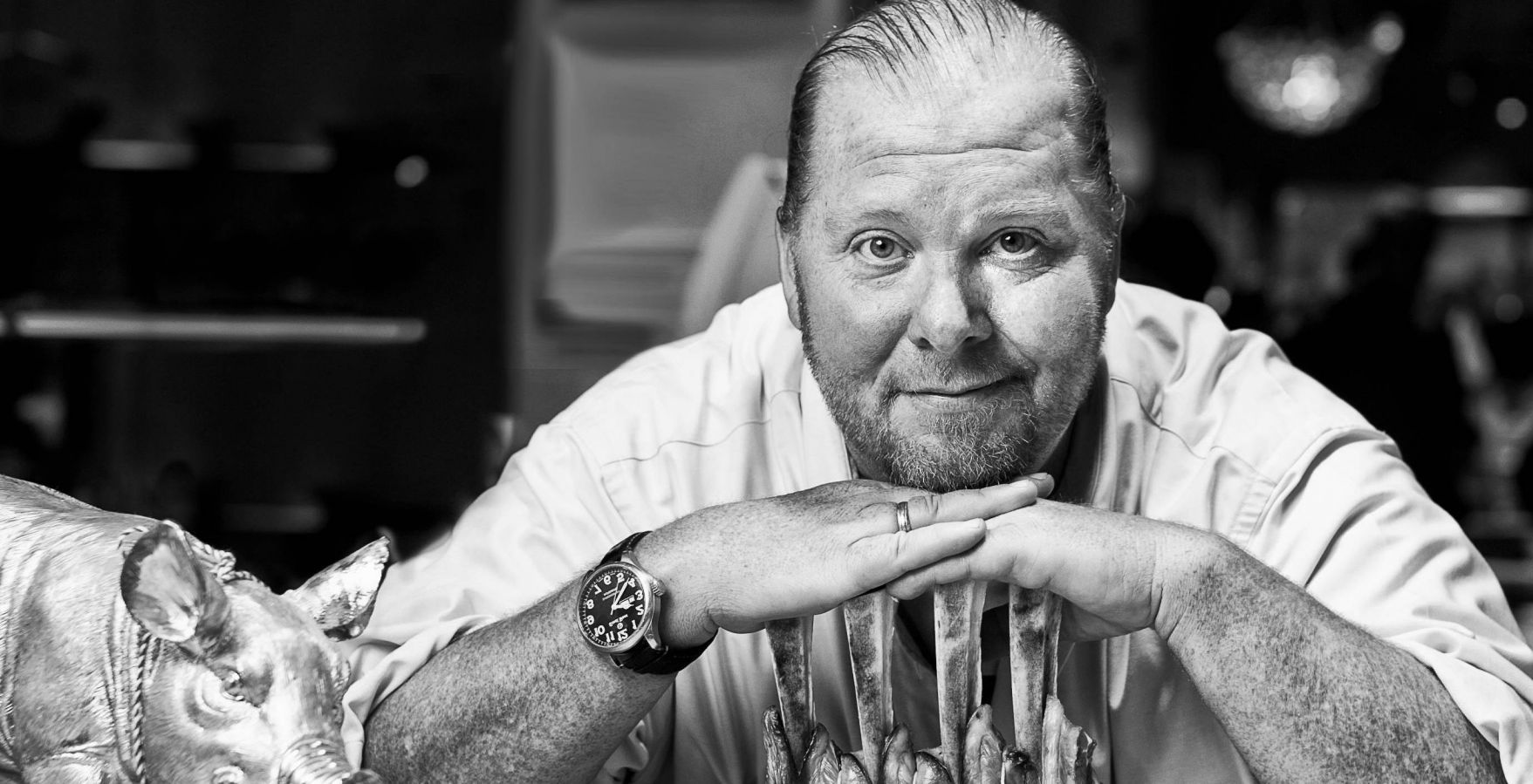 Photo Credit: Daniel Krieger
Award-winning celebrity chef Mario Batali is an entrepreneur of eating. In addition to managing restaurants around the world and creating giant "Eataly" markets in New York and Chicago, he's an Italian culinary expert who has authored 10 cookbooks and appears on ABC's The Chew. With so many public projects going on, it begs the question if the 54-year-old feel less like a chef and more like a showman these days.
"In the same way that Henry Ford didn't build all the cars and Bill Boeing didn't finish all the planes, I feel that way. At a certain point you need to take your stuff and maximize the potential you have for it," he explained to JustLuxe recently. "Although I don't cook on the line in the restaurants every night, I am able to walk in there, step into the line and cook there. The beautiful thing is that I don't have to clean up. So, I do a lot of the show and promotion, but fundamentally my biggest gig is to make sure [that] when I am in the kitchens…people remember that they're having a good time, working together, and that collectively we're doing something that we really love to do, which is based in the heart of a natural cook."
Photo Credit: ABC
Batali's restaurants are definitely destinations for the rich and famous, he's even been spotted lately with First Lady Michelle Obama and U2's guitarist, The Edge. "I don't get star struck, but being with the First Lady was very special. Edge is an old friend, and so he came to stay at my house," he revealed. "Fundamentally when you meet someone who [is] renowned or famous or an artist on any level, if they're work is something they love, odds are you will like them. Some people are a little cranky in the public space, but all the people I hang around with are happy to share everything they love to do. Whatever art made them famous or whatever their politics are, we share the core values of appreciating the simple, delicious, delightfulness of the American culture."
If God walked into one of Mario's 14 acclaimed kitchens in locations as far flung as New York, Las Vegas, Boston and Singapore, what would Batali—given his range of Cordon Bleu-trained talent—prepare?
Photo Credit: Michael Patrick Shiels
"My favorite thing to cook for someone who wants the maximum expression of the Mario Batali kitchen would be something simple like linguini with clams. You have a…perfectly-cooked noodle, a little garlic, chili, parsley, expression of the clam and its magnificent natural ability to be something remarkable," Batali said. "That's what really good Italian cooking—or American cooking for that matter—is: it's about where the fresh ingredient is from, when it 'sings' its best, and when it's not affected too much by the cook themselves."
There's no denying that Batali is a culinary rock star, so when he strolls into a restaurant other than his own—with his easily recognizable ponytail, vest and trademark orange Croc shoes—do waiters and chefs get nervous? "I am probably the easiest restaurant customer, because my favorite thing to eat is anything someone else makes, so I am already predisposed to having a good time. As a general rule when I walk into a restaurant, it's not because I want them to prove anything to me, it's because I am dying to see what they're doing."
Photo Credit: Michael Patrick Shiels
So, where exactly does a busy guy like Batali go to unwind and put his Crocs up? Every summer in July and August, the celebrity chef can be found relaxing in a fish camp on Lake Michigan that he bought over a decade ago.
"I am in Michigan, because I love it… It's not the hullabaloo of New York. As an evangelist for Northern Michigan, I tell people, 'Listen, if you want to wait in line and you want to be where everyone is, don't come to Michigan,'" Batali told us. "But if you want to go to a place where [there] are unique, independent thinking, really smart people living in one of the most beautiful, unheralded, amazing, places around the world, come visit me in Northern Michigan.'"
If you do manage to spot Batali, he says that the best thing someone can do is to simply introduce themselves. "A lot of people come up and say, 'I am not normally like this, but can I take a picture?'—without even introducing themselves! Or, they come up and want a 'selfie'… If they'd just say, 'Hi, I'm Wilma Flintstone from Bedrock and I'd love to say hello to you.' I'd say, 'Of course I'd love to meet you. Come on over!'" said Batali.