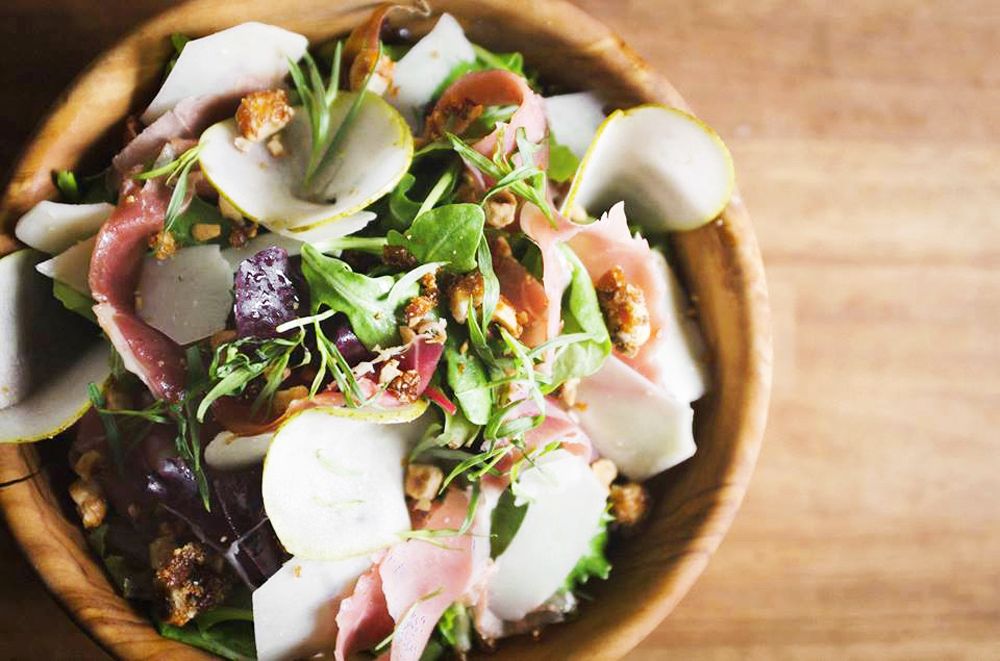 Photo Credit: Rustic Stone
The perfect location can make or break a restaurant, but that isn't an issue for Rustic Stone in downtown Dublin. Just a short stroll from Trinity College where literary luminaries such as Oscar Wilde and Samuel Beckett developed their penmanship, Rustic Stone sits across from one of Dublin's trendiest areas, Temple Bar. While location is key to kick-starting a restaurant, consistent quality and presentation is what keeps clients walking through its doors. On this score, the award-winning Owner/Chef Dylan McGrath and his team have little to worry about.
McGrath was awarded once a Michelin star during his time as Head Chef for the now-closed Mint in Ranelagh, Dublin and is also a judge on Ireland's Masterchef. With a reputation for diversity and innovative presentation, his Rustic Stone adds a new dimension to Dublin's varied food landscape.
Photo Credit: Rustic Stone
The "healthy eating" menu created by McGrath is incredibly detailed, with all items labeled according to seven characteristics: low saturated fat, wheat-free, gluten, dairy-free, vegetarian, super food and sugar-free. To make things even easier, each dish on the menu includes an explanation as to why it is good for you. For example, "Fish promotes a healthy heart and boosts our immune system. Onions are packed with potassium and chromium. Goat cheese is excellent for those who are lactose intolerant."

The "Bites" menu includes eight different tapas-style dishes, like the standout duck 'n' beef sandwich. Forging bread, the salt-cured beef and citrus-scented duck is sandwiched between herb goat cheese and the chef's own mango chutney. The traditional à la carte menu includes eight starters and six unique salads with memorable names, such as the Boisterous Beetroot, which stars shaved fennel, baby gems, chicory with pink grapefruit, caramel pine nuts and is dressed in beetroot juice and olive oil. According to the menu, this one is "a super all-round liver cleanse."
Photo Credit: Sean Hillen
One of the lighter dishes we chose was the Mighty Mustard salad, which is high in anti-oxidants and features sliced prosciutto ham, shaved slices of pear with toasted hazelnuts, and wild herbs tossed in a light mustard dressing. Afterwards, we moved on to the thick Borlotti Bean Minestrone Soup with chorizo, which is flavored with basil, parmesan and olive oil. As per the menu, this hearty soup is high in protein and fiber, which keeps you fuller for longer. One shouldn't visit Rustic Stone without trying one of their eight On the Stone specialties, and we recommend the tuna. Arriving on a hot lava stone, the sizzling fish is flavored with coriander, dill, basil and rocket, boasting a hint of orange and confit ginger.
Photo Credit: Rustic Stone
Chef McGrath is as meticulous about his desserts as he is about the rest of his menu. The exotic range includes such combos as Fruit Sushi with sticky rice and surprise wasabi and Cherry Tea-Flavored Panna Cotta with an almond tart. As tasty as those sound, we went with the sugar-free Chocolate Soup with mousse. Poured from a glass decanter, the dessert was one of the smoothest chocolate liquids we've ever experienced, with a rich aroma enhanced with roasted and grated hazelnut.