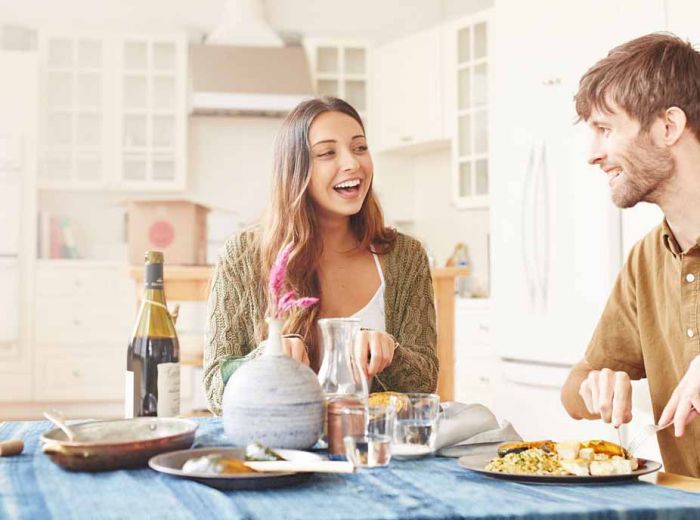 Photos Credit: Plated
I love to cook, but I rarely have the time. Okay, so I have the time, but let's be honest, I'd rather binge watch the newest Netflix series than figure out what I want to make for dinner. Besides, trekking to the grocery store always ends with my getting home just in time to realize that I forgot one of the most important items. This is why I decided to try Plated, one of the most popular food delivery services out there that sends recipes and ingredients straight to your door.
Plated sent me three dishes to try (including homemade peppermint patties that I may have eaten for breakfast) and I came away from my experience feeling like the company has become an indispensable part of my life. Not only does it make eating healthy incredibly easy with seasonal produce, sustainable seafood and antibiotic-free meats, Plated gives you the perfect pre-portioned ingredients so you never have any leftovers go to waste.
Your goods arrive in a refrigerated box, which will keep everything nice and cold until you get home. Inside, the ingredients are all packaged according to the recipe, with everything in there from teeny packets of white wine vinegar to little containers of horseradish. The only thing you have to supply yourself are staple items like eggs, which they assume you already have. Obviously, you have to have the necessary pots and pans as well. Each recipe card gives you the caloric content, serving size, cook time and detailed instructions with little tips.
My first dish was vegetable hand rolls with avocado and sesame miso dressing. I was impressed with just how fresh the produce actually is, since it looks like it was picked mere hours before. Especially the avocado, as it was perfectly ripe. Super easy to make, this one has become one of my favorite meals to whip up with little effort. For my second night, I made broccoli cheddar soup pies, which were still good but had nothing over the rolls. A bit more involved, this one required some soup reduction and I probably should have let it simmer a bit longer than I did, since the filling was still a bit runny when it came time to make the pies. Once finished though, it all tasted fantastic and one serving proves more than enough. I didn't even have room to eat the entire side salad.
For dessert, they sent a peppermint patty recipe and I for one, had no idea that they were so easy to make. With only a little butter, peppermint oil and a bunch of confectioners' sugar for the filling, I was dipping patties in melted chocolate within minutes. Whatever I had left over was quickly snatched by visiting friends who couldn't believe they were homemade.
The dishes I made hardly come close to the range of options available on the website. At time of publication, the weekly menu included Moroccan tagine with butternut squash, beef Bibimbap with sautéed mushrooms, pork tenderloin with cauliflower gratin, maple ginger-glazed salmon with Brussels sprout hash, and Greek yogurt parfaits with caramelized pear.
Each box is customizable so the prices depend on what you add, but it generally ranges from two dinners at $48 a week to seven dinners for $168, with each recipe feeding two.